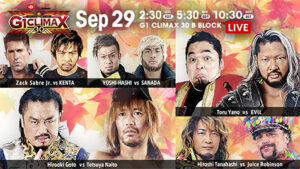 NJPW G1 Climax 30
Night 6
B Block: Round 3
#G1CLIMAX30
Event Date: September 29, 2020 (18:30 JST)
aired live on NJPW World
City: Bunkyo, Tokyo, Japan
Venue: Korakuen Hall
Attendance: 696
Series: G1 Climax 30
Theme Song: "Blazing Souls" by 9mm Parabellum Bullet
Commentary (English – recorded remotely): Kevin Kelly, Rocky Romero
Commentary (Japanese – Samurai TV): Milano Collection AT, Haruo Murata, BUSHI (2 – 6)
Commentary (Japanese – NJPW World): Kazuo Yamazaki, Miki Motoi
Ring Announcer: Kimihiko Ozaki (1 – 3), Makoto Abe (4 – 6)
Video
The opening video looks at the competitors in B Block.
Match 1
Gabriel Kidd vs Yuya Uemura
(referee: Kenta Sato)
Show/Hide Results
Result: Yuya Uemura wins via submission with a high-angle Boston crab
Time: 9:10
Match Thoughts
Another good young lion opener. Kidd and Uemura had some nice exchanges early in the match that builr up to some fast-paced counters as the match went on. This match also, expectedly, tied up the unofficial C Block competition at four points a piece.
Match 2
G1 Climax 30 B Block Match
SANADA (0 pts) vs YOSHI-HASHI (0 pts) (NEVER 6-Man Champ)
(referee: Kenta Sato)
Show/Hide Results
Result: YOSHI-HASHI wins via pinfall after Karma
Time: 15:15
Match Thoughts
Very good match. YOSHI-HASHI made a poor decision to take the fight out to the floor early in the match, and it looked like he might have gotten hurt in his exchange with SANADA. YOSHI-HASHI made it back into the ring, but SANADA had control of most of the rest of the match. YOSHI-HASHI wouldn't give up though, and he hit some very effective counters at some very effective times. That kept hope alove for YOSHI-HASHI even when it really felt like he was heading for his third straight loss. I'm still waiting for SANADA to really break out in this tournament, but YOSHI-HASHI's matches have all been a bit surprising to me in how I've enjoyed them.
Match 3
G1 Climax 30 B Block Match
Zack Sabre Jr. (2 pts) (IWGP Tag Champ) vs KENTA (2 pts)
(referee: Marty Asami)
Show/Hide Results
Result: KENTA wins via pinfall after Go2Sleep
Time: 15:46
Match Thoughts
Great match. After a bit of back-and-forth taunting and feeling out, KENTA was able to bait ZSJ into standing up and exchanging strikes. KENTA dominated with his strikes, and that just seemed to make ZSJ want to strike even more. Eventually ZSJ started to transition into grappling, and he started to make a convincing comeback against KENTA. KENTA still had hard strikes to throw, but his submission finisher, Game Over, was neutralized by ZSJ's superior technical skills and counters. KENTA got tied up and twisted a number of times, but ZSJ was still susceptible to being drawn into a striking match. It was really interesting watching how the flow of the match changed depending on who was in control and what style was dominating.
Match 4
G1 Climax 30 B Block Match
Juice Robinson (4 pts) vs Hiroshi Tanahashi (0 pts)
(referee: Marty Asami)
Show/Hide Results
Result: Hiroshi Tanahashi wins via pinfall with a Samson clutch
Time: 14:16
Match Thoughts
Great match. Juice Robinson has been looking really good in the G1 so far, and he continued tonight with a fun and convincing performance against Tanahashi. Juice and Tanahashi were pretty evenly matched at first, but after a while Juice started to take over. A sequence off the ropes with Juice hitting a superplex followed immediately by a jackhammer put Juice in complete control of the match. There were some incredibly close near falls after that, and it all led to a nicely exciting finish. The finish itself was either great or heartbreaking depending on who you were pulling for, but it was very well done regardless.
Match 5
G1 Climax 30 B Block Match
EVIL (2 pts) w/ Dick Togo vs Toru Yano (4 pts)
(referee: Red Shoes Unno)
Show/Hide Results
Result: Toru Yano wins via pinfall with a schoolboy (after a series of low blows)
Time: 4:33
Match Thoughts
Yano again provides a very fun match in among all the serious wrestling going on in the G1. Yano's tape was pretty much negated in the match, so he had to find other ways of out-cheating EVIL and Dick Togo. Every turnbuckle pad was removed within the first minute or so, distractions ran rampant, and low blows were attempted many, many time in this battle of the cheaters.
Match 6
G1 Climax 30 B Block Match
Hirooki Goto (2 pts) (NEVER 6-Man Champ) vs Tetsuya Naito (4 pts) (IWGP IC & Heavyweight Champ)
(referee: Red Shoes Unno)
Show/Hide Results
Result: Tetsuya Naito wins via pinfall after Destino
Time: 21:58
Match Thoughts
Great match. Naito took an early lead in the match, methodically wearing Goto down and continually working on Goto's taped arm and shoulder. Goto was in a bad way, and he was making things worse by using his bad arm for a lot of his offense (lariats, elbow drops, etc.). After a while though, Goto's power started to take a toll on Naito, and the momentum in the match started to shift. Goto hit a big superplex that felt like it changed the tone of the match, and from that point on the fight was a lot closer. The pace and energy picked up as the minutes ticked away with each wrestler hitting bigger and bigger moves. This was a very solid, straightforward match, and it was a very good way to end round three.
Show Impressions
Another great show with some more great matches. At the end of round three for B Block, I think my biggest surprises are how well Yano is doing with points and how poorly SANADA is doing in points. I really hope SANADA turns the tournament around for himself, but I'm pretty fine with Yano getting as many points as he can. Everyone else is doing about like I'd expect, though we're not even halfway through, so things can definitely change drastically.
Match of the Night
Zack Sabre Jr. vs KENTA
I loved this clash of styles, and I loved how KENTA was able to pull ZSJ away from his own style for a good part of the match.
Standings After Night 6
A Block

Show/Hide Results
| Wrestler | Points | Wins | Losses | Draws |
| --- | --- | --- | --- | --- |
| Jay White | 6 | 3 | 0 | 0 |
| Taichi (IWGP Tag Champ) | 6 | 3 | 0 | 0 |
| Kota Ibushi | 4 | 2 | 1 | 0 |
| Minrou Suzuki (NEVER Openweight Champ) | 4 | 2 | 1 | 0 |
| Will Ospreay (RPW British Heavyweight Champ) | 4 | 2 | 1 | 0 |
| Jeff Cobb | 2 | 1 | 2 | 0 |
| Kazuchika Okada | 2 | 1 | 2 | 0 |
| Shingo Takagi | 2 | 1 | 2 | 0 |
| Tomohiro Ishii (NEVER 6-Man Champ) | 0 | 0 | 3 | 0 |
| Yujiro Takahashi | 0 | 0 | 3 | 0 |
B Block

Show/Hide Results
| Wrestler | Points | Wins | Losses | Draws |
| --- | --- | --- | --- | --- |
| Tetsuya Naito (IWGP IC & Heavyweight Champ) | 6 | 3 | 0 | 0 |
| Toru Yano | 6 | 3 | 0 | 0 |
| Juice Robinson | 4 | 2 | 1 | 0 |
| KENTA | 4 | 2 | 1 | 0 |
| EVIL | 2 | 1 | 2 | 0 |
| Hirooki Goto (NEVER 6-Man Champ) | 2 | 1 | 2 | 0 |
| Hiroshi Tanahashi | 2 | 1 | 2 | 0 |
| YOSHI-HASHI (NEVER 6-Man Champ) | 2 | 1 | 2 | 0 |
| Zack Sabre Jr. (IWGP Tag Champ) | 2 | 1 | 2 | 0 |
| SANADA | 0 | 0 | 3 | 0 |
C Block (Young Lions)

Show/Hide Results
| Young Lion | Points | Wins | Losses | Draws |
| --- | --- | --- | --- | --- |
| Yota Tsuji | 4 | 2 | 2 | 0 |
| Yuya Uemura | 4 | 2 | 2 | 0 |
| Gabriel Kidd | 4 | 2 | 2 | 0 |
Official Results (Japanese): https://www.njpw.co.jp/tornament/255781?showResult=1