Goddess of Stardom Tag League 10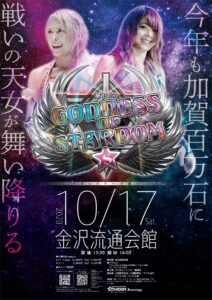 Day 3
Event Date: October 17, 2020 (14:00 JST)
matches published on Stardom World
City: Kanazawa, Ishikawa, Japan
Venue: Kanazawa Distribution Hall
Attendance: 258
Series: Goddess of Stardom Tag League 10
Commentary: none (on Stardom World)
Ring Announcer: Yoritaka Ando
Match 1
Saya Iida w/ Tam Nakano, Mina Shirakawa, Mayu Iwatani vs Utami Hayashishita (Goddess Champ)
(referee: Daichi Murayama)
Show/Hide Results
Result: Utami Hayashishita wins via pinfall with a bridging German suplex
Time: 8:05
Match Thoughts
Very good match. Hayashishita was the clear favorite in the match, but Iida gave her a good fight. Iida was the aggressor for the majority of the match, and she threw a lot of attacks Hayashishita's way. Iida is getting stronger and stronger, and she often works harder than her opponents to build up some sustained offense. Hayashishita is one of the more powerful wrestlers in Stardom though, and that power was on display in the final couple of minutes of the match. This was a very nice opener for the show.
Match 2
Konami w/ Saki Kashima, Natsuko Tora vs Starlight Kid w/ Tam Nakano, Mina Shirakawa, Mayu Iwatani vs Saya Kamitani (Goddess Champ) w/ Utami Hayashishita
(referee: Duke Sado)
Show/Hide Results
Result: Konami submits Saya Kamitani with a triangle armlock
Time: 7:21
Match Thoughts
Very good match. Konami let Starlight Kid and Kamitani fight each other to start the match, and Konami continued to pick her moments throughout the match in a smart way. Starlight Kid and Kamitani had a good back and forth battle going on, but more often than not Konami would take advantage of whomever was beginning to come out on top. This was a fun match and a strong performance from Konami.
Match 3
Goddess of Stardom Tag League 10 Block Match
Color Me Pop (Gokigen DEATH & Riho) (2 pts) vs Crazy Bloom (Maika & Giulia) (2 pts)
(referee: Duke Sado)
Show/Hide Results
Result: Gokigen DEATH pins Giulia with a victory roll (and Riho's Hell Thrust)
Time: 8:47
Match Thoughts
This match built off of Giulia and Gokigen DEATH's comical rivalry, and it was great. Giulia tried her throat thrust on Gokigen DEATH once, but after that she was all business. Well, except for the first part of the match where Color Me Pop forced Crazy Bloom to pose and dance with them. That segment just annoyed Giulia and Maika, and they then started working together very well to pick apart Riho and DEATH. Riho is super resilient and dangerous though, and that kept Color Me Pop competitive as the match went on. Fittingly, the final segment of the match featured Giulia vs DEATH, and that built up to an incredibly fun finish.
Match 4
Goddess of Stardom Tag League 10 Block Match
Devil Duo (Saki Kashima & Natsuko Tora) (0 pts) w/ Konami vs MOMOAZ (AZM & Momo Watanabe) (2 pts) w/ Saya Kamitani
(referee: Duke Sado)
Show/Hide Results
Result: AZM pins Saki Kashima with Azumi Sushi
Time: 9:13
Match Thoughts
Very good match. Right near the beginning of the fight, Saya Kamitani ran away with the chair and chain Devil Duo brought to the ring, thereby taking away the weapons they almost always cheat with. It's not like they couldn't just grab another chair or something, but it did seem to throw Kashima and Tora off. Devil Duo did well in the fight, but it was mostly a clean fight between the two teams which means MOMOAZ had the advantage by default. I mean, it's unclear if any member of Oedo Tai can comprehend a match without cheating at this point. I am, of course, joking around a little, but the fact is that MOMOAZ brought a very good fight and had better teamwork throughout this match. With two losses now, Devil Duo is going to have a tough time coming back up in the block. It's lucky for them that with the way the league is structured this year, they still have a realistic chance since their entire block is struggling for points.
Match 5
Natsupoi & Himeka & Syuri (Artist Champ) w/ Maika, Giulia vs Mina Shirakawa & Tam Nakano & Mayu Iwatani (World Champ) w/ Starlight Kid, Saya Iida
(referee: Daichi Murayama)
Show/Hide Results
Result: Syuri submits Mina Shirakawa with a scorpion deathlock
Time: 15:49
Match Thoughts
Great match. The bout started in a way that made it seem like all of the competitors might pair off and take turns against each other, but Mina Shirakawa got isolated by Donna del Mondo after each team made their first tag. Shirakawa wanted to prove herself to Mayu Iwatani as a good fit for the Stars unit, but she took a serious beating tonight. Shirakawa showed heart and determination, but she was triple-teamed for a very long time early in the match, and then she ended up facing Syuri towards the end of the match. Neither situation went well for her, and this was a very dominant performance from Donna del Mondo. Two of the matchups I particularly enjoyed were Natsupoi versus Tam Nakano and Syuri vs Mayu Iwatani, but the whole match was very entertaining.
Show Impressions
This was another good show in the Goddess Tag League tour. I would've liked to see more than two league matches, but I can't really complain too much about them spreading those out during the tour.
Match of the Night
Color Me Pop vs Crazy Bloom
This was fun and surprising. The main event was just as good, but I picked Color Me Pop versus Crazy Bloom because it's a league match, and the finish made me smile the most tonight.
League Standings After Day 3
Red Block

Show/Hide Results
| Team Name | Members | Points | Wins | Losses | Draws |
| --- | --- | --- | --- | --- | --- |
| Crazy Bloom | Giulia & Maika | 2 | 1 | 1 | 0 |
| AphroditE | Utami Hayashishita & Saya Kamitani | 1 | 0 | 1 | 1 |
| wing★gori | Saya Iida & Hanan | 0 | 0 | 1 | 0 |
| Devil Duo | Natsuko Tora & Saki Kashima | 0 | 0 | 2 | 0 |
| MK☆Sister's | Mayu Iwatani & Starlight Kid | 0 | 0 | 2 | 0 |
Blue Block

Show/Hide Results
| Team Name | Members | Points | Wins | Losses | Draws |
| --- | --- | --- | --- | --- | --- |
| Color Me Pop | Gokigen DEATH & Riho | 4 | 2 | 0 | 0 |
| MOMOAZ | Momo Watanabe & AZM | 4 | 2 | 1 | 0 |
| Black Widows | Bea Priestley & Konami | 3 | 1 | 0 | 1 |
| DREAM☆H | Tam Nakano & Mina Shirakawa | 2 | 1 | 0 | 0 |
| Grab the Top | Syuri & Himeka | 2 | 1 | 0 | 0 |
Official Results (Japanese): https://wwr-stardom.com/news/20201017kanazawa/