NJPW Strong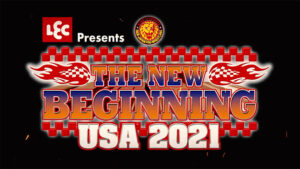 Episode 29
The New Beginning USA (Night 2)
#njpwstrong
Original Air Date: February 26, 2021
Event Date: ?
(uploaded to NJPW World)
City: Port Hueneme, CA
Venue: Oceanview Pavilion (empty arena)
Series: The New Beginning USA
Commentary (English): Kevin Kelly, Alex Koslov, Rocky Romero (3)
Ring Announcer: Adnan Kureishy (ringside)
Ring Area
Kevin Kelly and Alex Koslov welcome us to the second night of The New Beginning USA featuring Jon Moxley versus KENTA for the United States Heavyweight Championship!
Video
The hype video for The New Beginning USA tour.
Match 1
The Riegel Twins & ACH & Brody King vs The DKC & Kevin Knight & Clark Connors & TJP
(referee: Nick Bonanno)
Show/Hide Results
Result: ACH pins The DKC after a brainbuster
Time: 8:36
Match Thoughts
Very good match. With TJP's team made up of three young lions, the finish of this match was never really in question, but the action was fun. Brody King and TJP both acted like captains for their teams, but King didn't seem to have to do as much as TJP. Brody King did get into the match at a couple points, but for the most part the Riegel Twins and ACH had things under control. TJP was more of a hands-on leader, but he also let the young lions do what they wanted to do. What most of them seemed to want to do was fight Brody King, and you can imagine how that went. This was a nice way to start the show.
Match 2
Chris Dickinson vs Ren Narita
(referee: Justin Borden)
Show/Hide Results
Result: Ren Narita wins via submission with the Narita Special 3
Time: 7:51
Match Thoughts
A very good match that did not go at all like I expected it to. Dickinson has a significant size advantage over Narita, plus he has a good skill set involving technique and strikes. The commentators mentioned how Narita has been compared to Katsuyori Shibata, but even though I can see that in him, I expected Dickinson to have an advantage if the match was fought in a strong-style striking contest. That's exactly how most of this match was fought, but Narita continually had the striking advantage over Dickinson. Dickinson's strikes were probably stronger, but Narita overcame his power disadvantage through sheer volume. Dickinson fought back with some big strikes and slams that slowed Narita from time to time, but Narita always came back with more and more strikes which led to a surprising and fun finish.
Intermission
The ring is cleaned and sanitized during a brief intermission.
Video
A brief look at the long journey to the IWGP United States Heavyweight Title match.
Match 3
IWGP United States Heavyweight Title Match
KENTA vs Jon Moxley (IWGP US Champ)
(referee: Jeremy Marcus)
Show/Hide Results
Result: Jon Moxley wins via pinfall after Death Rider and retains the title in the third defense of his second reign
Time: 14:25
Match Thoughts
Great match. This was a very long time coming, and I really enjoyed it. I feel like both men deserved the win, and it was really a tough call for me about who I really wanted to see get the victory. I was cool with either guy having the title, but throughout the match I started pulling for Moxley. The action was fairly even all the way through with both men getting some big shots in. The strikes were heavy, and even though there were some ringside shenanigans, nothing about this match felt like a cheat or a letdown. It will be interesting to see how the US Title is handled from here, but as of right now, I was happy with what I just watched.
Show Impressions
This was a great episode of NJPW Strong. It started with fast and fun action, continued with a surprisingly hard-hitting bout with an unexpected finish, and ended with a dramatic title match that delivered on it's long buildup.
Match of the Night
KENTA vs Jon Moxley
What does the outcome of this match mean for the champ? Who will be the next challenger? When and where will the next title match take place? As good as this match was, the questions it raises could lead to some even more exciting scenarios in the future.
Official Results: https://www.njpw1972.com/tornament/91804?showResult=1