Goddess of Stardom Tag League 10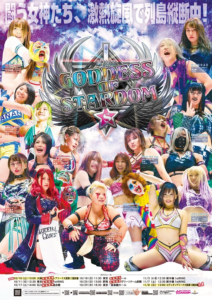 Day 5
Event Date: October 25, 2020 (13:00 JST)
matches published on Stardom World
City: Maebashi, Gunma, Japan
Venue: Yamada Green Dome Maebashi Sub-Event Area
Attendance: 237
Series: Goddess of Stardom Tag League 10
Commentary: none (on Stardom World)
Ring Announcer: Yoritaka Ando
Match 1
Konami & Saki Kashima w/ Bea Priestley, Natsuko Tora vs Rina & Gokigen DEATH
(referee: Duke Sado)
Show/Hide Results
Result: Saki Kashima pins Rina after My Emblem
Time: 8:19
Match Thoughts
This was a good opener. The offense was quite lopsided in the favor of Oedo Tai (Kashima and Konami), but Gokigen DEATH and Rina were still able to get some fun offense here and there. Gokigen DEATH tended to fare well during her time in the ring, but Rina struggled to keep control when she was legal. Rina also got isolated which meant she spent the majority of the time legal in the match for her team. Rina and Kashima had some nice exchanges in the final sequences of the match, and that led to a fun finish to this opening match.
Match 2
Hina & Riho vs Maika (Artist & Future Champ) & Giulia (Artist & Wonder Champ)
(referee: Duke Sado)
Show/Hide Results
Result: Maika pins Hina after Sazanka
Time: 12:11
Match Thoughts
Good match. Much like the opening match tonight, the weaker member of one of the teams was isolated and dominated throughout most of the match. Here it was Hina who got isolated, and Donna del Mondo picked her apart pretty much right from the start of the match. Riho entered the match partway through and had a good segment which set Hina up to get some offense on Giulia once Hina tagged back in, but Hina's time in control was short. Giulia and Maika double-teamed Hina at times and kept Riho busy at ringside at other times, and Hina didn't stand a chance against their well-planned attacks.
Match 3
Goddess of Stardom Tag League 10 Block Match
wing★gori (Hanan & Saya Iida) (0 pts) vs Grab the Top (Himeka & Syuri) (2 pts)
(referee: Duke Sado)
Show/Hide Results
Result: Himeka pins Saya Iida after a running falling powerbomb
Time: 10:55
Match Thoughts
Good match. Even though Himeka and Syuri dominated the majority of the match, it wasn't necessarily an easy win for them. Hanan put up a valiant effort, but she tended to get beat up whenever she was in the ring. Hanan was able to tag out frequently though, and that allowed her and Saya Iida to share time in the ring and get some teamwork going from time to time. With a decent amount of time in the ring, Saya Iida was able to put up some good offense. Even when Iida was getting beat up a lot (like in the final segments of the match where she was paired up with Himeka), she was able to apply some sneaky pin attempts, a few of which felt like they could have ended the match. Ultimately though, Himeka and Syuri hit harder, were smarter with their strategy, and were the overall better team tonight. Grab the Top is a powerful team that has a very real chance of winning the whole tournament.
Match 4
Bea Priestley (SWA Champ) & Natsuko Tora vs Utami Hayashishita (Goddess Champ) & Momo Watanabe
(referee: Daichi Murayama)
Show/Hide Results
Result: Momo Watanabe & Utami Hayashishita win via DQ when Natsuko Tora hangs Watanabe over the top rope by the neck with a chain
Time: 14:19
Match Thoughts
Good match. This was a nice back and forth battle between Oedo Tai and Queen's Quest with everyone getting involved. Neither team really had the upper hand for an extended period of time, and both units worked well as teams. As the match passed the ten minute mark, Queen's Quest did start to take over somewhat. Watanabe and Tora were legal in the ring together for a while, and Watanabe started stringing together some good offense. Oedo Tai then did what they often do in situations like this: they cheated. Bea Priestley distracted the referee while Natsuko Tora got her chain, and Tora used the chain on Watanabe. Not content with just hitting Watanabe, Tora wrapped the chain around Watanabe's neck and pushed her over the top rope. The referee finally saw what was going on and called for a quick disqualification. This isn't the first time Tora has used her chain like this, and hopefully it leads to some violent retribution down the road.
Match 5
Goddess of Stardom Tag League 10 Block Match
DREAM☆H (Mina Shirakawa & Tam Nakano) (2 pts) vs MK☆Sister's (Starlight Kid & Mayu Iwatani) (0 pts)
(referee: Daichi Murayama)
Show/Hide Results
Result: Mayu Iwatani pins Mina Shirakawa with a bridging dragon suplex
Time: 14:49
Match Thoughts
Very good match. After cordial ring introduction where both teams shook hands with their opponents, Nakano and Shirakawa attacked Iwatani and Starlight Kid before the opening bell. Prior to the match, both teams acknowledged that in addition to being a tournament match with some much-needed points on the line, this was another evaluation match for Shirakawa as the newest (potential) member of Stars. Shirakawa took the idea of being evaluated seriously, and she spent a lot of time legal in the match. Iwatani also seemed to take the evaluation seriously, although it didn't seem like she was taking Shirakawa herself too seriously. Iwatani dominated Shirakawa lengthy stretches of the match, and Iwatani seed to have fun toying with Shirakawa at times (like when she put Shirakawa in a submission right next to the ropes just to see how long it would take her to grab the ropes for a break).
Iwatani and Shirakawa felt like they were the main focus of the match, but Starlight Kid and Nakano contributed a lot as well. Kid looked good on her own and as a teammate for Iwatani, and Nakano was the same. Nakano and Shirakawa have some very good tag team chemistry already, and a lot of their offense came from the two of them being in unison for most of the match. Starlight Kid ended up being the target of a lot of Nakano and Shirakawa's teamwork, but Kid was a great partner late in the match when she essentially took Nakano out of the fight at ringside, allowing Iwatani to have Shirakawa all to herself. This was a fun main event and another good match in the tag tournament. Both teams are struggling for points, though they do have a lot of matches left to go.
Ring Area
After the match, Mayu Iwatani says she would be happy to have Mina Shirakawa in Stars and officially welcomes her to the unit. Starlight Kid welcomes Shirakawa and looks forward to their fights as teammates. Starlight Kid goes on to thank the fans for attending Stardom's first show in Gunma before gathering all of the Stars members in the ring to close the show.
Show Impressions
This felt like a smaller show with only five matches and just two league matches as the most important on the card, but I still enjoyed it. I liked the format of having a series of two-on-two tag matches over a bunch of bigger tags. I enjoy the six, eight, or whatever tag matches fine, but with two-on-two it often feels like you can get a better narrative going within the action. There's typically less chaos and everyone's action matter a lot more when there are fewer people involved.
Match of the Night
DREAM☆H vs MK☆Sister's
This was a lot of fun, and the focus on Shirakawa being evaluated for Stars helped add an extra layer of intrigue to the action.
League Standings After Day 5
Red Block

Show/Hide Results
| Team Name | Members | Points | Wins | Losses | Draws |
| --- | --- | --- | --- | --- | --- |
| Crazy Bloom | Giulia & Maika | 2 | 1 | 1 | 0 |
| MK☆Sister's | Mayu Iwatani & Starlight Kid | 2 | 1 | 2 | 0 |
| AphroditE | Utami Hayashishita & Saya Kamitani | 1 | 0 | 2 | 1 |
| Devil Duo | Natsuko Tora & Saki Kashima | 0 | 0 | 2 | 0 |
| wing★gori | Saya Iida & Hanan | 0 | 0 | 2 | 0 |
Blue Block

Show/Hide Results
| Team Name | Members | Points | Wins | Losses | Draws |
| --- | --- | --- | --- | --- | --- |
| MOMOAZ | Momo Watanabe & AZM | 6 | 3 | 1 | 0 |
| Color Me Pop | Gokigen DEATH & Riho | 4 | 2 | 0 | 0 |
| Grab the Top | Syuri & Himeka | 4 | 2 | 0 | 0 |
| Black Widows | Bea Priestley & Konami | 3 | 1 | 0 | 1 |
| DREAM☆H | Tam Nakano & Mina Shirakawa | 2 | 1 | 1 | 0 |
Official Results (Japanese): https://wwr-stardom.com/news/20201025maebashi/