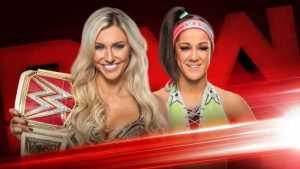 February 13, 2017
Episode 1238
(aired live)
#RAW
City: Las Vegas, NV
Venue: T-Mobile Arena
Commentary: Michael Cole, Corey Graves, Byron Saxton
Ring Announcer: Jojo
In Memory of Chavo Guerrero Sr. (1949-2017)
Intro Video
"Enemies" by Shinedown
Ring Area
Stephanie McMahon heads to the ring. She says that Foley was obviously overworked last week, so she has given him this week off. She then happily announces that she's running RAW tonight, and that's when Roman Reigns heads to the ring.
Reigns doesn't want to wait until Fastlane, he wants Braun Strowman right now. Stephanie asks the audience if they'd like to see Reigns and Strowman fight tonight. They cheer, but Stephanie says they're ambivalent. Besides, Strowman is already scheduled to face Mark Henry tonight. Reigns suggest that he'll watch that match up close. Stephanie threatens Reigns, saying that if he attacks Strowman that she'll take him off of Fastlane and Wrestlemania.
Anderson and Gallows then come out to the stage. They couldn't stand listening to Reigns talking back to Stephanie. They propose a handicap match tonight, Gallows and Anderson versus Roman Reigns. Stephanie thinks that's a good idea. Gallows and Anderson start walking towards the ring, and Reigns comes out to meet them. They brawl a little until referees break them up.
Match 1
Two-on-One Hanidcap Match
Roman Reigns vs Luke Gallows and Karl Anderson (RAW Tag Champs)
(referee: Chad Patton)
Show/Hide Results
Result: Roman Reigns wins via DQ when Gallows and Anderson refuse
Time: 3:09 (joined in progress)
Match Thoughts
It wasn't much of a match, it was just a beating. At least it didn't make the tag champs look bad.
Video
Last September, Jericho started his list.
Ring Area
New Day heads to the ring. Kofi calls Bo Dallas a social outcast, and Xavier announces plans for a New Day ice cream machine.
Match 2
Kofi Kingston w/ Xavier Woods, Big E vs Bo Dallas
(referee: Rod Zapata)
Show/Hide Results
Result: Kofi Kingston wins via pinfall with an SOS
Time: 2:17
Match Thoughts
It was mostly a comedy match, but it was pretty entertaining. After some goofy shenanigans with Dallas dancing and tearing up the ice cream machine blueprints (which New Day freaked out about even though two pieces of tape would fix them), a couple big moves in the ring led to a quick finish.
Backstage
Charly Caruso asks Neville about Jack Gallagher becoming the new number-one contender for the Cruiserweight title. Neville says Jack is no threat. Jack walks up and wants to quote Shakespeare, but Neville won't let him. Jack calls Neville a pillock.
Video
Last October, Jericho helped Kevin Owens retain the Universal title at Hell in a Cell.
Match 3
Noam Dar w/ Alicia Fox vs Gentleman Jack Gallagher
(referee: Darrick Moore; guest commentary: Austin Aries (replacing Byron Saxton))
Show/Hide Results
Result: Jack Gallagher wins via pinfall after a headbutt and a running dropkick
Time: 3:15
Match Thoughts
A pretty good, quick match. Gallagher is a lot of fun to watch, but this wasn't terribly competitive. Nor should it have been. This was a good exhibition for the number one contender.
Backstage
Samoa Joe arrives at the arena in a limo. He's accompanied by Triple H.
Video
Last November, Jericho blames Sin Cara wearing a Chris Jericho for attacking Seth Rollins.
Ring Area
Emmalina has finally arrived after 17 weeks of promos. And now that we've seen the makeover from Emma to Emmalina, we will all see the makeover from Emmalina to Emma. Emmaline/Emma walks away leaving everyone confused and let down.
Backstage
Charly Caruso asks Bayley if she's ready for her title match tonight. Bayley says she's good-nervous.
Backstage
Jericho is excited about tonight's Festival of Friendship. Triple H walks up and needs to talk to Owens. Alone.
Backstage
We can't hear anything, but Triple H is explaining something to Kevin Owens.
Match 4
Braun Strowman vs Mark Henry
(referee: John Cone)
Show/Hide Results
Result: Braun Strowman wins via pinfall with a powerslam
Time: 4:51
Match Thoughts
Not bad for a big-man match. It was rather slow and plodding, but both guys showed impressive feats of strength.
Ring Area
After the match, Roman Reigns heads to the ring. As he steps up to the apron, Strowman knocks him off. Reigns manages to make it into the ring and attack Strowman, but Strowman lays out the hurting Roman Reigns with a powerslam.
Video
Last December, Jericho got Roman Reigns DQ'd in a title match against Owens.
Ring Area
Bryce Harper is in the front row.
Backstage
Cesaro and Sheamus are giving Bayley some pointers when Enzo and Cass walk up. Sheamus is still angry about last week. Enzo dares Cesaro and Sheamus to "do something about it."
Backstage
Michael Cole has a sit-down interview with Samoa Joe. Joe came to RAW to hurt people, and he doesn't care about anyone's opinion except for Triple H's. Cole suggests that Joe is on RAW because Triple H is scared of Rollins. Joe says that he is the reason Rollins will miss Wrestlemania for the second year in a row because of him. He's also annoyed that Cole keeps talking about Triple H. He's says that people will soon learn why "the creator" unleashed "the destroyer."
Match 5
Sami Zayn vs Rusev w/ Lana
(referee: Chad Patton)
Show/Hide Results
Result: Sami Zayn wins via pinfall after a Helluva Kick
Time: 7:39 (1 break)
Match Thoughts
Pretty good match. It was an underdog match, which isn't surprising when Zayn is in the ring. The ending was pretty sudden, but it worked for the match.
Ring Area
After the match, Charly Caruso asks Sami if his win is a boost in confidence. He says it is, and it's a step in the right direction. He then responds to one of oe's comments from his interview with Cole. Zayn says that he doesn't clean up other people's messes and that he doesn't sell out. Joe apparently didn't like being called out, so he attacks Sami on the stage. Zayn gets choked out.
Video
Teddy Long will be inducted into the WWE Hall of Fame.
Match 6
Akira Tozawa vs Ariya Daivari
(referee: Rod Zapata; guest commentary: Austin Aries, Brian Kendrick (replacing Byron Saxton))
Show/Hide Results
Result: Akira Tozawa wins vis pinfall with a bridging snap German suplex
Time: 3:12
Match Thoughts
Good match. Quick, but also fast-paced. The match was pretty even, but Tozawa was the quicker of the two which gave him the advantage. Good finish.
Video
Last Monday, Owens helped Jericho beat Sami Zayn.
Ring Area
It's time for The Festival of Friendship, so, accompanied by some showgirls, Jericho heads out to the stage and announces his best friend Kevin Owens. In the ring, Jericho unveils the "art of Jericho." He then unveils "The Creation of Kevin." Finally, he brings in Friendship the Magician. The magician makes tiny green scarves and unveils a pink rose. Owens isn't impressed. Jericho agrees with his friend, so Friendship the Magician makes the list.
After Friendship leaves, Jericho call out Goldberg. Instead of Goldberg, it's the return of Gillberg! Owens is not pleased, and he runs out to attack Gillberg before he even makes it to the ring. Owens is not happy with Jericho. He wanted to get Goldberg in the ring so they could attack him together. Jericho apologizes for disappointing Owens, but he just wanted to show Owens how much he means to him. He wanted to thank Owens for making the past year one of the best in his career. He guarantees that Owens will beat Goldberg, because Jericho has his back. Owens is Jericho's friend and brother.
Owens thanks Jericho. He has something for Jericho: a new list. Jericho realizes that his name is on the list. It's not a new List of Jericho, its a List of KO. Owens attacks Jericho, beating him up all around the ring area. After a powerbomb on the apron, Owens smashes Jericho's head into the glass Festival of Friendship sign in the ring.
Backstage
Jericho is loaded into an ambulance.
Match 7
Enzo Amore w/ Big Cass vs Cesaro w/ Sheamus
(referee: John Cone)
Show/Hide Results
Result: Cesaro wins via pinfall after a pop-up European uppercut
Time: 2:40
Match Thoughts
Pretty okay match. There was a little bit of awkwardness with Enzo, but Cesaro powered through the match and gave it a good ending.
Video
WWE celebrates Black History Month and Rosa Parks.
Backstage
As Charlotte heads towards the ring area, Sasha Banks stops her. Sasha says she'll fight Charlotte anyplace, anytime. Charlotte points out that Sasha can't do anything tonight because of her knee.
Match 8
RAW Women's Title Match
Bayley vs Charlotte Flair (RAW Women's Champ)
(referee: Chad Patton)
Show/Hide Results
Result: Bayley wins via pinfall after a Bayley-to-Belly
Time: 14:30 (1 break)
Match Thoughts
Very good match. This had a great build to it. It felt more important as it went along. Bayley took a lot of punishment with Charlotte landing some very hard-hitting moves. It had good near falls, and even the mild interference by Dana Brooke and Sasha Banks only made the match more exciting towards the end. It had a good finish, giving this show a good ending, but making sure that the story is far from over.
Show Impressions
There were two memorable segments on the show (the RAW Women's Title match and the Festival of Friendship), but other than that this show was pretty forgettable. It wasn't bad necessarily, just kind of average. If anyone were to wonder of they should watch this episode, I would say just watch the last hour.
Match of the Night
RAW Women's Title Match
There's no contest here. The other matches on the show ranged from okay to pretty good, but that shouldn't take away from the quality of this match. It was exciting and emotional. I think some of Sasha's title matches on RAW against Charlotte were better overall, but this match deserves to be placed along side those battles.