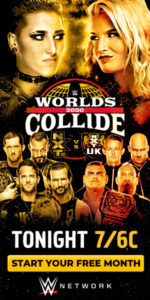 WWE Worlds Collide: NXT vs NXT UK
#WorldsCollide
Original Air Date: January 25, 2020
Event Date: January 25, 2020
(aired live on the WWE Network)
City: Houston, TX
Venue: Toyota Center
Commentary: Tom Phillips, Nigel McGuinness
Spanish Commentary (ringside): Marcelo Rodriguez, Carlos Cabrera
Ring Announcer: Alicia Taylor (1, 4, 5), Andy Shepherd (2, 3)
Match 1
Finn Balor vs Ilja Dragunov
(referee: Darryl Sharma)
Show/Hide Results
Result: Finn Balor wins via pinfall after the 1916
Time: 13:51
Match Thoughts
Very good match. Dragunov put up a very good and energetic fight, but Balor was up for the challenge. This was a fairly hard-hitting bout, and it was fun to watch. This was a nice opener.
Backstage
Rhea Ripley thinks in her locker room.
Backstage
Toni Storm warms up.
Ring Area
Cathy Kelley welcomes the Grizzled Young Veterans and the Broserweights who are both at ringside. Zack Gibson thinks Riddle and Dunne have no chance of winning the Dusty Classic. Matt Riddle wonders why Gibson is being so serious. Pete Dunne is more blunt with his words.
Match 2
Fatal Four Way Cruiserweight Title Match
Isaiah "Swerve" Scott vs Jordan Devlin vs Travis Banks vs Angel Garza (Cruiserweight Champ)
(referee: DA Brewer)
Show/Hide Results
Result: Jordan Devlin pins Isaiah Scott after the Devlin Side
Time: 12:06
Match Thoughts
Very good match. There were a lot of fun and innovative multi-person spots in this. I also enjoyed how the flow of the match went overall. No one really seemed to get a sustained advantage, though Devlin seemed to be fighting the smartest tonight. Banks also got in his fair share of high-impact moves though. I liked this a lot.
Backstage
The Undisputed Era prepares for a fight.
Ring Area
Keith Lee and Mia Yim are in the front row.
Ring Area
Chelsea Green and Robert Stone take their seats in the crowd.
Video
What if #DIY were to fight Moustache Mountain?
Match 3
Moustache Mountain vs #DIY
(referee: Darryl Sharma)
Show/Hide Results
Result: Tommaso Ciampa pins Trent Seven after Meet in the Middle
Time: 22:56
Match Thoughts
Great match. It started with both teams having fun with each other and posing a bit, but there was a sequence where Trent Seven went on a rampage that changes the mood of the match. It got serious after that, and it was pretty much a tornado tag with many, many double-team moves from both tandems. This was very fun, though I might have wanted the victory to go the other way. Of course, I might be saying the same thing had the other team won. I just like both teams.
Backstage
Imperium gets pumped up.
Ring Area
Mercedes Martinez is in the crowd. So is Dakota Kai. Tegan Nox appears and attacks Dakota, and the two women brawl over to ringside until they are pulled apart by security.
Video
A look at Storm and Ripley leading up to their title match.
Ring Area
Bianca Belair is in the crowd for the next match.
Match 4
NXT Women's Title Match
Toni Storm vs Rhea Ripley (NXT Women's Champ)
(referee: DA Brewer)
Show/Hide Results
Result: Rhea Ripley wins via pinfall after Riptide
Time: 10:07
Match Thoughts
This was good, but I wonder if it was cut short due to time. The finish seemed to be sudden, and it was the shortest match of the night by a few minutes. I think they both could have gone longer and delivered a more exciting match. Still, it was good.
Backstage
Moments ago, Finn Balor attacked Johnny Gargano while he was doing an interview. Balor was pulled away by other superstars, but Balor kept yelling at Johnny as he walked away.
Video
A look at the feud between Imperium and Undisputed Era.
Match 5
Undisputed Era vs Imperium
(referee: Drake Wuertz)
Show/Hide Results
Result: Walter pins Bobby Fish after a powerbomb
Time: 29:53
Match Thoughts
Great match! Unfortunately, Alexander Wolfe took a kick to the chin from Bobby Fish early in the match that looked like it knocked him out, so Wolfe had to make an early exit. That meant most of the match was four-on-three, but the seven men still in the ring put on a great show. Some of my favorite moments involved Kyle O'Reilly and Walter (specifically when they were one-on-one against each other), but everyone looked great. The match was nearly thirty minutes long, and I loved it.
Show Impressions
This was a fun show. It was tough for me to pick a winner in any match because I liked everyone on the card, but that also meant that I would be happy with the overall results no matter who won or lost. I was happy with this show, and I'd like to see it happen more than once a year. Maybe once in the winter and once in the sumer.
Match of the Night
Undisputed Era vs Imperium
All the matches were good, but this was great.