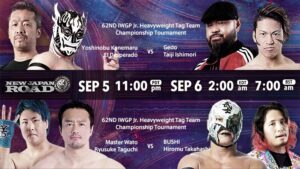 NJPW New Japan Road
Night 3
Event Date: September 6, 2020 (15:00 JST)
aired live on NJPW World
#njroad
City: Mihama, Chiba, Chiba, Japan
Venue: Makuhari Messe – International Exhibition Hall 3
Attendance: 470
Series: New Japan Road
Commentary (Japanese): Haruo Murata, Milano Collection AT, Jushin Thunder Liger
Ring Announcer: Kimihiko Ozaki (1 – 3), Makoto Abe (4 – 6)
IWGP Jr. Heavyweight Tag Title League Bracket (prior to tonight's matches)

Show/Hide Bracket
| | Hiromu Takahashi & BUSHI | Taguchi & Wato | El Desperado & Kanemaru | Ishimori & Gedo |
| --- | --- | --- | --- | --- |
| Hiromu Takahashi & BUSHI (2) | - | 9/6 | 9/9 | 9/5 |
| Taguchi & Wato (2) | | - | 9/5 | 9/9 |
| El Desperado & Kanemaru (0) | | Taguchi & Wato | - | 9/6 |
| Ishimori & Gedo (0) | Hiromu & BUSHI | | | - |
Video
The opening video shows some of the results of the recent Jingu Stadium show including the new NEVER Openweight Champ Minoru Suzuki, and the new Double Champ Tetsuya Naito. It also previews the mini tag league to crown new Jr. Heavyweight Tag Champs during New Japan Road since YOH is injured and can't defend the titles alongside SHO. Also on the New Japan Road tour, Chaos will battle Chaos as the NEVER Openweight 6-Man tag champs of Tomohiro Ishii, YOSHI-HASHI, and Hirooki Goto defend their titles against SHO, Toru Yano, and Kazuchika Okada.
Match 1
Yuya Uemura vs Yuji Nagata
(referee: Kenta Sato)
Show/Hide Results
Result: Yuji Nagata wins via submission with the Nagata Lock II
Time: 8:46
Match Thoughts
Good match. Uemura did well, and after a while he started trading strikes with Nagata. Of course Nagata got the better of Uemura, but Uemura showed a lot of power. Uemura did have some moments of offense throughout the match as well, and overall this was a very nice performance from the young lion. Even Nagata seemed impressed, and he bowed slightly to Uemura before leaving the ring after the match.
Match 2
Yota Tsuji & SHO & Toru Yano & Kazuchika Okada vs Gabriel Kidd & YOSHI-HASHI (6-Man Tag Champ) & Tomohiro Ishii (6-Man Tag Champ) & Hirooki Goto (6-Man Tag Champ)
(referee: Kenta Sato)
Show/Hide Results
Result: YOSHI-HASHI submits Yota Tsuji with a butterfly lock
Time: 11:36
Match Thoughts
Very good match. I think yesterday's match between these same basic teams (but with young lions moved around) was better, but this was still a lot of fun. Both matches have been great previews for the upcoming NEVER Openweight 6-Man Tag Title match.
Ring Area
After the match, SHO and Ishii argue until they start to trade strikes at ringside. There is a brief brawl that expands to include Okada and Kidd, but everyone quickly settles down and separates.
Match 3
Tomoaki Honma & Satoshi Kojima & Kota Ibushi & Hiroshi Tanahashi vs Douki & Zack Sabre Jr. (IWGP Heavyweight Champ) & Taichi (IWGP Heavyweight Champ) & Minoru Suzuki (NEVER Openweight Champ)
(referee: Marty Asami)
Show/Hide Results
Result: Zack Sabre Jr. submits Tomoaki Honma with a ground octopus hold
Time: 12:48
Match Thoughts
Very good match. Suzuki Gun got a lot more offense tonight than they did last night, but again, this felt like a mostly story-less match with some good action between all eight guys. Suzuki didn't really seem interested in fighting anyone, so it seems like he will be looking for a challenger for his NEVER Openweight Title elsewhere. Overall this was a fun match that did feel a bit like Suzuki Gun getting some momentum after being stalled a bit last night.
Intermission
The ring is cleaned and sanitized during a brief intermission.
Match 4
Jado & Yujiro Takahashi & EVIL vs SANADA & Shingo Takagi & Tetsuya Naito (IWGP IC & Heavyweight Champ)
(referee: Marty Asami)
Show/Hide Results
Result: SANADA pins Jado with a bridging O'Connor roll
Time: 8:48
Match Thoughts
Very good match. This same match-up happened last night, but the match was different enough for it to still be fun and interesting. LIJ worked better tonight as a team and individually, and they were able to negate a lot of Bullet Club's tricks. Bullet Club struggled, but they also didn't seem to take the match too terribly seriously. That cost them, and LIJ looked good tonight.
Match 5
IWGP Jr. Heavyweight Tag Title League Match
Yoshinobu Kanemaru & El Desperado (0 pts) vs Gedo & Taiji Ishimori (Jr. Heavyweight Champ) (0 pts)
(referee: Red Shoes Unno)
Show/Hide Results
Result: El Desperado pins Gedo after Pinche Loco
Time: 16:48
Match Thoughts
Great match. With these two teams, I expected a brawl right from the start. Instead, Bullet Club used Jay White's strategy of stalling and slowing down the first part of the match. That led to Gedo and Ishimori cheating their way into isolating and dominating El Desperado for a while. Gedo looked great tonight, and he seemed to lead the fight for Bullet Club throughout most of the match. The momentum switched a few times during the match, and by the end it turned into a chaotic battle to see who could be more clever with their cheating. This was a lot of fun.
Match 6
IWGP Jr. Heavyweight Tag Title League Match
BUSHI & Hiromu Takahashi (2 pts) vs Master Wato w/ Hiroyoshi Tenzan & Ryusuke Taguchi (2 pts)
(referee: Red Shoes Unno)
Show/Hide Results
Result: Hiromu Takahashi pins Master Wato after LAT
Time: 18:02
Match Thoughts
Great match! After their strong performance last night, Taguchi didn't seem to have any worries about Wato wanting to start tonight's match. Wato did well, but he stayed in the ring for a long time and eventually began to get dominated by the teamwork of LIJ. Taguchi came in to reset he match, and from there the pace picked up and the momentum went back and forth. I think both teams might have looked even better tonight than last night (and they both looked really good last night). Wato and Taguchi make a very fun team, but the teamwork of LIJ was the biggest difference-maker tonight. BUSHI and Hiromu were in sync throughout the entire match, and it was great to watch.
Show Impressions
I think tonight's show was better than last night's overall. As is usually the case with these tours, tonight's card was very similar to last nights. The preview for the NEVER 6-Man Title match was maybe a little more fun last night, but I liked tonight's main event matches better. Regardless, both shows were good. Also, I think the next two shows could get pretty exciting with the finish of tournament block action on the next show and two title matches on the one after that.
Match of the Night
BUSHI & Hiromu Takahashi vs Master Wato & Ryusuke Taguchi
A great match. Also, Hiromu's mocking of Tenzan's Mongolian chop was fantastic.
Jr. Heavyweight Tag Title League Bracket (after tonight's show)

Show/Hide Bracket
| | Hiromu Takahashi & BUSHI | Taguchi & Wato | El Desperado & Kanemaru | Ishimori & Gedo |
| --- | --- | --- | --- | --- |
| Hiromu Takahashi & BUSHI (4) | - | 9/6 | 9/9 | 9/5 |
| Taguchi & Wato (2) | Hiromu & BUSHI | - | 9/5 | 9/9 |
| El Desperado & Kanemaru (2) | | Taguchi & Wato | - | 9/6 |
| Ishimori & Gedo (0) | Hiromu & BUSHI | | El Desperado & Kanemaru | - |
Jr. Heavyweight Tag Title League Standings

Show/Hide Standings
| Team | Points | Wins | Losses | Draws |
| --- | --- | --- | --- | --- |
| Hiromu Takahashi & BUSHI | 4 | 2 | 0 | 0 |
| Rysuke Taguchi & Master Wato | 2 | 1 | 1 | 0 |
| El Desperado & Yoshinobu Kanemaru | 2 | 1 | 1 | 0 |
| Taiji Ishimori (Jr. Heavyweight Champ) & Gedo | 0 | 0 | 2 | 0 |
Official Results (Japanese): https://www.njpw.co.jp/tornament/254249?showResult=1