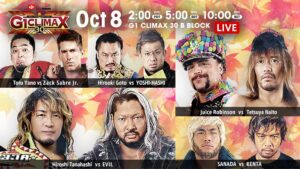 NJPW G1 Climax 30
Night 12
B Block: Round 6
#G1CLIMAX30
Event Date: October 8, 2020 (18:00 JST)
aired live on NJPW World
City: Kita, Okayama, Okayama, Japan
Venue: Zip Arena Okayama
Attendance: 1,477
Series: G1 Climax 30
Theme Song: "Blazing Souls" by 9mm Parabellum Bullet
Commentary (English – recorded remotely): Kevin Kelly
Commentary (Japanese): Milano Collection AT, Jushin Thunder Liger, Shigeki Kiyono
Ring Announcer: Kimihiko Ozaki (1 – 3), Makoto Abe (4 – 6)
Video
The opening video looks at the competitors in B Block.
Match 1
Gabriel Kidd vs Yuya Uemura
(referee: Kenta Sato)
Show/Hide Results
Result: Gabriel Kidd wins via pinfall after a butterfly suplex
Time: 8:47
Match Thoughts
This felt like slightly more of a methodical opener than usual for the young lions. Uemura relied more on his technical skills throughout the first part of the match, and that gave him a slight advantage. Kidd pushed back with strikes and slams though, and that began to shift the momentum to his favor as the match neared its end. This might not have been as exciting as some of the recent opening matches, but I enjoyed it.
Match 2
G1 Climax 30 B Block Match
YOSHI-HASHI (2 pts) (NEVER 6-Man Champ) vs Hirooki Goto (4 pts) (NEVER 6-Man Champ)
(referee: Kenta Sato)
Show/Hide Results
Result: Hirooki Goto wins via pinfall after GTR
Time: 14:12
Match Thoughts
Very good match. Goto's shoulder continues to be a big issue for him, and even though Goto and YOSHI-HASHI are 6-man tag partners, YOSHI-HASHI had no problems going right after Goto's injury. YOSHI-HASHI focused on Goto's shoulder as a setup for the butterfly lock, but except for one sequence, Goto was able to avoid any real submission predicament. YOSHI-HASHI also got a little condescending in the match, yelling at Goto and slapping on the back of his head, and I don't think that was a great strategy for him. All that did was piss Goto off and help him forget about his shoulder pain. Maybe that was an attempt to bait Goto into doing something foolish, but he never really did. Goto fought a smart and clean match, and he did very well despite his obvious pain.
Match 3
G1 Climax 30 B Block Match
Toru Yano (6 pts) vs Zack Sabre Jr. (4 pts) (IWGP Tag Champ)
(referee: Marty Asami)
Show/Hide Results
Result: Zack Sabre Jr. wins via submission with a heel hook
Time: 12:20
Match Thoughts
This was great. Yano promised ZSJ a clean fight, but no one, including Sabre, was buying it. Even so, Yano did wrestle a fair match for the first few minutes. Of course it was all a ruse. It was a way to draw ZSJ into a false sense of security, and it seemed to work. Once Yano's plan was out in the open though, Yano had to come up with new plans on the fly. This match allowed Yano to show some of his amateur skills, and that was great to see. He and ZSJ traded holds and pin attempts in multiple short sequences as ZSJ tried to wrap up Yano o he couldn't do anything devious, and Yano tried to find a way to cheat his way out of half the holds he was in. This was probably my favorite Yano match so far in this year's G1.
Intermission
The ring is cleaned and sanitized during a brief intermission.
Match 4
G1 Climax 30 B Block Match
SANADA (4 pts) vs KENTA (4 pts)
(referee: Marty Asami)
Show/Hide Results
Result: SANADA wins via pinfall with a bridging double leg cradle
Time: 11:24
Match Thoughts
Great match. SANADA and KENTA had a really good back and forth battle. It felt a bit like KENTA might have had a slight advantage throughout the first part of the match, but both men were very evenly matched. Then, when KENTA went for his IWGP US Title rights holder briefcase so he could smash SANADA over the head with it, the pace of the match picked up considerably. SANADA avoided disaster, and he started going for Skull End while KENTA started looking for Game Over and Go 2 Sleep. They had some fast and fun sequences for hold and escapes, and that led to a nicely-done finish.
Match 5
G1 Climax 30 B Block Match
Juice Robinson (6 pts) vs Tetsuya Naito (8 pts) (IWGP IC & Heavyweight Champ)
(referee: Red Shoes Unno)
Show/Hide Results
Result: Tetsuya Naito wins via pinfall after Destino
Time: 25:01
Match Thoughts
Great match. Both men started the match fairly evenly. Juice took the fight out to the floor first, but Naito was more effective whenever the battle ended up at ringside. Back in the ring though, Juice began to pile up the punishment on Naito, and Juice started to have a nice advantage of the double champ. Juice looked strong, but Naito is used to taking a beating before unleashing most of his most effective offense late in the match. That just what happened here, and Naito was able to counter some of Juice's best moves as the clock passed the 20 minute mark. The pace picked up in the end, and Juice and Naito were both hitting some really big slams and strikes. Juice once again looked great in this year's G1 Climax, and Naito continued to prove why he's standing at the top of the roster.
Match 6
G1 Climax 30 B Block Match
EVIL (6 pts) w/ Dick Togo vs Hiroshi Tanahashi (6 pts)
(referee: Red Shoes Unno)
Show/Hide Results
Result: EVIL wins via pinfall after EVIL
Time: 19:58
Match Thoughts
Great match. Tanahashi looked strong to start the match, but some early attacks from EVIL on Tanahashi's knees slowed The Ace down. EVIL once again effectively used Dick Togo as a valuable distraction, and even the presence of Yota Tsuji supporting Tanahashi from ringside didn't help stop Togo from doing whatever he wanted throughout most of the match. Tsuji did stop Togo from interfering once late in the match, but it was only for a short period of time. The two-man attack from Togo and EVIL proved to be an extremely difficult obstacle for Tanahashi tonight.
Show Impressions
I think this was a good-not-great show. I enjoyed all the matches fine, but it did feel like they were setting up for the final few nights more than they were trying to deliver a super exciting show tonight. With Naito still in sole position of the top spot in the block, tonight sets up the last three rounds as a race for EVIL just below Naito and a whole bunch of other guys tied just beneath both of them. I think the final three rounds could get very exciting.
Match of the Night
Juice Robinson vs Tetsuya Naito
I might have had the most fun with Yano vs ZSJ, but Robinson vs Naito was probably the best match. I'm really impressed with Juice this year in the tournament.He's been consistently very good.
Standings After Night 12
A Block

Show/Hide Results
| Wrestler | Points | Wins | Losses | Draws |
| --- | --- | --- | --- | --- |
| Jay White | 8 | 4 | 2 | 0 |
| Kazuchika Okada | 8 | 4 | 2 | 0 |
| Kota Ibushi | 8 | 4 | 2 | 0 |
| Will Ospreay (RPW British Heavyweight Champ) | 8 | 4 | 2 | 0 |
| Minrou Suzuki (NEVER Openweight Champ) | 6 | 3 | 3 | 0 |
| Shingo Takagi | 6 | 3 | 3 | 0 |
| Taichi (IWGP Tag Champ) | 6 | 3 | 3 | 0 |
| Tomohiro Ishii (NEVER 6-Man Champ) | 6 | 3 | 3 | 0 |
| Jeff Cobb | 4 | 2 | 4 | 0 |
| Yujiro Takahashi * | 0 | 0 | 6 | 0 |
* = numerically eliminated
B Block

Show/Hide Results
| Wrestler | Points | Wins | Losses | Draws |
| --- | --- | --- | --- | --- |
| Tetsuya Naito (IWGP IC & Heavyweight Champ) | 10 | 5 | 1 | 0 |
| EVIL | 8 | 4 | 2 | 0 |
| Hirooki Goto (NEVER 6-Man Champ) | 6 | 3 | 3 | 0 |
| Hiroshi Tanahashi | 6 | 3 | 3 | 0 |
| Juice Robinson | 6 | 3 | 3 | 0 |
| SANADA | 6 | 3 | 3 | 0 |
| Toru Yano | 6 | 3 | 3 | 0 |
| Zack Sabre Jr. (IWGP Tag Champ) | 6 | 3 | 3 | 0 |
| KENTA | 4 | 2 | 4 | 0 |
| YOSHI-HASHI * (NEVER 6-Man Champ) | 2 | 1 | 5 | 0 |
* = numerically eliminated
C Block (Young Lions)

Show/Hide Results
| Young Lion | Points | Wins | Losses | Draws |
| --- | --- | --- | --- | --- |
| Yota Tsuji | 10 | 4 | 2 | 2 |
| Yuya Uemura | 7 | 3 | 4 | 1 |
| Gabriel Kidd | 7 | 3 | 4 | 1 |
Official Results (Japanese): https://www.njpw.co.jp/tornament/255787?showResult=1