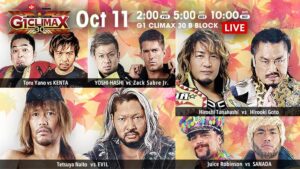 NJPW G1 Climax 30
Night 14
B Block: Round 7
#G1CLIMAX30
Event Date: October 11, 2020 (18:00 JST)
aired live on NJPW World
City: Naka, Nagoya, Aichi, Japan
Venue: Aichi Prefectural Gymnasium (Dolphin's Arena)
Attendance: 2,550
Series: G1 Climax 30
Theme Song: "Blazing Souls" by 9mm Parabellum Bullet
Commentary (English – recorded remotely): Kevin Kelly, Rocky Romero
Commentary (Japanese): Milano Collection AT, Miki Motoi, Haruo Murata
Ring Announcer: Kimihiko Ozaki (1 – 3), Makoto Abe (4 – 6)
Video
The opening video looks at the competitors in B Block.
Match 1
Gabriel Kidd vs Yota Tsuji
(referee: Kenta Sato)
Show/Hide Results
Result: Gabriel Kidd wins via pinfall after a butterfly suplex
Time: 7:09
Match Thoughts
Good match. This match wasn't as explosive as some of the young lion matches have been during the tour, but the wrestling was solid and the match was well done.
Match 2
G1 Climax 30 B Block Match
YOSHI-HASHI (2 pts) (NEVER 6-Man Champ) vs Zack Sabre Jr. (6 pts) (IWGP Tag Champ)
(referee: Kenta Sato)
Show/Hide Results
Result: Zack Sabre Jr. wins via submission with a modified Clarky Cat
Time: 13:34
Match Thoughts
Very good match. ZSJ looked almost annoyed that he had to wrestle YOSHI-HASHI tonight. ZSJ went about his business in the ring with his usual focus, this time repeatedly targeting YOSHI-HASHI's arm. YOSHI-HASHI didn't have much of an answer for ZSJ's technical attacks, but YH did start to push back later in the match with some strikes and his butterfly lock. ZSJ never seemed too worried about the butterfly lock though, and he methodically wore YH down until he was able to lock in a number of painful submissions.
Match 3
G1 Climax 30 B Block Match
Toru Yano (6 pts) vs KENTA (4 pts)
(referee: Marty Asami)
Show/Hide Results
Result: KENTA wins via Count Out after taping Yano's wrists together in the entranceway
Time: 8:56
Match Thoughts
This was fun. Yano's matches have all built on each other throughout the tournament. This time Yano used his sanitizer again like he did against Juice Robinson, but KENTA was able to use the on Yano and the referee. Marty Asami seemed just completely befuddled throughout the match, to the point where he even handed the sanitizer to KENTA in the middle of the ring so he could blind Yano with it. This wasn't either man's best match of the G1, but it was still fun.
Intermission
The ring is cleaned and sanitized during a brief intermission.
Match 4
G1 Climax 30 B Block Match
SANADA (6 pts) vs Juice Robinson (6 pts)
(referee: Marty Asami)
Show/Hide Results
Result: SANADA wins via pinfall after a diving moonsault
Time: 15:06
Match Thoughts
Great match. Juice was able to control the flow of a large part of the match by not getting pulled into SANADA's faster-paced style. Juice stuck with what he does best, and he began to dominate with slams and power. SANADA was able to get a few shots in here and there, but it felt like Juice was in firm control of the match. The momentum started to shift later on when SANADA started going for Skull End. SANADA is relentless when he decides to apply Skull End, and that forced Juice to counter and reverse a lot. SANADA is a great counter wrestler, so forcing Juice to counter played right into SANADA's favor. The final few minutes were filed with a few very nice extended sequences of reversals that made it feel like Juice was getting desperate and SANADA was finally gaining control. This was highly entertaining.
Match 5
G1 Climax 30 B Block Match
Hirooki Goto (6 pts) (NEVER 6-Man Champ) vs Hiroshi Tanahashi (6 pts)
(referee: Red Shoes Unno)
Show/Hide Results
Result: Hirooki Goto wins via pinfall after GTR
Time: 13:38
Match Thoughts
Very good match. Tanahashi had a smart game plan, and he executed it well. Rather than go for the obvious target of Goto's taped up and injured shoulder, Tanahashi immediately focused on Goto's knees. Tanahashi managed to hobble Goto early in the match, and that was devastating to Goto's offense. Goto likes to kick, and most of his biggest moves involve him using his knee (the ushi garoshi, GTR, etc.). Plus, the hurt knee slowed his movement and weakened his strikes even further than his injured shoulder already did. It seemed like Tanahashi would put Goto away with relative ease, but Goto wouldn't stop. Goto kept hitting his biggest moves even though they made his knee even worse, and the attacks seemed to surprise Tanahashi. Tanahashi also seemed like his chronically hurting knees weren't `00% either, probably just due to the wear and tear he's accumulated over the tournament. The final few minutes of the match were very well done and maybe even a little surprising.
Match 6
G1 Climax 30 B Block Match
EVIL (8 pts) w/ Dick Togo vs Tetsuya Naito (10 pts) (IWGP IC & Heavyweight Champ)
(referee: Red Shoes Unno)
Show/Hide Results
Result: EVIL wins via pinfall after EVIL
Time: 23:57
Match Thoughts
Great match. This one took a while to build up, but considering these two men have faced each other twice in one on one matches recently, and considering that they've spent years together in LIJ so they know each other's tactics extremely well, it made sense for this match to be slow build. Naito was confident and effective to start the match, and it looked like he didn't have any worries about the two-sided attacks he knew would be coming from EVIL and Dick Togo. A trip to ringside and a chair wrapped around his head changed Naito's attitude though. As the match went on, both men built up some decent offense, but things didn't really pick up until the final few minutes. Togo got involved (again), finishers were attempted and reversed, and the fight culminated in a well done though not entirely unsurprising finish.
Show Impressions
This was a pretty good show. It wasn't super surprising considering how the points are going, and the matched overall have been better on other nights, but I still enjoyed the show. More than anything, I think tonight sets up a lot of tension for the final two rounds since there are only four points separating almost everyone in the block.
Match of the Night
SANADA vs Juice Robinson
This was a lot of fun. Both of these guys feel like they're right on the edge of the top tier.
Standings After Night 14
A Block

Show/Hide Results
| Wrestler | Points | Wins | Losses | Draws |
| --- | --- | --- | --- | --- |
| Jay White | 10 | 5 | 2 | 0 |
| Kazuchika Okada | 10 | 5 | 2 | 0 |
| Kota Ibushi | 10 | 5 | 2 | 0 |
| Will Ospreay (RPW British Heavyweight Champ) | 10 | 5 | 2 | 0 |
| Jeff Cobb | 6 | 3 | 4 | 0 |
| Minrou Suzuki (NEVER Openweight Champ) | 6 | 3 | 4 | 0 |
| Shingo Takagi | 6 | 3 | 4 | 0 |
| Taichi (IWGP Tag Champ) | 6 | 3 | 4 | 0 |
| Tomohiro Ishii (NEVER 6-Man Champ) | 6 | 3 | 4 | 0 |
| Yujiro Takahashi * | 0 | 0 | 7 | 0 |
* = numerically eliminated
B Block

Show/Hide Results
| Wrestler | Points | Wins | Losses | Draws |
| --- | --- | --- | --- | --- |
| EVIL | 10 | 5 | 2 | 0 |
| Tetsuya Naito (IWGP IC & Heavyweight Champ) | 10 | 5 | 2 | 0 |
| Hirooki Goto (NEVER 6-Man Champ) | 8 | 4 | 3 | 0 |
| SANADA | 8 | 4 | 3 | 0 |
| Zack Sabre Jr. (IWGP Tag Champ) | 8 | 4 | 3 | 0 |
| Hiroshi Tanahashi | 6 | 3 | 4 | 0 |
| Juice Robinson | 6 | 3 | 4 | 0 |
| KENTA | 6 | 3 | 4 | 0 |
| Toru Yano | 6 | 3 | 4 | 0 |
| YOSHI-HASHI * (NEVER 6-Man Champ) | 2 | 1 | 6 | 0 |
* = numerically eliminated
C Block (Young Lions)

Show/Hide Results
| Young Lion | Points | Wins | Losses | Draws |
| --- | --- | --- | --- | --- |
| Yota Tsuji | 10 | 4 | 4 | 2 |
| Gabriel Kidd | 9 | 4 | 4 | 1 |
| Yuya Uemura | 9 | 4 | 4 | 1 |
Official Results (Japanese): https://www.njpw.co.jp/tornament/255789?showResult=1