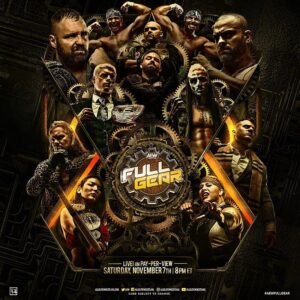 AEW Full Gear
#AEWFULLGEAR
Original Air Date: November 7, 2020
Event Date: November 7, 2020
(aired live on PPV)
City: Jacksonville, FL
Venue: Daily's Place
Commentary: Jim Ross, Excalibur, Tony Shiavone, Don Callis (1)
Ring Announcer: Justin Roberts
<< Read the Recap & Review for the AEW Full Gear Buy-In! <<
Show/Hide Match Previews
Video
Tonight is the final PPV of the year for AEW, and Full Gear will be the culmination and celebration of AEW's fighting spirit. Everyone knows what needs to be done, but who wants it more?
Match 1
AEW World Title Eliminator Tournament Final Match
Kenny Omega vs "Hangman" Adam Page
(referee: Paul Turner)
Show/Hide Results
Result: Kenny Omega wins via pinfall after the One-Winged Angel and becomes the #1 Contender for the AEW World Title
Time: 16:29
Match Thoughts
Great match. This was a hard-hitting battle with both guys giving and taking some rough moves. It really felt like each man knew that they needed to win not just to earn a title shot, but so they could move forward after the dissolution of their tag team. Kenny Omega offered his hand to Page before the match, but Page wouldn't take it. That characterized a lot of the tension in the match with Omega fighting like the superstar he is and trying to win the match and Page fighting for respect (and self-respect). There was no real emotional explosion in the match, so I feel like that part of their story will continue on, but the action was extremely fun to watch.
Match 2
John "4" Silver w/ Evil Uno, Stu Grayson, Alex Reynolds, Alan Angels, Preston Vance, Anna Jay , Colt Cabana vs "Freshly Squeezed" Orange Cassidy w/ Best Friends
(referee: Bryce Remsburg)
Show/Hide Results
Result: Orange Cassidy wins via pinfall after Beach Break
Time: 9:42
Match Thoughts
This was very fun. John Silver has been making a name for himself with his skill in tag team matches and with his antics in the Dark Order (especially online in Being the Elite). The match started off kind of silly (in a good way), but the action was good pretty much right from the beginning. Cassidy didn't have too much trouble with Silver, but Silver's strength and speed allowed Cassidy to shine with his defensive wrestling and his agile offense. As good as Cassidy looked though, this was probably an even better match for Silver. Regardless of the decision, Silver just had an entertaining singles match on PPV with one of the most popular guys in the company.
Ring Area
A look at the TNT Title Match.
Match 3
TNT Title Match
Darby Allin vs "The American Nightmare" Cody Rhodes (TNT Champ) w/ Brandi Rhodes, Dustin Rhodes, QT Marshall, Arn Anderson, Billy Austin Gunn, Lee Johnson
(referee: Mike Chioda)
Show/Hide Results
Result: Darby Allin wins via pinfall with a roll-up and becomes the fourth TNT Champion
Time: 16:50
Match Thoughts
Great match. Darby Allin was by himself, but Cody Rhodes came out to the ring with the entire Nightmare Family (included the newly-joined Gunn Club and Lee Johnson). It was a great visual representation of how both men were approaching this match from a character perspective. Cody was confident to the point of arrogance, and he began to get frustrated when Allin wouldn't stay down or when Cody himself would have a lapse in judgment. Allin just kept fighting, and he put his body at risk to try to win the TNT Title. Cody and Darby have had a few matches in AEW, and they're always very entertaining. This was no exception to that rule, and it might have been their best match together yet.
Ring Area
After the match, Cody has Darby Allin's music shut off. Codt walks over, gets on one knee, and hands the TNT Title over to Darby Allin. Overcome with emotion, Darby Allin holds the title up in the air.
Taz ruins the moment. Taz comes out to the stage and says, "enough." As Taz talks from the stage, Ricky Starks and Brian Cage attack Allin and Rhodes from behind. There's a moment when Starks and Cage both attempt to pick up the TNT Title at the same time, but Taz gets them to continue their attack. The beating goes out to ringside where Allin is thrown through part of the set. Allin is then taken over to the car he rode in on, and Starks and Cage get ready to slam the car door on Allin's arm. Will Hobbs arrives with a chair to chase Team Taz away before Starks and Cage can complete their plan.
Backstage
Dasha welcomes Dustin Rhodes and QT Marshall. The Natural Nightmares are still mad about getting attacked by The Butcher and The Blade, and Dustin want a Bunkhouse Match.
Video
A look at the buildup to the AEW Women's Title match.
Match 4
AEW Women's Title Match
Nyla Rose w/ Vickie Guerrero vs Hikaru Shida (AEW Women's Champ)
(referee: Aubrey Edwards)
Show/Hide Results
Result: Hikaru Shida wins via pinfall after multiple knee strikes and retains the title in her fourth defense
Time: 14:12
Match Thoughts
Great match. It really did feel like Shida's title reign was in danger heading into this match, so there was a lot of tension right from the start. Shida came for a fight though, and she kept attacked Rose even as Rose used her size and strength to dominate the ring at times. The fight did make its way to ringside, and that seemed to be where Shida really started to pile damage onto Rose. Rose would come back, but she was also too confident in her own chances. That opened Rose up to attacks from Shida. Specifically, Shida hit Rose with many knee strikes in-between displaying some great strength of her own by slamming Rose multiple times. This was another hard-fought, very entertaining match between these two women.
Ring Area
After the match, Vickie Guerrero screams at Nyla Rose. Nyla begins to talk, but Vickie slaps her in the face. Nyla looks down, then she follows Vickie as she leaves the ring.
Match 5
AEW World Tag Team Title Match
The Young Bucks vs FTR (AEW Tag Champs)
(referee: Rick Knox; stipulation: If the Young Bucks lose, they will never challenge for the tag titles again.)
Show/Hide Results
Result: Matt Jackson pins Cash Wheeler after a superkick (after Wheeler missed a springboard 450 splash), The Young Bucks become the fourth AEW World Tag Team Champions
Time: 28:45
Match Thoughts
Fantastic match. Was this worth years of buildup? Yeah, probably. Both teams approached this match in their own styles (mostly), and it was a tag team war that felt modern while paying clear tribute to the tag teams that inspired both teams. Matt Jackson came into the match with an injured ankle, and during the course of the match the Young Bucks injured Dax Harwood's hand. That put both teams on a fairly even playing field, and that allowed the match to be fought in a back and forth fashion. Rather curiously, Matt and Dax both seemed to take up most of the ring time for their teams despite being the two people in the match who were injured. That added to the excitement though as both men had to try to adapt not jut to their injury, but to a team who was fully prepared for everything that might be thrown their way. This was incredibly fun, and it was a treat for fans of tag team wrestling.
Match 6
The Elite Deletion
Sammy Guevara vs Matt Hardy
(referee: Frank Gastineau)
Show/Hide Results
Result: Matt Hardy wins via pinfall after a chair shot to Sammy's head with Sammy face down on concrete
Time: 19:39
Match Thoughts
This was fine. I'm not a huge fan of cinematic matches, and that's what this was. Doing it in a cinematic style was probably for the best given the dangerous situations that have come out of this feud. They were able to create chaos and danger in a more controlled way, so for that I appreciate it. The match itself was fun enough. Sammy arrived at the Hardy Compound in a cart and nearly got crushed by Matt in a monster truck, then they fought their way to a ring set up in Hardy's yard. There was a lot of violence, and Santana, Ortiz, Private Party, Hurricane Helms, and Gangrel all joined the fight. Sammy and Matt eventually made their way to the Dome of Deletion where they finished the match one on one. I was happy enough with how this match turned out.
Video
Lance Archer chokes some guy in an alley, and Jake Roberts talk about feeding Archer. Archer doesn't want food though, he want to beat people up.
Match 7
MJF w/ Wardlow vs "The Demo God" "Le Champion" Chris Jericho w/ Jake Hager
(referee: Aubrey Edwards; stipulation: If MJF wins, he joins the Inner Circle.)
Show/Hide Results
Result: MJF wins via pinfall with a schoolboy (after framing Jericho for using a bat)
Time: 16:15
Match Thoughts
This was fine. It was about what I expected. I'm conditioned to think MJF is never going to lose, so there wasn't a whole lot of tension in the match for me. The action was good. MJF was emulating Jericho throughout the match, and as he often does, MJF was also doing a "best of" of heel tactics. He pulled an Eddy Guerrero trick to finish the match, and Jericho fell victim to the most dangerous move in sport entertainment (the surprise roll-up).
Backstage
Dasha Gonzalez welcomes Orange Cassidy and Best Friends. Cassidy has no thoughts on his match with John Silver earlier in the night. Miro, Kip Sabian, and Penelope Ford walk up. Sabian is pissed at Cassidy for nearly getting Ford hurt on Dynamite. Cassidy says "sorry," but Sabian says that's not good enough. Sabian slaps Cassidy. Cassidy says "cool" and walks away.
Video
A look at Jon Moxley and Eddie Kingston.
Match 8
AEW World Title I Quit Match
Eddie Kingston vs Jon Moxley (AEW World Champ)
(referee: Bryce Remsburg)
Show/Hide Results
Result: Jon Moxley wins by forcing Kington to say I Quit in a bulldog choke with barbed wire and defends the title in his ninth defense
Time: 18:59
Match Thoughts
Great match. This was all about violence and emotion. Moxley and Kingston beat on each other with fists and weapons, and they both bled from barbed wire, thumbtacks, and more. This was a brutal match, but I think the emotion was just as brutal as the action. I found myself pulling for Kingston by the end of the match, and the way the finish went down was heartbreaking. It was also excellently done.
Show Impressions
This was a great show. It was probably AEW's best show of the year, though I'd have to go back and refresh my memory to say that for sure. The only dip for me personally was the Elite Deletion and the Jericho/MJF match. Both were good, but they just weren't to my personal tastes. I could see other people loving them though, and that's great. Every match I was looking forward to delivered though, so yeah, I was very happy with the show as a whole.
Match of the Night
Young Bucks vs FTR
This is really tough, and I think multiple matches could really be tied for the top tonight. As usual with AEW, there was a great amount of variety, so it's really difficult to directly compare matches. It really just comes down to taste. I think the tag title match had the est action, but Kingston vs Moxley had the most emotion for me.