STARDOM Yokohama Cinderella 2020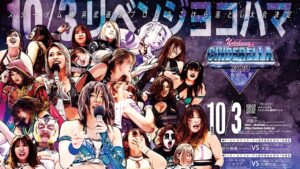 Event Date: October 3, 2020 (17:30 JST)
matches published on Stardom World
City: Naka, Yokohama, Kanagawa, Japan
Venue: Yokohama Budokan
Attendance: 1,007
Commentary: none (on Stardom World)
Ring Announcer: Yoritaka Ando
Match 1
High Speed Title Match
Starlight Kid vs AZM (High Speed Champ)
(referee: Barb Sasaki)
Show/Hide Results
Result: AZM wins via submission with a modified bow and arrow hold
Time: 11:27
Match Thoughts
Very good match. This was a great way to start the show. The action kicked off quickly as soon as the bell rang, and it rarely slowed down much. High speed matches tend to be pretty short, but at over eleven minutes, this one felt really long. And that helped make it feel special. AZM and Starlight Kid have great chemistry together, and they looked wonderful tonight. AZM was arrogant and showy while Kid was humble and resilient, and their differing approaches worked well to make this a very fun match. I was pulling for Starlight Kid, but regardless of the outcome, I enjoyed this quite a lot.
Match 2
Hanan vs Mina Shirakawa
(referee: Duke Sado)
Show/Hide Results
Result: Mina Shirakawa wins via pinfall after an implant DDT
Time: 5:07
Match Thoughts
Pretty good match. Hanan's opponent was kept a mystery up until Mina Shirakawa came out to the ring for the match. Shirakawa was previously with Tokyo Joshi Pro Wrestling, and she's also wrestled for DDT and Best Body Japan Pro-Wrestling. She's only been wrestling for about two years, but judging by this match she seems like someone Stardom would like to make into a star. She has a great look, and she looked good against Hanan. I don't really know anything else about her, but I'm looking forward to seeing how she fits into the Stardom roster. I imagine she might join someone for the tag league coming up soon, and a bunch of tag matches would be a great way to put her in a bunch of different scenarios where she can shine but still be protected as far as wins and losses go.
Match 3
Natsu Sumire & Yuna Manase vs Saya Iida & Riho
(referee: Duke Sado)
Show/Hide Results
Result: Saya Iida pins Natsu Sumire with a bridging northern lights suplex
Time: 8:39
Match Thoughts
Good match. Natsu Sumire didn't seem interested in this match at all before the bell, but that changed once the match started. Sumire spent a good portion of this match legal for her team, and she had a good time beating up Saya Iida. Yuna Manase (who started her career in Stardom but has been with Tokyo Joshi Pro until a few months ago) was easily the biggest and strongest person in this match. Manase repeatedly overpowered Roho and Iida, and that allowed Sumire to take her time while cheating and embarrassing Iida. Riho is smart though, and late in the match she was able to keep Manase busy so Iida could use her own power against Sumire. Initially this felt like just another match, but in the end it felt like it was pretty important for Saya Iida.
Match 4
DEATH Yama-san vs Natsupoi w/ Himeka, Maika, Syuri, Giulia
(referee: Duke Sado)
Show/Hide Results
Result: Natsupoi wins via pinfall with a bridging German suplex
Time: 4:52
Match Thoughts
This was short, but it was fun. It was really just a showcase for Natsupoi, the newest member of Donna del Mondo. Natsupoi spent some of her early career in Stardom in 2015, but she's been a freelancer for a long time and spent time in Tokyo Joshi Pro. Tonight DEATH Yama-san's job was to help make Natsupoi look good, and she did her job well. Natsupoi is quick, and she has a lot of flashy moves. I can see her fitting in to the High Speed division extremely well. I think that's a really good idea too, because that gives DDM a member that can compete in a division they didn't really have anyone for yet.
Ring Area
After the match, Natsupoi reintroduces herself to the Stardom audience. She then says that her goal is to become the High Speed champ (I knew it!).
Match 5
SWA Title Match
Bea Priestley vs Momo Watanabe
(referee: Barb Sasaki; title match official: Rossy Ogawa)
Show/Hide Results
Result: Bea Priestley wins via pinfall with Queen's Landing (after a running knee strike to the back of Watanabe's head), and she wins the vacant SWA Title to become the 6th SWA Champion
Time: 12:53
Match Thoughts
Very good match. This was a harder-fought match from both women. Watanabe often goes hard in high-profile matches, and Priestley met Watanabe's aggression more often than not throughout the match. After some back and forth where Priestley seemed to be moving slightly ahead, Watanabe started hitting a series of big moves that had Priestley reeling. There were many near falls, but Priestley managed to stay in the match. Priestley made a strong push late in the match. Priestley can sometimes try to do too much or do unnecessary things, but tonight she focused her attack in a straightforward and effective way. I quite enjoyed it. I was pulling for Watanabe, partly because I think she needs a big win and partly just because I'm a fan of hers, but regardless of the outcome, this was a nice title match for a title that often doesn't mean a whole lot. This match meant something though, because it was Bea Priestley fighting for the title that was stripped from her tag partner Jamie Hayter during her absence from Stardom because of the pandemic.
Match 6
No Rules Match
Saki Kashima & Natsuko Tora w/ Bea Priestley vs Konami & Jungle Kyona w/ DEATH Yama-san, Ruaka, Rina
(referee: Barb Sasaki; Stipulation: Whichever team loses, their faction must disband.)
Show/Hide Results
Result: Saki Kashima pins Jungle Kyona with Kishikaisei (after Konami hits Kyona in the head with a chair)
Time: 13:07
Match Thoughts
Very good match. This was going to be a heartbreaker for me either way. First, Kyona has had an incredibly difficult year already, and losing Tokyo Cyber Squad would be another in a long series of painful moments. And second, I love Oedo Tai, and they're really just finally starting to get some good momentum on their side since returning from the hiatus during the pandemic. So I would hate to see Oedo Tai break up too. Regardless, I knew this would probably be a good match though. I like everyone involved, and this rivalry has been built very well on a bed of hatred and violence.
Sure enough, I enjoyed the match a lot. With no rules (other than tag rules which were only sort of adhered to), that meant Oedo Tai was free to do all of their dirty tricks without any fear of getting disqualified. So yeah, weapons were involved right from the start. Tora even carried a table to the ring, setting up a Chekhov's Gun situation that paid of off very well. Before that though, there were chairs and chains and many, many multiple-person attacks going on. There was no reason for the other members of TCS and Oedo Tai to not get involved, so of course they did. That didn't hurt the match at all though, because the focus always quickly came back to the core people in the feud: Kyona and Tora. Kashima also really got into the fight, and she seemed to love dishing out as much punishment as she could. Konami did did well, but she seemed a bit more distant than anyone else in the match. She's been distant throughout the feud though, letting Kyona's anger drive them forward together. That distance from Konami also played a direct role in the finish of the match where everything came together to make perfect sense (well, at least enough sense to be compelling).
Ring Area
After the match, Konami announces that she has joined Oedo Tai. She also questions Kyona's perceived attempt to garner sympathy, and she says it's natural that a faction without a leader would end up disbanding. Tora and Kashima then gloat a bit before leaving the ring. Kyona looks over at Konami. Konami smirks and leaves the ring as well. Kyona laments the fact that she couldn't protect Tokyo Cyber Squad. Kyona breaks down as she apologizes. She tells the rest of TCS to go wherever they like, and she thanks everyone who supported Tokyo Cyber Squad.
Match 7
Goddess of Stardom Title Match
Himeka & Maika (Future & Artist Champ) vs Saya Kamitani & Utami Hayashishita (Goddess Champs)
(referee: Barb Sasaki; title match official: Rossy Ogawa)
Show/Hide Results
Result: Saya Kamitani pins Maika after a Phoenix Splash
Time: 22:33
Match Thoughts
Great match. For a large part of the match it felt like Hayashishita was carrying most of the workload for her team. Kamitani was there in an effective support role, but Hayashishita was the target for both Maika and Himeka. The fight was very physical right from the start, and the pace never really dipped throughout the entire match. One of my favorite sequences was between Himeka and Hayashishita as they repeatedly hit each other with lariat after lariat until the both collapsed in the center of the ring. With Hayashishita spending so much time in the ring without being able to put Donna del Mondo away though, Hayashishita eventually had to step aside and let Kamitani take more control of the match.
The final sequence of the match was between Kamitani and Maika, and it surprised me a little. I think Maika is great and gets better and better every time I see her, but I'm still on the fence about Kamitani. She's good, but she definitely felt like number four out of the four people competing in this match. She stood up to Maika, but, as expected, Maika was more powerful as they traded strikes. Kamitani had heart, but Maika shut that down with a slam. Makia maybe let Kamitani hang around too long though, because Kamitani started to chip away at Maika's strength. I still didn't really feel like Maika was in a ton of danger at first, but as the fight went on the tension grew. Kamitani started to put together a nice string of moves, and she broke out a Phoenix Splash for the first time that was pretty impressive. She need to work on her aim a bit, but it still looked really good. So yeah, Kamitani stepped up a bit in my eyes tonight. And sure, it doesn't really matter what I think, but it was clear this was an important match for her. Not only did she stand out at the end of a great title match on a very important show, but she proved that she was a crucial part of Queen's Quest's first defense of the Goddess of Stardom titles.
Match 8
Wonder of Stardom Title Match
Tam Nakano vs Giulia (Artist & Wonder Champ)
(referee: Daichi Murayama; title match official: Rossy Ogawa)
Show/Hide Results
Result: Giulia wins via pinfall after the Glorious Driver and retains the title in her first defense
Time: 17:25
Match Thoughts
Great match! Every time these two get in the ring together it's a fight more than it's a wrestling match. The hatred coming from Nakano feels intense, and the confidence and arrogance from Giulia is the perfect thing to make this rivalry fantastic. Giulia and Nakano started swinging as the opening bell sounded, and they pretty much just tried to beat each other up with strikes for the first few minutes of the match. It felt dangerous like most of their fights do, and they way they were attacking each other made it seem like either one of them could get caught with just the right strike that would send them down to the mat.
After pouring so much energy into the opening onslaught, the pace leveled off somewhat even if the feeling of danger didn't. Giulia and Nakano ended up on the ropes in a corner for an extended period of time that ended with Giulia hitting a very nice sunset flip powerbomb that put her in control of the match. Nakano fought back well, but that time spent in the corner signaled a change in the direction of the fight. Giulia would build off a few big moves, and she eventually put Nakano in a submission hold that lasted of an excruciating amount of time. Nakano looked like she was about to pass out, but the referee allowed her to continue to fight until she got to the ropes. Giulia had to let go of the hold, but it was clear she thought the match was all but over at that point.
Giulia's confidence and arrogance allowed Nakano to surge though. Nakano was fueled by emotion, and she mounted a comeback that surprised and staggered Giulia. Nakano was fighting to fulfill the promise she made to Arisa Hoshiki about protecting the Wonder of Stardom Title, but at this point it felt like she was fighting a losing battle. For much of their feud, Giulia has been in control. Nakano's emotions often seem to get the better of her, and even though that can work in her favor sometimes (like in their match during the 5 Star GP), it often pushes Nakano to fight past her body's ability to keep up with her heart. That's what happened tonight. Giulia weathered the late push from Nakano, remained calm, and proved why she's been one of the most successful members of the Stardom roster in 2020.
Match 9
World of Stardom Title Match
Syuri (Artist Champ) vs Mayu Iwatani (World Champ)
(referee: Daichi Murayama; title match official: Rossy Ogawa)
Show/Hide Results
Result: Mayu Iwatani wins via pinfall with a bridging dragon suplex and retains the title in her fourth defense
Time: 28:58
Match Thoughts
Great match. Mayu has said before that he was nervous about Syuri's kicks, and she was right to be nervous. Syuri kicked the World of Stardom Champion a lot. A whole lot. After an initial period where Sryuri grappled with Mayu, Syuri began to unleash kick after kick in a trend that wouldn't ever really stop throughout the rest of the match. Mayu was in trouble early, but really, that's not too unusual for the champ. Mayu often absorbs a ton of punishment throughout her matches, but she is incredibly difficult to keep down no matter how much damage she takes. We absolutely saw that in action tonight.
Mayu had to do her best to get in some attacks whenever she could. The first big opportunity for Mayu came when she and Syuri were both on the apron. Mayu hit Syuri with a German suplex on the apron, and some hope started to trickle into the match for Mayu. Up to that point Syuri was in near-complete control, but that suplex started a trend for Mayu. Iwatani's offense was sporadic throughout the match, but when she did connect with some offense against Syuri, she made sure it mattered. Mayu hit powerful suplexes and high dives (and a few kicks of her own) for the most impact. Mayu's offense was never sustained though, and Syuri would invariably cut the champ off and start kicking her again. The damage began to pile on to the challenger though, and Mayu began to string together more moves as the match went longer.
With the way the first half of the match went, it felt like it was Syuri's to lose. But when the title is on the line, Mayu Iwatani finds a way to keep fighting. By the end of the match Mayu could barely stand, but she forced herself to press on despite the very strong performance Syuri was having. This was an extremely tough defense for Mayu, and it was a match that helped solidify Syuri as a dangerous, top-tier competitor in Stardom.
Show Impressions
I really enjoyed this show. I thought it was structured really well with a fast and fun match to start, a few introductions and exhibitions next, an important grudge match, then a series of title matches to end the night. Also, having it at the Yokohama Budokan gave it a real feeling of importance. There were also some very big payoffs on this show, including the climax of Tokyo Cyber Squad vs Oedo Tai and the apparent end of the series between Giulia and Tam Nakano. I'd gotten pretty far behind in Stardom by the time I finally saw this show (thanks, G1 Climax), but this show absolutely got me excited to see what happens next.
Match of the Night
Giulia vs Tam Nakano / Syuri vs Mayu Iwatani
Both of these are great for different reasons. Giulia vs Nakano had the feeling of a long-heated rivalry with real emotion, and Syuri vs Iwatani had the best action.
Official results (Japanese): https://wwr-stardom.com/news/20201003yokohama/