Goddess of Stardom Tag League 10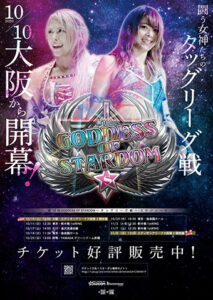 Day 1
Event Date: October 10, 2020 (13:00 JST)
matches published on Stardom World
City: Naniwa, Osaka, Osaka, Japan
Venue: EDION Arena Osaka – Second Stadium
Attendance: 283
Series: Goddess of Stardom Tag League 10
Commentary: none (on Stardom World)
Ring Announcer: Yoritaka Ando
Ring Area
The show begins with all ten teams in this year's Goddess of Stardom Tag League entering the ring for the opening ceremony. The teams are:
Blue Block
Color Me Pop (Gokigen DEATH & Riho)
DREAM☆H (Tam Nakano & Mina Shirakawa)
Black Widows (Bea Priestley & Konami)
Grab the Top (Syuri & Himeka)
MOMOAZ (Momo Watanabe & AZM)
Red Block
wing★gori (Saya Iida & Hanan) *Hanan was not in attendance tonight
Devil Duo (Natsuko Tora & Saki Kashima)
MK☆Sister's (Mayu Iwatani & Starlight Kid)
Crazy Bloom (Giulia & Maika)
AphroditE (Utami Hayashishita & Saya Kamitani)
The rules for the tag league are a little different from the round robin tournaments I'm used to. Each team will face every team from the opposite block. So, each red block team will face each team from the blue block, but they will face no teams from the red block (and, of course, vice versa). Teams earn two points for a win, one point for a draw, and zero points for a loss. The two teams with the most points in each block will face each other in a final match, and the winner of that match will receive a Goddess of Stardom title match. If the current champs (Utami Hayashishita & Saya Kamitani) win the tag league, then they get to choose their opponent. League matches will have a twenty minute time limit.
Match 1
Saki Kashima vs Mina Shirakawa
(referee: Duke Sado)
Show/Hide Results
Result: Saki Kashima wins via pinfall after My Emblem
Time: 6:35
Match Thoughts
Good match. Kashima was kind of a jerk before the match when Shirakawa offered to shake her hand, and Kashima started with a preemptive attack before the bell. Shirakawa came back pretty quickly with some nice offense, and as the match went on both women were essentially just trading attacks. Kashima's attacks were a bit more effective though, and you could see any advantage Shirakawa had slowly slip away from her. This was a better-than-usual opening match, and it was another chance to get to know one of the newest members of the Stardom roster, Mina Shirakawa.
Match 2
Natsuko Tora w/ Saki Kashima vs Himeka w/ Maika
(referee: Duke Sado)
Show/Hide Results
Result: Himeka wins via DQ when Natsuko Tora chokes her over the second rope with a chain
Time: 7:02
Match Thoughts
This was a good match even though Natsuko Tora apparently didn't care much about winning. It was interesting that Tora and Himeka are in different blocks of the Tag League because Tora's dirty tactics would have been a good way to build interest in a match. As it is though, it seemed like Tora just wanted to hurt Himeka for the fun of it. They did have a good match with a bunch of powerful moves for a while, but after a while Kashima handed Tora her chain and that was the beginning of the end of the match. Tora did try to hide her cheating at first, but she clearly didn't care when the chain couldn't be hidden anymore. I like that Oedo Tai alternates between dominating a match and just creating chaos. You're never really sure what kind of match you're going to get from them.
Match 3
Natsupoi & Syuri (Artist Champ) w/ Maika, Giulia vs Saya Iida & Tam Nakano
(referee: Duke Sado)
Show/Hide Results
Result: Syuri pins Saya Iida after a high kick
Time: 10:38
Match Thoughts
Very good match. Syuri and Natsupoi worked really well together. Syuri brought strength and fighting spirit brought more speed and flash, and both approaches worked well in tandem. Syuri and Natsupoi dominated early parts of the match by isolating Saya Iida for a good amount of time, but after a while Tam Nakano started to even the odds. The match went back and forth with everyone getting a chance against everyone, but when Syuri ended up in the ring with Iida late in the match, it felt like the end was near. Iida fought well, but Syuri has been very string during her time in Stardom this year. I continue to be impressed with pretty much any combination of wrestlers from Donna del Mondo.
Match 4
Goddess of Stardom Tag League 10 Block Match
Color Me Pop (Gokigen DEATH & Riho) (0 pts) vs MK☆Sister's (Starlight Kid & Mayu Iwatani) (0 pts)
(referee: Daichi Murayama)
Show/Hide Results
Result: Gokigen DEATH pins Mayu Iwatani with a prawn hold after a schoolboy trip (with help from Riho)
Time: 9:54
Match Thoughts
A very good and fun match. Three out of the four wrestlers in this match tend to wrestle in the high-speed division, so this match was as fast paced as you might expect. There was some silliness in the first few minutes with the newly-painted and renamed Gokigen DEATH (Yama-san looks like a clown now), but once Gokigen and Iwatani actually started fighting each other, the action was a lot of fun. Everyone was in and out of the ring quite a bit, but they kept coming back to Gokigen versus Iwatani. Gokigen struggled at times, but she also got in a lot of sneaky shots that started to take their toll. Riho was a great partner, and she helped Gokigen stay in the fight while doing her best to occupy Starlight Kid. This was a nice, surprising way way to start the block competition in this year's Goddess tag league.
Match 5
Goddess of Stardom Tag League 10 Block Match
Black Widows (Konami & Bea Priestley) (0 pts) w/ Saki Kashima, Natsuko Tora vs AphroditE (Saya Kamitani & Utami Hayashishita) (0 pts) (Goddess Champs)
(referee: Daichi Murayama)
Show/Hide Results
Result: Time Limit Draw
Time: 20:00
Match Thoughts
Very good match. My favorite bits were definitely whenever Konami and Utami were fighting each other. Their one-on-one battles bookended the match, and it felt like they might be starting something of a rivalry. Konami and Utami match up extremely well with Konami's striking and submissions versus Utami's great power, and they're a ton of fun to watch. Kamitani and Priestley each brought a different kind of action into the match which made the fight varied and interesting. Kamitani has a bunch of fighting spirit, and even though she was generally the underdog no matter who she was going up against, her heart and determination were strong. Priestley was more interested in taking any advantage she could, and her presence in the match added a lot of chaos (and cheating).
Match 6
Goddess of Stardom Tag League 10 Block Match
MOMOAZ (AZM & Momo Watanabe) (0 pts) vs Crazy Bloom (Maika & Giulia) (0 pts) w/ Natsupoi, Himeka, Syuri
(referee: Daichi Murayama)
Show/Hide Results
Result: Maika pins AZM after Enka Otoshi
Time: 14:54
Match Thoughts
Great match. Both teams started very strong, and this was a hard-fought battle from bell to bell. Even though it would seem that Watanabe would pair up with Giulia and AZM with Maika, there didn't seem to be any real sustained pairings throughout most of the match. Everyone fought everyone, and that kept things even and interesting throughout the match. Both teams worked very well as tandems, and overall this was probably the best match-up of the night.
Show Impressions
This was a very good first night of the Goddess of Stardom Tag League. I would've liked to have seen all ten teams in league competition tonight, but as it is, I still really enjoyed the show.
Match of the Night
MOMOAZ vs Crazy Bloom
This had the best action bell to bell for my tastes.
League Standings After Day 1
Red Block

Show/Hide Results
| Team Name | Members | Points | Wins | Losses | Draws |
| --- | --- | --- | --- | --- | --- |
| Crazy Bloom | Giulia & Maika | 2 | 1 | 0 | 0 |
| AphroditE | Utami Hayashishita & Saya Kamitani | 1 | 0 | 0 | 1 |
| wing★gori | Saya Iida & Hanan | 0 | 0 | 0 | 0 |
| Devil Duo | Natsuko Tora & Saki Kashima | 0 | 0 | 0 | 0 |
| MK☆Sister's | Mayu Iwatani & Starlight Kid | 0 | 0 | 1 | 0 |
Blue Block

Show/Hide Results
| Team Name | Members | Points | Wins | Losses | Draws |
| --- | --- | --- | --- | --- | --- |
| Color Me Pop | Gokigen DEATH & Riho | 2 | 1 | 0 | 0 |
| Black Widows | Bea Priestley & Konami | 1 | 0 | 0 | 1 |
| DREAM☆H | Tam Nakano & Mina Shirakawa | 0 | 0 | 0 | 0 |
| Grab the Top | Syuri & Himeka | 0 | 0 | 0 | 0 |
| MOMOAZ | Momo Watanabe & AZM | 0 | 0 | 1 | 0 |
Official Results (Japanese): https://wwr-stardom.com/news/20201010osaka/