NJPW Strong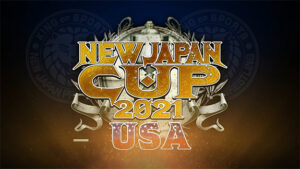 Episode 35
New Japan Cup 2021 USA – First Round
#njpwstrong
Original Air Date: April 9, 2021
Event Date: ?
(uploaded to NJPW World)
City: Port Hueneme, CA
Venue: Oceanview Pavilion (empty arena)
Series: New Japan Cup USA 2021
Commentary (English): Kevin Kelly, Alex Koslov
Ring Announcer: Adnan Kureishy (ringside)
Video
The show begins with a short video showcasing the eight men entered into the New Japan Cup 2021 USA tournament.
Ring Area
Kevin Kelly and Alex Koslov welcome us to New Japan Cup 2021 USA and tell us about tonight's matches.
Match 1
New Japan Cup USA 2021 First Round Match
Clark Connors vs Lio Rush
(referee: Chad Rico)
Show/Hide Results
Result: Lio Rush wins via pinfall after Rush Hour
Time: 9:57
Match Thoughts
Very good match. Rush started well by limiting Connors' usual intensity with some nice technical sequences. Connors seemed to get frustrated, and Rush use that to his advantage. Rush peppered Connors with offense, but eventually Connors was able to start fighting back. Connors hit a flurry of strikes and high-impact moves one after another, and that forced Rush to modify his strategy a bit. It all led up to a nice finish and a very entertaining first match in the tournament.
Match 2
New Japan Cup USA 2021 First Round Match
"Filthy" Tom Lawlor vs Ren Narita
(referee: Justin Borden)
Show/Hide Results
Result: Tom Lawlor wins via KO with a sleeper hold
Time: 13:19
Match Thoughts
Very good match. Both men were able to show off their technical skills in this bout that spent a lot of time down on the mat. Narita was impressive as he kept the match even throughout numerous grappling exchanges with Lawlor. Narita was able to gain an advantage every once in a while, but Lawlor seemed to create more effective opportunities for himself. Narita pushed hard near the end of the match, but Lawlor pushed back even harder and was able to completely stop Narita's momentum. Effectively and visually (Narita ended up with a busted nose), this was a very strong performance for Lawlor.
Intermission
The ring is cleaned and sanitized during a brief intermission.
Match 3
New Japan Cup USA 2021 First Round Match
Hikuleo vs Fred Rosser
(referee: Jeremy Marcus)
Show/Hide Results
Result: Hikuleo wins via pinfall after the Tongan Driller
Time: 6:22
Match Thoughts
Very good match. Rosser and Hikuleo have a heated ongoing rivalry, and this was a great continuation of that. Rosser recently defeated Hikuleo (with a little help from a handful of Hikuleo's hair), and Hikuleo was looking for revenge tonight. Hikuleo attacked Rosser before he could enter the ring to start the match, and Rosser got beat up all around ringside for a few minutes before the opening bell even rang. Rosser struggled to get any offense during the match, but he eventually did start to mount a comeback (with some more hair-pulling and some quick thinking). That led to Rosser's best chance of defeating the very dominant Hikuleo in this exciting opening round tournament match.
Match 4
New Japan Cup USA 2021 First Round Match
"Dirty Daddy" Chris Dickinson vs Brody King
(referee: Jeremy Marcus)
Show/Hide Results
Result: Brody King wins via pinfall after a lariat
Time: 10:42
Match Thoughts
Very good match. Dickinson started strong by using his technical prowess to ground Brody King and limit King's offense. Dickinson started working on King's legs, and it looked like Dickinson might dominate the entire match. Dickinson allowed King to get some space between them though, and that allowed King to gain momentum with heavy strikes. Thatwas the beginning of the shift of the power dynamic in the match. Dickinson had trouble keeping up with King once King started swinging, and it all culminated in a hard-fought and fun finish.
Show Impressions
This was a very nice first round of the tournament. All of the matches were about equally good, and they all featured quite a variety of different styles. This show set a nice tone for what I hope the Strong Openweight Championship to be, a title with a ton of variety among its champions and title matches.
Match of the Night
Chris Dickinson vs Brody King
This was a tough decision, because I really did enjoy all the matches about equally. Judging by my own personal investment and feelings when the final bell rang though, I think I got most excited about tonight's main event.
Official Results: https://www.njpw1972.com/tornament/94367?showResult=1