NJPW G1 Climax 32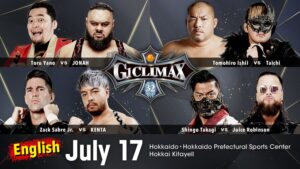 Night 2
Round 1
#G1Climax32
Event Date: July 17, 2022 (14:00 JST)
aired live on NJPW World
City: Toyohira, Sapporo, Hokkaido, Japan
Venue: Hokkaido Prefectural Sports Center (Hokkai Kitayell)
Attendance: 2,942
Series: G1 Climax 32
Theme Song: "Over the Max ~Tamashi no Keisho~" by JAM Project
Commentary (English): Kevin Kelly, Chris Charlton
Commentary (Japanese): Milano Collection AT, Hiroyoshi Tenzan, Hiroki Mikami (1, 6, 9), Yuichi Tabata (2, 4, 8), Shinji Yoshino (3, 5, 7)
Ring Announcer: Makoto Abe
Video
Everyone in this year's giant four-block tournament is shown.
Match 1
Royce Isaacs & Tom Lawlor vs David Finlay & YOSHI-HASHI (NEVER 6-Man Champ)
(referee: Yuya Sakamoto)
Show/Hide Results
Result: David Finlay pins Royce Isaacs after Trash Panda (cradle ushi garoshi)
Time: 7:30
Match Thoughts
This was a nice opener. IT was an interesting tag match because it didn't really preview any upcoming G1 tournament match, at least, not in the way they usually do it. Isaacs isn't in the tournament, and Lawlor is in a different block than Finlay and YOSHI-HASHI. Finlay and YOSHI-HASHI are in the same block though, so I guess the only preview here was seeing which of those two teammates performed better. For me, Finlay performed way better than YOSHI-HASHI. Finlay was very aggressive, and for much of the match he took on both opponents essentially by himself.
Match 2
El Phantasmo & Bad Luck Fale vs TAKA Michinoku & Lance Archer
(referee: Yuya Sakamoto)
Show/Hide Results
Result: El Phantasmo pins TAKA Michinoku after Sudden Death (superkick)
Time: 8:21
Match Thoughts
This was fun. The opening minutes of the match had TAKA and ELP pair off and tease a test of strength that never happened. Archer got tired of nothing happening, so he got in and had a test of strength with Bad Luck Fale. Then Archer and Fale both attacked their smaller opponent at ringside, opening the match up. The pairings were kept up throughout most of the match, and overall this was a light and fun match.
Match 3
Dick Togo & SHO & Yujiro Takahashi & EVIL vs Aaron Henare & Great-O-Khan & Jeff Cobb & Will Ospreay (IWGP US Champ, RevPro British Heavyweight Champ)
(referee: Kenta Sato)
Show/Hide Results
Result: Aaron Henare submits Dick Togo with Ultima (full nelson)
Time: 10:22
Match Thoughts
Good match. This was one of those matches where everyone shared time in the ring and got their stuff in, but nobody really stood out as being the main focus of the action. House of Torture of course tried to cheat a lot, but the United Empire mostly did a good job of turning the cheating back around on them. The United Empire was definitely the more powerful team tonight, but the match was fought pretty evenly regardless.
Match 4
Chase Owens & Jay White (IWGP World Heavyweight Champ) w/ Gedo vs Jado & Tama Tonga
(referee: Kenta Sato)
Show/Hide Results
Result: Chase Owens pins Jado after the C-Trigger 
Time: 7:15
Match Thoughts
Pretty good match. Tama Tonga still has a lot of anger after being kicked out of Bullet Club, but that anger didn't really come out much tonight. They're definitely saving it for when Tama faces Jay White later in the tournament, but tonight wasn't much of a preview for that. It was a fine match, but it was also rather forgettable in the context of the G1 tournament.
Match 5
BUSHI & SANADA & Tetsuya Naito vs Hirooki Goto (NEVER 6-Man Champ) & Hiroshi Tanahashi & Kazuchika Okada
(referee: Kenta Sato)
Show/Hide Results
Result: Hiroshi Tanahashi pins BUSHI after the High Fly Flow
Time: 5:50
Match Thoughts
Good match. The match started with Naito and Goto, and Naito continued to focus on Goto's arm like he did yesterday. They have a tournament match coming up, and I really enjoy seeing someone begin their plan early like this. SANADA and Okada also paired off, and SANADA continued to struggle a bit after his opening-round loss yesterday. He didn't look bad, Okada just looked better. The final pair was Tanahashi and BUSHI, and Tanahashi had no real issues. This was a good, straightforward match, even if it did feel a bit short.
Match 6
G1 Climax 32 B Block Match
Taichi (0 pts) w/ Miho Abe vs Tomohiro Ishii (0 pts)
(referee: Marty Asami)
Show/Hide Results
Result: Taichi wins via pinfall after Black Mephisto
Time: 15:21
Match Thoughts
Great match. Taichi versus Ishii is such a good, underrated rivalry. Ishii brings out the best in Taichi, and it's always a hard-fought battle. Ishii started before the opening bell, slapping Taichi in the face and calling to the center of the ring. Taichi responded with a strike early in the match that surprisingly sent Ishii to the mat. Ishii responded in kind shortly after, and the rest of the match was a back-and-forth bout filled with strikes from Ishii and kicks from Taichi.
Match 7
G1 Climax 32 A Block Match
Jonah (0 pts) w/ Bad Dude Tito vs Toru Yano (0 pts)
(referee: Marty Asami)
Show/Hide Results
Result: Toru Yano wins via count out (after hitting both Jonah and Bad Dude Tito with a double low-blow)
Time: 9:01
Match Thoughts
This was fun, though it wasn't as much as a Toru Yano match as I expected. What I mean by that is that Yano was barely able to get up to any shenanigans because he was too busy running away from Jonah. Jonah took the fight to Yano throughout the match, and the few attempts at cheating (shirt over the head, turnbuckle pad stuff, etc.) didn't last long. Yano showed toughness and strength late in the match with some good wrestling moves on his much bigger opponent and a kick-out from a rough-looking senton, but in the final few minutes you could see the end coming. Jonah apparently needed to watch more video on Yano, because Jonah willingly ventured out to ringside a little too far.
Match 8
G1 Climax 32 C Block Match
KENTA (0 pts) vs Zack Sabre Jr. (0 pts)
(referee: Red Shoes Unno)
Show/Hide Results
Result: Zack Sabre Jr. wins via submission with Smell My (Vegan) Cheese You Mother (simultaneous grapevine of arm and leg)
Time: 21:33
Match Thoughts
Great match! KENTA and ZSJ both felt like they had something to prove here tonight, and that greatly affected how each of them fought. A lot of this match was about respect (or rather, the disrespect they both show towards each other), so a good chunk of the earlier parts of the match had both men willingly trading strikes and kicks. KENTA tended to get the better of striking battles, but ZSJ eventually started baiting KENTA in those exchanges as a way to get the move he really wanted. ZSJ had the better game plan tonight, going after KENTA's weaker left arm. ZSJ had to absorb a lot of strikes, more than a few of which put him down to the mat, but submissions helped carry ZSJ through the later parts of the match (as did poor decisions from KENTA to not pin ZSJ on two separate occasions).
Match 9
G1 Climax 32 D Block Match
Juice Robinson (0 pts) vs Shingo Takagi (KOPW 2022 Provisional Champ) (0 pts)
(referee: Red Shoes Unno)
Show/Hide Results
Result: Juice Robinson wins via pinfall after Pulp Friction
Time: 21:33
Match Thoughts
Very good match. Juice started the match with an attack before the bell, and he dominated the first few minutes of the match. Much of the fighting took place at ringside during the first part of the match, and eventually Takagi starting fighting back. Juice repeatedly took shortcuts throughout the match, but he also stood up and traded strikes with Shingo as the match went on. Juice had something to prove, and for the most part I think he succeeded. The finish was just okay, but everything up to that point was very good.
Show Impressions
This was another really good show. I think yesterday's show was a bit better overall in regards to the tournament matches, but tonight's show felt like it had better pacing.
Match of the Night
Zack Sabre Jr. vs KENTA
Technical and hard-hitting. This was great.
Standings After Night 2
A Block

Show/Hide Results
| Wrestler | Points | Wins | Losses | Draws |
| --- | --- | --- | --- | --- |
| Kazuchika Okada | 2 | 1 | 0 | 0 |
| Toru Yano | 2 | 1 | 0 | 0 |
| Jeff Cobb | 0 | 0 | 1 | 0 |
| JONAH | 0 | 0 | 1 | 0 |
| Bad Luck Fale | 0 | 0 | 0 | 0 |
| Lance Archer | 0 | 0 | 0 | 0 |
| Tom Lawlor | 0 | 0 | 0 | 0 |
B Block

Show/Hide Results
| Wrestler | Points | Wins | Losses | Draws |
| --- | --- | --- | --- | --- |
| Jay White (IWGP World Champ) | 2 | 1 | 0 | 0 |
| Taichi | 2 | 1 | 0 | 0 |
| SANADA | 0 | 0 | 1 | 0 |
| Tomohiro Ishii | 0 | 0 | 1 | 0 |
| Chase Owens | 0 | 0 | 0 | 0 |
| Great-O-Khan | 0 | 0 | 0 | 0 |
| Tama Tonga | 0 | 0 | 0 | 0 |
C Block

Show/Hide Results
| Wrestler | Points | Wins | Losses | Draws |
| --- | --- | --- | --- | --- |
| Aaron Henare | 2 | 1 | 0 | 0 |
| Zack Sabre Jr. | 2 | 1 | 0 | 0 |
| Hiroshi Tanahashi | 0 | 0 | 1 | 0 |
| KENTA | 0 | 0 | 1 | 0 |
| EVIL | 0 | 0 | 0 | 0 |
| Hirooki Goto (NEVER 6-Man Champ) | 0 | 0 | 0 | 0 |
| Tetsuya Naito | 0 | 0 | 0 | 0 |
D Block

Show/Hide Results
| Wrestler | Points | Wins | Losses | Draws |
| --- | --- | --- | --- | --- |
| Juice Robinson | 2 | 1 | 0 | 0 |
| Will Ospreay (IWGP US Champ) | 2 | 1 | 0 | 0 |
| El Phantasmo | 0 | 0 | 1 | 0 |
| Shingo Takagi (KOPW 22 Provisional) | 0 | 0 | 1 | 0 |
| David Finaly | 0 | 0 | 0 | 0 |
| YOSHI-HASHI (NEVER 6-Man Champ) | 0 | 0 | 0 | 0 |
| Yujiro Takahashi | 0 | 0 | 0 | 0 |
Official Results (Japanese): https://www.njpw.co.jp/tornament/354182?showResult=1
Official Results (English): https://www.njpw1972.com/tornament/121341?showResult=1