NJPW G1 Climax 32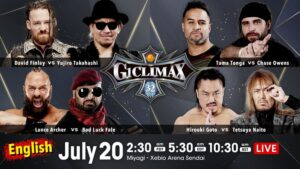 Night 3
Round 1
#G1Climax32
Event Date: July 20, 2022 (18:30 JST)
aired live on NJPW World
City: Sendai, Miyagi, Japan
Venue: Xebio Arena Sendai
Attendance: 1,919
Series: G1 Climax 32
Theme Song: "Over the Max ~Tamashi no Keisho~" by JAM Project
Commentary (English): Kevin Kelly
Commentary (Japanese): Milano Collection AT, Ryusuke Taguchi, Haruo Murata
Ring Announcer: Makoto Abe
Video
Everyone in this year's giant four-block tournament is shown.
Match 1
Royce Isaacs & Tom Lawlor vs Bad Dude Tito & JONAH
(referee: Yuya Sakamoto)
Show/Hide Results
Result: JONAH pins Royce Isaacs after the Black Forest Bomb
Time: 8:38
Match Thoughts
This was a very good opener. Lawlor and JONAH are both in A Block, but they mostly stayed apart during the match. The pace was high though, and both teams worked well together. It was a very fun way to start the show.
Match 2
Dick Togo & SHO & El Phantasmo & EVIL vs Aaron Henare & Great-O-Khan & Jeff Cobb & Will Ospreay (RevPro British Heavyweight Champ, IWGP US Champ)
(referee: Yuya Sakamoto)
Show/Hide Results
Result: The United Empire wins vis referee stoppage when Dick Togo passes out while in Ultima (full nelson) from Aaron Henare
Time: 7:25
Match Thoughts
This was pretty fun. Dick Togo had a real bad night against the United Empire. The rest of Bullet Club/House of Torture looked good, but the United Empire was just a better team.
Match 3
Ryohei Oiwa & Toru Yano vs YOSHI-HASHI (NEVER 6-Man Champ) & Kazuchika Okada
(referee: Yuya Sakamoto)
Show/Hide Results
Result: YOSHI-HASHI submits Ryohei Oiwa with the Butterfly Lock
Time: 7:26
Match Thoughts
Pretty good match. Yano started off surprisingly strong by taking the fight to Okada. Yano cheated, of course, with chairs and exposed turnbuckles, but it wasn't his usual trickery. Yano was fighting like a bad guy. Okada eventually took over, but it was still interesting to see, and it might be a good preview of their upcoming tournament match. YOSHI-HASHI then dominated Oiwa.
Match 4
Kosei Fujita & Tomohiro Ishii & Hiroshi Tanahashi vs Juice Robinson & KENTA & Jay White (IWGP World Heavyweight Champ) w/ Gedo
(referee: Kenta Sato)
Show/Hide Results
Result: KENTA submits Kosei Fujita with Game Over
Time: 10:30
Match Thoughts
Very good match. Bullet Club focused on Tanahashi in the early part of the match, essentially triple-teaming the Ace. The match broke down a little towards the middle, then Fujita and KENTA closed it out with an extended segment against each other. Fujita looked really good tonight. KENTA was never really in danger, but it did take a while for him to put the tenacious young lion away.
Match 5
TAKA Michinoku & Taichi & Zack Sabre Jr. vs BUSHI & SANADA & Shingo Takagi
(referee: Kenta Sato)
Show/Hide Results
Result: SANADA submits TAKA Michinoku with Skull End
Time: 8:17
Match Thoughts
Very good match. SANADA and Taichi started the match with pec-flex contest (which SANADA won), but ZSJ and Shingo actually got the match started with a quick, technical exchange. THe pace was high in this one, and TAKA ended up facing SANADA in the final segment. TAKA looked really good and had a bunch of nice counters, but it was pretty clear from the beginning who would be taking the fall tonight.
Match 6
G1 Climax 32 D Block Match
Yujiro Takahashi (0 pts) w/ Pieter vs David Finlay (0 pts)
(referee: Marty Asami)
Show/Hide Results
Result: Yujiro Takahashi wins via pinfall after Big Juice (and a strike with a wrench from SHO at ringside to FInaly's head)
Time: 12:59
Match Thoughts
Pretty good match. Finlay was aggressive and looked good throughout the match, but Takahashi needed help (as usual). SHO appeared at ringside partway through the match, and he helped out with distractions and illegal strikes on multiple occasions. Finlay came close to beating what was essentially a two-on-one, but he needed some backup of his own tonight.
Match 7
G1 Climax 32 B Block Match
Chase Owens (0 pts) vs Tama Tonga (0 pts) w/ Jado
(referee: Marty Asami)
Show/Hide Results
Result: Tama Tonga wins via pinfall after the Gun Stun
Time: 13:18
Match Thoughts
Very good match. This was better than I expected, especially the later sections of the match. It didn't feel quite as heated as I thought it might considering Tama is still angry about nearly everyone in Bullet Club turning on him, but there was still a decent fight here. Owens took the initiative and superkicked Jado early in the match, but then Owens forgot all about Jado. Jado helped keep Owens from cheating in the final stages of the match, and that forced Owens to face Tama in the ring. There were a few really nice sequences of counters late in the match, and I particularly enjoyed the buildup to the finish.
Match 8
G1 Climax 32 A Block Match
Bad Luck Fale (0 pts) vs Lance Archer (0 pts)
(referee: Red Shoes Unno)
Show/Hide Results
Result: Bad Luck Fale wins via count out
Time: 10:46
Match Thoughts
This was okay. Archer looked strong, so Bad Luck Fale had to attempt cheating a lot. The best part of the match was probably Red Shoes Unno shutting down Fale's cheating attempts twice in a row at ringside. Fale eventually managed to powerbomb Archer through two chairs at ringside, but the match kept going. I didn't care for the finish which, and that hurt an already just-okay match. I'm looking forward to seeing Archer face some of his smaller opponents in the block.
Match 9
G1 Climax 32 C Block Match
Tetsuya Naito (0 pts) vs Hirooki Goto (NEVER 6-Man Champ) (0 pts)
(referee: Red Shoes Unno)
Show/Hide Results
Result: Hirooki Goto wins via pinfall after GTR
Time: 22:41
Match Thoughts
Great match. Naito completely dominated Goto in the first half of the match, but Goto slowly built up to a comeback in the second half. This whole match had a great build to it with the final few minutes being particularly hard-hitting. There were quite a few counters as both guys looked for their signature and finishing moves late in the match. This was easily the best match of the night.
Show Impressions
Overall this show was quite a drop from the previous two nights. The undercard was about the same as it's been, but the tournament matches didn't deliver nearly as much. The main event did save the night though.
Match of the Night
Tetsuya Naito vs Hirooki Goto
Both guys might have better matches in the tournament, but this was still highly entertaining.
Standings After Night 3
A Block

Show/Hide Results
| Wrestler | Points | Wins | Losses | Draws |
| --- | --- | --- | --- | --- |
| Bad Luck Fale | 2 | 1 | 0 | 0 |
| Kazuchika Okada | 2 | 1 | 0 | 0 |
| Toru Yano | 2 | 1 | 0 | 0 |
| Jeff Cobb | 0 | 0 | 1 | 0 |
| JONAH | 0 | 0 | 1 | 0 |
| Lance Archer | 0 | 0 | 1 | 0 |
| Tom Lawlor | 0 | 0 | 0 | 0 |
B Block

Show/Hide Results
| Wrestler | Points | Wins | Losses | Draws |
| --- | --- | --- | --- | --- |
| Jay White (IWGP World Champ) | 2 | 1 | 0 | 0 |
| Taichi | 2 | 1 | 0 | 0 |
| Tama Tonga | 2 | 1 | 0 | 0 |
| Chase Owens | 0 | 0 | 1 | 0 |
| SANADA | 0 | 0 | 1 | 0 |
| Tomohiro Ishii | 0 | 0 | 1 | 0 |
| Great-O-Khan | 0 | 0 | 0 | 0 |
C Block

Show/Hide Results
| Wrestler | Points | Wins | Losses | Draws |
| --- | --- | --- | --- | --- |
| Aaron Henare | 2 | 1 | 0 | 0 |
| Hirooki Goto (NEVER 6-Man Champ) | 2 | 1 | 0 | 0 |
| Zack Sabre Jr. | 2 | 1 | 0 | 0 |
| Hiroshi Tanahashi | 0 | 0 | 1 | 0 |
| KENTA | 0 | 0 | 1 | 0 |
| Tetsuya Naito | 0 | 0 | 1 | 0 |
| EVIL | 0 | 0 | 0 | 0 |
D Block

Show/Hide Results
| Wrestler | Points | Wins | Losses | Draws |
| --- | --- | --- | --- | --- |
| Juice Robinson | 2 | 1 | 0 | 0 |
| Will Ospreay (IWGP US Champ) | 2 | 1 | 0 | 0 |
| Yujiro Takahashi | 2 | 1 | 0 | 0 |
| David Finaly | 0 | 0 | 1 | 0 |
| El Phantasmo | 0 | 0 | 1 | 0 |
| Shingo Takagi (KOPW 22 Provisional) | 0 | 0 | 1 | 0 |
| YOSHI-HASHI (NEVER 6-Man Champ) | 0 | 0 | 0 | 0 |
Official Results (Japanese): https://www.njpw.co.jp/tornament/354183?showResult=1
Official Results (English): https://www.njpw1972.com/tornament/121342?showResult=1