NJPW G1 Climax 32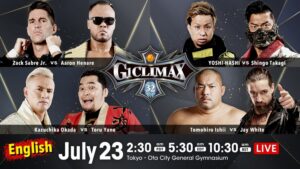 Night 4
Round 1
#G1Climax32
Event Date: July 23, 2022 (18:30 JST)
aired live on NJPW World
City: Ota, Tokyo, Japan
Venue: Ota City General Gymnasium
Attendance: 1,919
Series: G1 Climax 32
Theme Song: "Over the Max ~Tamashi no Keisho~" by JAM Project
Commentary (English): Kevin Kelly, Chris Charlton
Commentary (Japanese – Samurai TV): Milano Collection AT, YOH, Haruo Murata
Commentary (Japanese – NJPW World): Miki Motoi, Togi Makabe
Ring Announcer: Makoto Abe
Video
Everyone in this year's giant four-block tournament is shown.
Match 1
El Phantasmo & Juice Robinson & KENTA vs Ryohei Oiwa & David Finlay & Hirooki Goto (NEVER 6-Man Champ)
(referee: Yuya Sakamoto)
Show/Hide Results
Result: El Phantasmo pins Ryohei Oiwa after Sudden Death
Time: 8:01
Match Thoughts
This was a fine opener. Juice Robinson stood out for his team, mostly because he was so loud and forced his way into most of the action. Seeing Juice fight Finlay was also interesting. More to come on that for sure. As for the rest of the match, it was fast and fun. A good way to begin the show.
Match 2
Royce Isaacs & Tom Lawlor vs Bad Dude Tito & Jonah
(referee: Yuya Sakamoto)
Show/Hide Results
Result: Tom Lawlor submits Bad Dude Tito with St. Andrew's Cross
Time: 9:20
Match Thoughts
Team Filthy (Lawlor and Isaacs) looked good tonight. Lawlor has been getting a lot of time to prepare for his first G1 tournament match (he's the only A block member to not have a match yet), and I do think delaying his start is helping build him up for fans who might not be familiar with him. Lawlor has shown that he can make an impact, and he has the technical skills to hang in a block where he is the smallest competitor. He showed that again tonight.
Match 3
Yujiro Takahashi & Chase Owens & Bad Luck Fale vs TAKA Michinoku & Taichi & Lance Archer
(referee: Kenta Sato)
Show/Hide Results
Result: Yujiro Takahashi pins TAKA Michinoku after Pimp Juice
Time: 6:10
Match Thoughts
This was fun, though it was fairly short. TAKA wanted to start against Fale, but Archer wanted revenge on Fale for the count out loss he suffered in the tournament. So, Archer fought Fale without regard to the rest of the match, Taichi and Owens tried to annoy each other, and Takahashi and TAKA ended up deciding the outcome of the match.
Match 4
Dick Togo & SHO & EVIL vs Great-O-Khan & Jeff Cobb & Will Ospreay (RevPro British Heavyweight Champ, IWGP US Champ)
(referee: Kenta Sato)
Show/Hide Results
Result: Great-O-Khan submits Dick Togo with the Subaru Oozora Sheep Killer
Time: 7:47
Match Thoughts
The United Empire was strong tonight. Dick Togo wanted to start with a test of strength against Jeff Cobb, but of course it was a ruse to distract Cobb and allow the House of Torture to attack him illegally. House of Torture dominated the match for a little while, but the United Empire came together and dominated the second half of the match with superior teamwork.
Match 5
BUSHI & SANADA & Tetsuya Naito vs Jado & Tama Tonga & Hiroshi Tanahashi
(referee: Kenta Sato)
Show/Hide Results
Result: SANADA submits Jado with Skull End
Time: 9:29
Match Thoughts
Good match. SANADA and Naito taunted Tanahashi as the match began, tagging each other repeatedly just to annoy the Ace. Tanahashi fought well though, and Naito seemed to pull back somewhat as the match went on. Overall this was a well-paced tag match that served as a fine preview for Naito versus Tanahashi and SANADA versus Tama Tonga.
Match 6
G1 Climax 32 C Block Match
Aaron Henare (2 pts) vs Zack Sabre Jr. (2 pts)
(referee: Marty Asami)
Show/Hide Results
Result: Zack Sabre Jr. wins via submission with Sunday Rail Engineering Works Replacement Bus Service (modified single-leg Boston crab)
Time: 14:15
Match Thoughts
Very good match. Sabre likes to bait people and absorb strikes to get an opportunity for a hold, but Henare proved to be a tough opponent to try that against. When Sabre threw strikes, Henare answered with strikes that got Sabre into trouble. Henare also showed some nice counter wrestling from time to time, but Sabre was far superior in that regard. Sabre guided the match into his own preferred style, and that allowed him to dictate large parts of the match.
Match 7
G1 Climax 32 D Block Match
Shingo Takagi (KOPW 2022 Provisional) (0 pts) vs YOHSHI-HASHI (NEVER 6-Man Champ) (0 pts)
(referee: Marty Asami)
Show/Hide Results
Result: Shingo Takagi wins via pinfall with a ground cobra pin
Time: 17:28
Match Thoughts
Very good match. Going into it, I thought Shingo would have this match for sure. Shingo has the speed, power, and striking advantage over YOSHI-HASHI, so I thought it would be a battle of heart and determination for YOSHI-HASHI. It was that to an extent, but YOSHI-HASHI managed to put up a really great strong-style performance here as well. YOSHI-HASHI didn't back down from Shingo, and even though Shingo tended to get the better of most head-to-head encounters, YOSHI-HASHI built up superb momentum in the final few minutes of the match. This was easily one of the best YOSHI-HASHI singles matches I've seen.
Match 8
G1 Climax 32 A Block Match
Toru Yano (2 pts) vs Kazuchika Okada (2 pts)
(referee: Red Shoes Unno)
Show/Hide Results
Result: Kazuchika Okada win via submission with the Money Clip
Time: 10:10 
Match Thoughts
Very good match. Yano approached this match very seriously, looking to beat up Okada with brawling rather than with funny trickery. Yano attacked Okada before the bell and beat up Okada at ringside by using a chair and the barrier. After a while Okada was able to fight back, but the damage was done. In the ring, Yano continued to punish Okada, but Okada eventually got in enough counters to mount a comeback. Okada was forced to take Yano seriously, and once he did, Okada was dominant. This was a very entertaining match, but I expect we'll see a return to Yano's more playful side for the remainder of the tournament.
Match 9
G1 Climax 32 B Block Match
Tomohiro Ishii (0 pts) vs Jay White (IWGP World Heavyweight Champ) (2 pts) w/ Gedo
(referee: Red Shoes Unno)
Show/Hide Results
Result: Jay White wins via pinfall after Blade Runner
Time: 22:02
Match Thoughts
Great match! White versus Ishii is always superb, and this was no exception. White started the match by sitting Gedo down on a chair beyond the barrier after a complaint from Ishii about Gedo being at ringside. Of course this was all a setup, and a few minutes later Ishii gets a chair thrown at his head from Gedo. That started White with an extreme advantage over Ishii, and White capitalized on that advantage in a brutal fashion. Ishii absorbed a ton of punishment, seemingly more than usual. At a certain point, Ishii had enough, and he started laying into White. White still managed to get in a number of devastating moves of his own, but the fight was more even from then on. There were extended sequences of counters, as well as tons of brutal slams and strikes. This was great, and will surely be in contention for the best match of the tournament.
Show Impressions
I enjoyed this show a lot. It was about the same length as all the previous shows in this year's G1, but it felt shorter. In a good way. The tournament matches all delivered, and the first two of the night surprised me a little with how much I enjoyed them.
Match of the Night
Tomohiro Ishii vs Jay White
As good as the other matches were, this was easily the best fight of the night.
Standings After Night 4
A Block

Show/Hide Results
| Wrestler | Points | Wins | Losses | Draws |
| --- | --- | --- | --- | --- |
| Kazuchika Okada | 4 | 2 | 0 | 0 |
| Bad Luck Fale | 2 | 1 | 0 | 0 |
| Toru Yano | 2 | 1 | 1 | 0 |
| Jeff Cobb | 0 | 0 | 1 | 0 |
| JONAH | 0 | 0 | 1 | 0 |
| Lance Archer | 0 | 0 | 1 | 0 |
| Tom Lawlor | 0 | 0 | 0 | 0 |
B Block

Show/Hide Results
| Wrestler | Points | Wins | Losses | Draws |
| --- | --- | --- | --- | --- |
| Jay White (IWGP World Champ) | 4 | 2 | 0 | 0 |
| Taichi | 2 | 1 | 0 | 0 |
| Tama Tonga | 2 | 1 | 0 | 0 |
| Chase Owens | 0 | 0 | 1 | 0 |
| SANADA | 0 | 0 | 1 | 0 |
| Tomohiro Ishii | 0 | 0 | 2 | 0 |
| Great-O-Khan | 0 | 0 | 0 | 0 |
C Block

Show/Hide Results
| Wrestler | Points | Wins | Losses | Draws |
| --- | --- | --- | --- | --- |
| Zack Sabre Jr. | 4 | 2 | 0 | 0 |
| Hirooki Goto (NEVER 6-Man Champ) | 2 | 1 | 0 | 0 |
| Aaron Henare | 2 | 1 | 1 | 0 |
| Hiroshi Tanahashi | 0 | 0 | 1 | 0 |
| KENTA | 0 | 0 | 1 | 0 |
| Tetsuya Naito | 0 | 0 | 1 | 0 |
| EVIL | 0 | 0 | 0 | 0 |
D Block

Show/Hide Results
| Wrestler | Points | Wins | Losses | Draws |
| --- | --- | --- | --- | --- |
| Juice Robinson | 2 | 1 | 0 | 0 |
| Will Ospreay (IWGP US Champ) | 2 | 1 | 0 | 0 |
| Yujiro Takahashi | 2 | 1 | 0 | 0 |
| Shingo Takagi (KOPW 22 Provisional) | 2 | 1 | 1 | 0 |
| David Finaly | 0 | 0 | 1 | 0 |
| El Phantasmo | 0 | 0 | 1 | 0 |
| YOSHI-HASHI (NEVER 6-Man Champ) | 0 | 0 | 1 | 0 |
Official Results (Japanese): https://www.njpw.co.jp/tornament/354184?showResult=1
Official Results (English): https://www.njpw1972.com/tornament/121343?showResult=1