Stardom 5★STAR GP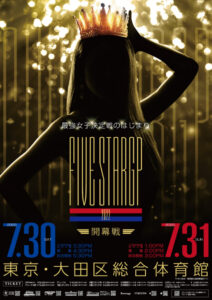 Day 1
#5STARGP2022
Event Date: July 30, 2022 (17:30 JST)
aired live on PPV, matches uploaded to Stardom World
City: Ota, Tokyo, Japan
Venue: Ota City General Gymnasium
Attendance: 1,527
Series: 5 Star GP 2022
Commentary (Japanese): Haruo Murata, Oe Makoto, Yuji Nagata (1 – 9), Natsupoi (4 – 9), Starlight Kid (6, 7)
Ring Announcer: Watase Yuzuki (1 – 5, 7), Yoritaka Ando (ringside, 6, 8, 9)
Pre-Show Match
Gauntlet Tag Match
Rina & Ruaka vs Miyu Amasaki & Hina vs Hanan (Future Champ) & Koguma (Goddess Champ) vs Natsupoi & Tam Nakano vs Saki Kashima (Artist Champ) & Momo Watanabe (Artist Champ) vs Fukigen DEATH & Starlight Kid (Artist Champ)
(referee: Duke Sado)
Show/Hide Results
Result: Natsupoi and Tam Nakano win
1. Rina pins Hine with a jackknife cover (3:31)
2. Koguma pins Rina with a bridging cover (2:30)
3. Tam Nakano pins Hanan with a bridging German suplex (3:35)
4. Natsupoi pins Saki Kashima with a rolling La Magistral (3:08)
5. Natsupoi pins Fukigen DEATH after the Fairial Gift (twisting diving splash) (3:31)
Total Time (including rest periods): 21:53
Match Thoughts
This was a fun opener. The matchups certainly got better as the match went on, with each successive fall being a little better than the previous one. A standout moment for me were Hanan and Koguma attacking Natsupoi and Tam Nakano on the stage while the Cosmic Angels were doing their pre-match dance routine. I also quite enjoyed the final fall. Natsupoi stood out as probably the best fighter in the match, mostly because she did a lot of the work for her team in the final two falls.
Video
For the first day of this year's tournament, we get a brief look at all of the competitors in the 5 Star GP 2022.
Ring Area
The 5 Star GP opening ceremony brings out all the competitors in the tournament to the stage, grouped by unit. First out are the Cosmic Angels (SAKI, Natsupoi, Unagi Sayaka, Mina Shirakawa, and Tam Nakano). Next is Risa Sera of Prominence. Then it's Queen's Quest (Saya Kamitani, AZM, and Utami Hayashishita). Oedo Tai follows (Starlight Kid, Saki Kashima, and Momo Watanabe). Donna del Mondo is next (Mai Sakurai, Himeka, Maika, and Giulia). Then it's Stars (Momo Kohgo, Saya Iida, Hanan, Koguma, Hazuki, and Mayu Iwatani). Finally, God's Eye (MIRAI, Ami Sourei, and Syuri). Missing tonight is Suzu Suzuki.
Video
After everyone leaves the stage, we see the matchups for tonight's show on the video screen.
Match 1
5★STAR GP 2022 Red Stars Match
Mai Sakurai (0 pts) vs Momo Kohgo (0 pts)
(referee: Duke Sado)
Show/Hide Results
Result: Mai Sakurai wins via pinfall after the Shining Buster (sit-out gourd buster)
Time: 5:56
Match Thoughts
Good match. Mai Sakurai was the stronger fighter from the start, though Momo Kohgo did put up a decent fight. Sakurai made a few careless mistakes that Kohgo capitalized on, but Sakurai always recovered quickly. A tough start for Kohgo, but an entertaining match.
Match 2
5★STAR GP 2022 Blue Stars Match
Ami Sourei (0 pts) vs Saya Iida (0 pts)
(referee: Barb Sasaki)
Show/Hide Results
Result: Ami Sourei wins via pinfall after a spinning brainbuster
Time: 8:14
Match Thoughts
Very good match. Ami Sourei has a significant size advantage on Saya Iida, but Iida wanted to test Sourei's power early in the match. They started with strikes and were fairly evenly matched, but Iida wisely moved on to takedowns and holds. Iida, was making good progress, but Sourei's power became a huge problem for Iida late in the match.
Match 3
5★STAR GP 2022 Red Stars Match
SAKI (0 pts) vs Unagi Sayaka (0 pts)
(referee: Daichi Murayama)
Show/Hide Results
Result: SAKI wins via pinfall after Kawild Buster (running spinning brainbuster)
Time: 9:07
Match Thoughts
Good match. SAKI wanted to start the match with a friendly handshake, but Unagi Sayaka was more interested in messing with SAKI. Sayaka refused to shake hands before the match, then, with a smug smile, she offered her hand to SAKI during the match. SAKI didn't fall for it, and she attacked Sayaka. And that's kind of how the match went. Sayaka seemed to think she was the stronger and smarter of the two, but SAKI kept getting the better of her. This was a nice fight with great energy.
Match 4
5★STAR GP 2022 Red Stars Match
Risa Sera (0 pts) vs Maika (0 pts)
(referee: Duke Sado)
Show/Hide Results
Result: Risa Sera wins via pinfall after a diving double knee drop
Time: 8:19
Match Thoughts
Very good match. This was a battle of power versus power. Risa Sera started strong, and she dominated the first part of the match. Maika started mounting a comeback with heavy strikes that staggered Sera. Sera then decided she wanted to exchange strikes, and the two of them did so a few times throughout the match. By the end, both women were trying to hit their hardest strike, but neither would stay down. It took a rather brutal combination to end this fight.
Match 5
5★STAR GP 2022 Red Stars Match
AZM (High Speed Champ) (0 pts) vs Syuri (World Champ) (0 pts)
(referee: Daichi Murayama)
Show/Hide Results
Result: Syuri wins via submission with White Tiger (modified stretch muffler)
Time: 9:31
Match Thoughts
Very good match. AZM started quickly by dropkicking Syuri before the opening bell. AZM kept the pressure on, taking the fight to the outside and hitting a diving double-stomp onto Syuri on the floor. AZM kept attacking quickly inside the ring, but Syuri finally started to fight back. As AZM took damage, she slowed down, allowing Syuri to attack even more. AZM still hit bursts of offense, but Syuri's kicks and counters dealt a lot of damage to the High Speed Champ. This was a fast (the pace, not the time) and fun match.
Ring Area
During intermission, Starlight Kid comes out and harasses Natsupoi who has been doing commentary. After some bickering, Starlight Kid decides to join the commentary table.
Match 6
Lady C & Saya Kamitani (Wonder Champ) vs Kairi & Nanae Takahashi
(referee: Barb Sasaki)
Show/Hide Results
Result: Nanae Takahashi pins Lady C after the Refrigerator Bomb (diving frog splash)
Time: 15:32
Match Thoughts
Very good match. Queen' Quest (Kamitani and Lacy C) were outclassed tonight. QQ didn't get much offense at all, and Kairi and Takahashi were able to isolate Lady C for what felt like three-quarters of the match. With Kamitani out of the fight or ineffective most of the time, the match felt like it was a battle of heart and will for Lady C. Lady C stood up against Takahashi as well as she could, and I even pulled for Lady C during parts of the match, but ultimately Kairi and Takahashi were too strong. Kairi and Takahashi also had much better teamwork.
Ring Area
After the match, Nanae Takahashi gets on the mic and celebrates the renewed team of 7KAIRI (Nanae Takahashi and Kairi). Referring to Lady C and Kamitani, Takahashi wonders if this is what Stardom has become ("a tall girl, and a girl that can jump"). She says you can't wrestle without passion.
Takahashi calls out Syuri, and Syuri comes to the ring. As the first World of Stardom Champion, Nanae Takahashi says she laid the foundation for the title. Syuri wouldn't even be champ right now if not for Takahashi and her role in the formation of Stardom. Takahashi suggests a fight with the champ. Syuri says she's wanted to fight Nanae Takahashi, but she doesn't agree with Takahashi about Stardom's lack of passion. Syuri vows to show Takahashi the strength of the current Stardom. Takahashi attacks Syuri, but Ami Sourei runs in and stops the attack. Takahashi fights back sending Sourei from the ring. Takahashi has the last word, saying she' looking forward to fighting Syuri.
Kairi then takes the mic. Addressing Saya Kamitani and her accusations that Kairi is "running too far ahead," Kairi says she is focusing on the here and now. Kairi says the Wonder of Stardom title is calling her name, and she asks Kamitani to accept her challenge for a title match. Kamitani feels like she is still an immature champion, but she's trying to do her best. Kamitani pointsout that she's defended the Wonder of Stardom title eight times… the same number of times Kairi defended the title when she had it. Kamitani says she will defeat Kairi and surpass her reign as champion.
Match 7
5★STAR GP 2022 Blue Stars Match
MIRAI (0 pts) vs Mayu Iwatani (SWA Champ) (0 pts)
(referee: Daichi Murayama)
Show/Hide Results
Result: MIRAI wins via pinfall after Miramare Shock (sit-out Death Valley Driver)
Time: 12:51
Match Thoughts
Very good match. MIRAI starting building up some good offense early in the match, and she never backed down. Mayu Iwatani went into a defensive mode early, and she struggled to recover from the increasingly brutal attacks from MIRAI. Iwatani had a particularly bad spill a few minutes into the match where she went for a suicide dive between the ropes and completely missed MIRAI. Iwatani landed hard on her back, and she never really recovered. Iwatani got in a good number of strong attacks, but MIRAI was relentless and hit really, really hard. This was a rough night for Iwatani.
Match 8
5★STAR GP 2022 Red Stars Match
Himeka (0 pts) vs Utami Hayashishita (0 pts)
(referee: Barb Sasaki)
Show/Hide Results
Result: Himeka wins via pinfall after a running falling powerbomb
Time: 10:52
Match Thoughts
Very good match. This was another power versus power match. Himeka and Utami both had pretty much the same idea for the fight: hit hard and get some big slams. Most of the match was fought in the center of the ring with both wrestlers going back and forth with the advantage. Combination became super important late in the match, and pairing strikes with slams worked well for both.
Match 9
5★STAR GP 2022 Blue Stars Match
Giulia (0 pts) vs Hazuki (Goddess Champ) (0 pts)
(referee: Daichi Murayama)
Show/Hide Results
Result: Hazuki wins via pinfall after a vertical drop brainbuster
Time: 11:54
Match Thoughts
Great match. Giulia was confident going into this, but Hazuki was very aggressive right from the start. Giulia did get the first big advantage though. The fight went to ringside early, and it ended up on the stage. Giulia did a running dropkick (off of the referee's back) on the stage, but it kind of backfired on her since she landed hard on the wood of the stage floor. In pain, Giulia then took a move from Hazuki that sent Giulia tumbling down the stage steps. Back in the ring, Hazuki kept pressing the attack. Hazuki hit big movie after big movie, and Giulia struggled to move from defense to offense. In the end, Hazuki simply got more highly impactful moves than Giulia did.
Show Impressions
This was a great opening day for the 5 Star GP. None of the matches felt like afterthoughts, and the matches I was looking most forward to were all entertaining. It felt like there were a lot of upsets tonight. That isn't good or bad, it's just interesting.
Match of the Night
Giulia vs Hazuki
This is a tough call because there were a lot of good matches in different styles, but the main event was a nice combination of spectacle, energy, and wrestling.
Standings After Day 1
Red Stars

| Wrestler | Points | Wins | Losses | Draws |
| --- | --- | --- | --- | --- |
| Himeka | 2 | 1 | 0 | 0 |
| Mai Sakurai | 2 | 1 | 0 | 0 |
| Risa Sera | 2 | 1 | 0 | 0 |
| SAKI | 2 | 1 | 0 | 0 |
| Syuri (World Champ) | 2 | 1 | 0 | 0 |
| Koguma (Goddess Champ) | 0 | 0 | 0 | 0 |
| Saki Kashima (Artist Champ) | 0 | 0 | 0 | 0 |
| Tam Nakano | 0 | 0 | 0 | 0 |
| AZM (High Speed Champ) | 0 | 0 | 1 | 0 |
| Maika | 0 | 0 | 1 | 0 |
| Momo Kohgo | 0 | 0 | 1 | 0 |
| Unagi Sayaka | 0 | 0 | 1 | 0 |
| Utami Hayashishita | 0 | 0 | 1 | 0 |
Blue Stars

| Wrestler | Points | Wins | Losses | Draws |
| --- | --- | --- | --- | --- |
| Ami Sourei | 2 | 1 | 0 | 0 |
| Hazuki (Goddess Champ) | 2 | 1 | 0 | 0 |
| MIRAI | 2 | 1 | 0 | 0 |
| Hanan (Future Champ) | 0 | 0 | 0 | 0 |
| Mina Shirakawa | 0 | 0 | 0 | 0 |
| Momo Watanabe (Artist Champ) | 0 | 0 | 0 | 0 |
| Natsupoi | 0 | 0 | 0 | 0 |
| Saya Kamitani (Wonder Champ) | 0 | 0 | 0 | 0 |
| Starlight Kid (Artist Champ) | 0 | 0 | 0 | 0 |
| Suzu Suzuki | 0 | 0 | 0 | 0 |
| Giulia | 0 | 0 | 1 | 0 |
| Mayu Iwatani (SWA Champ) | 0 | 0 | 1 | 0 |
| Saya Iida | 0 | 0 | 1 | 0 |
Official Results (Jpaanese): https://wwr-stardom.com/news/20220730ootaku/