NJPW x Stardom Historic X-over
#NJPWxSTARDOM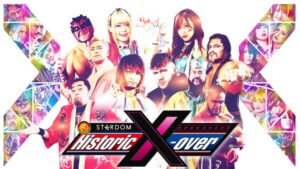 Event Date: November 20, 2022 (17:00 JST)
aired live on NJPW World
City: Ariake, Koto, Tokyo, Japan
Venue: Ariake Arena
Attendance: 7,102
Commentary (English): Kevin Kelly, Chris Charlton, Waka Tsukiyama (2 – 9)
Commentary (Japanese): Milano Collection AT, Miki Motoi (P1 – 6), Yuichi Tabata (P1, 3, 7), Yohei Onishi (1, 5, 6, 8), Haruo Murata (2, 4, 9), Hiroshi Tanahashi (7 – 9), Utami Hayashishita (9)
Ring Announcer: Taisei Watanabe (P1, 3, 6), Yoritaka Ando (P2, 2, 5, 9), Makoto Abe (1, 4, 7, 8), Gideon Grey (6 – 8)
Show/Hide Match Previews
Pre-Show Match 1
Oskar Leube & Yuto Nakashima & Ryohei Oiwa & Kosei Fujita vs Kevin Knight & Gabriel Kidd & Alex Coughlin & Clark Connors
(referee: Yuya Sakamoto)
Show/Hide Results
Result: Alex Coughlin pins Oskar Leube after a double-team Muscle Buster (Coughlin & Kidd)
Time: 9:45
Match Thoughts
People were still filing into the arena when this match started, but the young lions (and former young lions) always bring a ton of energy to the ring regardless of the size of the crowd. Clark Connors' team definitely was the stronger of the two. Connor and his partners had a relatively easy night, picking apart their opponents with only sporadic moments of being on defense. This was a nice way to start the night.
Pre-Show Match 2
Stardom Ranbo
(referee: Barb Sasaki)
Show/Hide Results
Result: Mirai wins
Time: 23:06

| Entrant Number | Wrestler | Total Eliminations | Time Eliminated | Eliminated By |
| --- | --- | --- | --- | --- |
| 1 | Mirai | 2 | WINNER | - |
| 2 | Ami Sohrei | 2 | 20:17 | Saki Kashima |
| 3 | Saya Iida | 0 | 5:10 | Natsuko Tora |
| 4 | Natsuko Tora | 1 | 18:12 | Hazuki |
| 5 | Hanan | 1 | 19:18 | Saki Kashima |
| 6 | Hina | 2 | 17:17 | Ruaka |
| 7 | Rina | 0 | 19:09 | Hanan |
| 8 | Hazuki | 1 | 19:50 | Saki Kashima |
| 9 | Koguma | 1 | 19:42 | Saki Kashima |
| 10 | Momo Kohgo | 0 | 14:49 | Ami Sohrei & Hina |
| 11 | Waka Tsukiyama | 0 | 14:49 | Ami Sohrei & Hina |
| 12 | Saki Kashima | 5 | 21:16 | Mirai |
| 13 | Ruaka | 1 | 17:52 | Koguma |
| 14 | Miyu Amasaki | 0 | 20:32 | Saki Kashima |
| 15 | Super Strong Stardom Machine | 0 | 23:06 | Mirai |
Match Thoughts
This was fun. With one exception, it took a long time for eliminations to start happening. That allowed the ring to fill up and led to some faction warfare which was nice. Oedo Tai did a good job of dominating the ring with numbers later in the match, but the whole battle royal was really more about individual efforts. For a pre-show match, this was well done.
Video
The opening video shows a few historic events throughout history. History happens again tonight with NJPW x Stardom Historic X-Over!
Match 1
Lio Rush & YOH & YOSHI-HASHI & Tomohiro Ishii vs Dick Togo & SHO (NEVER 6-Man Champ) & Yujiro Takahashi (NEVER 6-Man Champ) & EVIL (NEVER 6-Man Champ)
(referee: Yuya Sakamoto)
Show/Hide Results
Result: Lio Rush pins Dick Togo after a combination flapjack (YOH) and flatliner (Rush)
Time: 7:05
Match Thoughts
Good match. EVIL's House of Torture worked together pretty well as a team, but Ishii's team had a nice mix of individual efforts and teamwork. When House of Torture started taking over, Ishii took them all on and cleared the ring. A bit later, Lio Rush and YOH showed why they will be a team to contend with in the SUper Jr. Tag League.
Match 2
Mai Sakurai & Thekla & Himeka vs Lady C & AZM (Stardom High Speed Champ) & Saya Kamitani (Wonder of Stardom Champ)
(referee: Barb Sasaki)
Show/Hide Results
Result: Saya Kamitani pins Mai Sakurai after a Firebird Splash
Time: 9:10
Match Thoughts
Good match. Mai Sakurai really stood out in this one. Sakurai took over for her team later in the match, and she did a great job of handling the attacks of Queen's Quest. Eventually QQ started using tandem offense against Sakurai, leading to a pretty good finish.
Match 3
Giulia & Zack Sabre Jr. vs Syuri (World of Stardom Champ) & Tom Lawlor
(referee: Kenta Sato)
Show/Hide Results
Result: Zack Sabre Jr. pins Tom Lawlor with a bridging prawn hold
Time: 10:52
Match Thoughts
Very good match. Giulia has an upcoming match challenging Syuri for the World of Stardom Championship, so even though the two of them fought each other, it's not surprising that they weren't directly involved in the finish. As the match went on, ZSJ and Lawlor were legal most of the time, and they had a good technical match of holds and reversals. Syuri and Giulia came in from time to time, but most of their in-ring action took place early in the match. One particularly fun part was when Syuri and Giulia were trading slaps to the face, and Tom Lawlor tried to interject himself into their fight. Neither woman took kindly to that, and Lawlor felt the wrath of Giulia AND Syuri for a while.
Match 4
Momo Watanabe (Artist of Stardom Champ) & Douki & Starlight Kid (Artist of Stardom Champ) & El Desperado vs Yoshinobu Kanemaru & Taichi & Natsupoi (Goddess of Stardom Champ) & Tam Nakano (Goddess of Stardom Champ)
(referee: Kenta Sato)
Show/Hide Results
Result: Taichi pins Douki after Black Mephisto
Time: 12:01
Match Thoughts
Great match! Sure, the action was all over the place, but it was so much fun. Highlights for me include Oedo Tai beating up Kanemaru at ringside, Taichi joining Nakano and Natsupoi (meltear) for their ring entrance, the fairial mist by Natsupoi, El Desperado and Starlight Kid looking amazing together, and Taichi and Nakano fighting in unison. This was a bit silly and completely awesome.
Match 5
Maika & Hirooki Goto vs Utami Hayashishita & Hiroshi Tanahashi
(referee: Daichi Murayama)
Show/Hide Results
Result: Utami Hayashishita pins Maika after the Hijack Bomb
Time: 9:36
Match Thoughts
Very good match. This almost felt like an intergender match at times, with Tanahashi and Goto (mostly Tanahashi) getting physical with their female opponents. Ultimately though, the biggest part of this match was fought between Maika and Hayashishita. Both women looked strong, and they delivered an exciting fight. Both of these teams were great, and I'd love to see another match like this between them. Maybe Stardom and NJPW can do a mixed-tag tournament at some point?
Video
A commercial for the Strong Spirits x Stardom digital card game is shown as the show goes to a brief intermission.
Match 6
BUSHI & Hiromu Takahashi & SANADA & Shingo Takagi (KOPW 2022 Provisional Champ) & Tetsuya Naito vs Gideon Grey & Francesco Akira (IWGP Jr. Tag Champ) & TJP (IWGP Jr. Tag Champ) & Kyle Fletcher & Mark Davis
(referee: Marty Asami)
Show/Hide Results
Result: Kyle Fletcher pins BUSHI after Coriolis (with Mark Davis)
Time: 9:55
Match Thoughts
Very good match. It started with Naito trying to embarrass Gideon Grey, but after a few minutes of comedy, the action picked up. Fast-paced and evenly fought, this was a very entertaining tag match. In the end, it felt like the main point was to build up Aussie Open (Kyle Fletcher & Mark Davis) for the upcoming tag league.
Match 7
Great-O-Khan & Aaron Henare & Jeff Cobb vs Toru Yano & Kazuchika Okada & The Great Muta
(referee: Marty Asami)
Show/Hide Results
Result: Kazuchika Okada pins Aaron Henare after the Rainmaker
Time: 9:48
Match Thoughts
Very good match. This was The Great Muta's final match in an NJPW ring, so he was highlighted throughout the bout. Muta started the match against Great-O-Khan, and I really enjoyed seeing them in the ring together. Great-O-Khan is awesome, and even though he's still early in his career, he has the potential to be a Muta-like presence in pro-wrestling. Muta's teammates did a good job of taking care of most of the action which allowed Muta to hit some great signature spots here and there. As a stop on Muta's farewell tour, this was fun, though he is surely going to have more involved and emotional matches (in other companies) in the next few weeks up until his retirement.
Match 8
IWGP US Heavyweight Title Match
Shota Umino vs Will Ospreay (IWGP US Champ) w/ TJP, Francesco Akira, Aussie Open
(referee: Red Shoes Unno)
Show/Hide Results
Result: Will Ospreay wins via pinfall after Stormbreaker and retains the title in his fourth defense
Time: 23:30
Match Thoughts
Great match. Umino seemed outclassed for parts of this match, but what he lacked in experience he made up for in fighting spirit. Umino put up a good fight, and the final few minutes of the match got quite interesting. Red Shoes Unno is Umino's father, and that led to the natural question of what Unno would do if/when Ospreay started to hurt Umino in a dangerous way. Unno called the match down the middle, though there was a moment late in the match when Umino was down when Unno looked like he wanted to call the match off. The match went on, and Umino hit a burst of offense before the inevitable surge from Ospreay. This was a good title match for Ospreay, and a great match for Umino to build himself and his character in NJPW.
Ring Area
After the match, as the United Empire celebrates, the lights in the arena go out. On the screen, Kenny Omega appears. Omega says that when he left NJPW, they needed a replacement. Will Ospreay is that replacement, and Ospreay and the United Empire are no more than cheap Omega rip-offs. Omega was surprised to get a call from NJPW, and frankly, he wasn't interesting in coming back. However, for the fans and for pro-wrestling, he will return. Omega challenges Ospreay for Wrestle Kingdom 17.
In the ring, Ospreay says that he stayed, and he kept the heartbeat going in NJPW when Omega left. Ospreay accepts Omega's challenge.
Video
A brief look at the paths Mayu Iwatani and KAIRI took on their way to challenging each other to become the first ever IWGP Women's Champion.
Match 9
IWGP Women's Title Match
KAIRI vs Mayu Iwatani
(referee: Daichi Murayama; title presenter: Rossy Ogawa)
Show/Hide Results
Result: KAIRI pins Mayu Iwatani after the Insane Elbow and becomes the first IWGP Women's Champion
Time: 25:28
Match Thoughts
Fantastic match. Heart, emotion, and hard-fought action. KAIRI and Iwatani put it all into this match. Iwatani started the match with a great game plan by going after KAIRI's taped right elbow, the same elbow she uses for her Insane Elbow finisher. That put KAIRI at a disadvantage at first, but a few spinning backfists (cutlass backfists) from KAIRI completely changed the complexation of the match. Iwatani was hurting, and she was at a disadvantage for most of the rest of the match. The battle became a test of wills as Iwatani refused to stay down and found ways to hit a few of her own signature moves, including more than one dragon suplex. The finish was great, and it was very emotional for everyone in and around the ring.
Show Impressions
This was a super fun show. The only thing I would change is the fact that after the intermission, it was 75% NJPW. Better balance in the second half of the show would have been nice, but that's kind of a nitpick.
Match of the Night
KAIRI vs Mayu Iwatani
Easily the best match on a great show. What a way to begin the lineage of the NJPW Women's Championship.
Ring Area
After the match, the new IWGP Women's Champion talks about what her match and what the IWGP Women's Championship means. She says there will be a title defense at Wrestle Kingdom, and she wonders who the challenger will be. Tam Nakano walks to the ring and says she will take the IWGP Women's Title at Wrestle Kingdom.
Official Results (English): https://www.njpw1972.com/tornament/127057?showResult=1
Official Results (Japanese): https://www.njpw.co.jp/tornament/369838?showResult=1