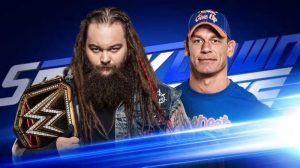 February 14, 2017
Episode 913
(aired live)
#SDLive
City: Anaheim, CA
Venue: Honda Center
Commentary: Mauro Ranallo, JBL, David Otunga, Tom Phillips
Ring Announcer: Greg Hamilton
Video
Last Sunday at Elimination Chamber, Becky Lynch beat Mickie James, American Alpha retained their titles, Dolph Ziggler attacked Kalisto, Nikki Bella and Natalya fought to a countout, Randy Orton beat Luke Harper, Naomi became the new SmackDown Women's Champ, and Bray Wyatt became the new World Champ.
Ring Area
Bray Wyatt heads to the ring. Standing in the ring with his new World Title belt, the crowd chants "you deserve it." Bray raises his belt in the air. He has the whole world in his hands. He welcomes everyone to "The Era of Wyatt." John Cena then heads to the ring.
Cena notices Bray Wyatt's supporters in the crowd and congratulates Bray on brainwashing them. He takes issue with the "you deserve it chant," saying that no one deserves anything. Everything in the WWE is earned. Right now, Cena wants to earn back his World Title. AJ Styles then heads to the ring.
Styles says this isn't about Cena, it's about AJ Styles. He's already beaten Cena several times, and he knows he can beat Bray, so AJ wants his title rematch right here and now. Daniel Bryan then comes out to the stage.
Bryan congratulates Bray on his title win, but he has a problem. He's promised a title match tonight, but both Cena and Styles have a rematch coming. His solution? A triple threat match for the World Title tonight.
Backstage
Dean Ambrose looks for Baron Corbin.
Match 1
American Alpha (SD Tag Champs) vs The Ascension
(referee: Jason Ayers)
Show/Hide Results
Result: Chad Gable pins Viktor after Grand Amplitude
Time: 6:02 (1 break)
Match Thoughts
Pretty good match. The Ascension was solid in this one, but it was still an American Alpha match. Gable spent most of the time in the ring for his team, he eventually got beat up and barely made the tag to Jordan, Jordan cleaned up and brought about the finish of the match. Fairly standard stuff.
Ring Area
After the match, The Usos appear on the video screen and say they are coming after American Alpha.
Backstage
James Ellsworth invites Carmella to dinner for Valentine's Day. Carmella turns him down. Ambrose walks by while looking for Corbin and tells Ellsworth Carmella is using him. He should try online dating. Daniel Bryan walks up and asks if there's a problem. Ambrose says he wants to beat up Ellsworth, and Bryan thinks it's a good idea.
Ring Area
In the ring, James Ellsworth introduces Carmella to a chorus of boos. Dean Ambrose's music plays, but after a few seconds it's Baron Corbin who comes out. He's dragging Ambrose behind him. Ambrose tries to fight back, but Corbin tosses him into a table (that shoots sparks for some reason).
Backstage
Daniel Bryan tells Nikki that she and Natalya have to stop fighting all the time. Natalya walks up, and after a short argument they start fighting again. Daniel is pissed, so next week they'll be in a Falls Count Anywhere match.
Backstage
Dasha Fuentes asks Baron Corbin for an explanation. Corbin says he's not champ because of Ambrose, so Ambrose is hurt because of Corbin.
Backstage
Renee Young welcomes Dolph Ziggler and asks him if he's a sore loser. Ziggler says the only sore losers are Kalisto and Apollo Crews. He's tired of the "New Era." Nobody will steal his place.
Match 2
Becky Lynch vs Mickie James
(referee: Danilo Anfibio)
Show/Hide Results
Result: Mickie James wins via pinfall after a Mick Kick
Time: 9:05 (1 break)
Match Thoughts
Pretty good match. It took a while to get going, and I could see the finish coming from a mile away, but it was still pretty entertaining.
Ring Area
In the ring, Renee Young congratulates Naomi on becoming the new SD Women's Champ. Renee then asks Naomi about the injury she suffered in the match. Naomi says she's worked through injuries before. She's worked eight years to get where she is, and one way or another she's taking the title to Wrestlemania.
Alexa Bliss comes out and tells Naomi that she got lucky at Elimination Chamber. SHe accuses Naomi of making up her injury because she knows she'll lose to Alexa in their rematch. Naomi calls Alexa a "flea." Alexa then gives Naomi one week to agree to a rematch.
Backstage
TJ Perkins tells everyone that he's going to beat Neville tonight on 205 Live.
Ring Area
Cena and Styles make their way to the ring for the main event. Bray Wyatt comes out next, but as he approaches ringside he is attacked by Luke Harper.
Match 3
Triple Threat WWE World Title Match
John Cena vs AJ Styles vs Bray Wyatt (World Champ)
(referee: Dan Engler)
Show/Hide Results
Result: Bray Wyatt pins John Cena after Sister Abigail to retain his title
Time: 10:46 (joined in progress, 1 break)
Match Thoughts
Very good match. Everyone looked good in this match, but it definitely helped Bray Wyatt the most. He was attacked right before the match, he went through a table after a splash and a leg drop, and he kicked out of an Attitude Adjustment. This was a great match to blow off both Cena and Styles so Bray can focus on Orton, plus it solidified him as a champ.
Ring Area
Randy Orton heads to the ring after the match. He addresses Wyatt, saying that he refuses to fight Bray for the title.
Show Impressions
There were only three matches, but I liked them. The wrestling was better on this show than on Monday's RAW. The World Title stuff was all good and I liked Harper's attack. I didn't like the James Ellsworth stuff, and Corbin's attack on Ambrose was whatever (and the sparks from the table were silly). Everything else was fine, but unremarkable. This was a decent show, mostly because of the matches.
Match of the Night
Triple Threat World Title Match
The match could have been a lot longer, but it was packed with good stuff. It was a very good TV main event.