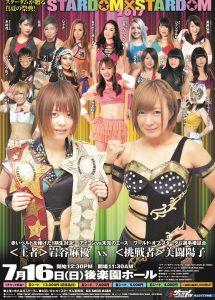 Stardom X Stardom 2017
Event Date: July 16, 2017
matches published individually on Stardom World
City: Bunkyo, Tokyo, Japan
Venue: Korakuen Hall
Attendance: 275
Series: Stardom X Stardom
Commentary: none
Ring Announcer: Fuka
Ring Area
Most of the wrestlers for tonight's show are introduced and come out to the ring. Mayu Iwatani welcomes everyone to a new era of Stardom and announces the beginning of the show.
Match 1
Stardom Three Way Battle
Hanan w/ Hina, Rina vs Ruaka vs AZM
(referee: Barb Sasaki)
Show/Hide Results
Result: AZM pins Ruaka with a bridging O'Connor Roll
Time: 6:49
Match Thoughts
This opener was better than usual for a Stardom show. The girls worked fairly well together, though there were some moments where their inexperience was very much on display (such as at times when one of the girls was just watching as one of her opponents went for a pinfall). Overall though, I though the match was fine. I liked the last segment where all three of them traded pinning combinations.
Ring Area
Tam Nakano introduces herself and says that her dream is to perform in a Stardom ring. Rossy Ogawa commends her courage and invites her to watch the rest of tonight's show from his table.
Match 2
Natsuko Tora vs Shiki Shibusawa
(referee: Daichi Murayama)
Show/Hide Results
Result: Natsuko Tora wins via pinfall after a side slam
Time: 8:29
Match Thoughts
This was Shibusawa's debut match, and I think she looked pretty good. SHe got beat up a lot, but she got in a few nice shots. She hit a dropkick right on Tora's forehead at one point which was probably the closest she came to a victory. I liked the match, and I'm looking forward to seeing more of what she can do as she develops as a wrestler.
Match 3
Gabby Ortiz & Xia Brookside & Mari Apache vs Starlight Kid & Hiromi Mimura & Konami
(referee: Barb Sasaki)
Show/Hide Results
Result: Mari Apache pins Hiromi Mimura after a Michinoku Driver II
Time: 12:50
Match Thoughts
Good match. Mari Apache was clearly the veteran here. Gabby and Xia took turns with Mari early in the match, but once Mari got into the ring later on, she never left. She absorbed punishment from the other team while dishing out lots of her on in a very nonchalant fashion. She seemed to help this match go smoother than it might have otherwise given Xia and Gabby's relative inexperience.
Match 4
High Speed Title Match
Shanna vs Kris Wolf (High Speed Champ)
(referee: Barb Sasaki; title match official: Rossy Ogawa)
Show/Hide Results
Result: Shanna wins via pinfall with a bridging Tiger Suplex and becomes the new High Speed Champ
Time: 13:10
Match Thoughts
Very good match. Shanna seemed to be on the attack more than Wolf right from the start. That put Wolf off her game a bit and caused her to chase most of the match. It felt like Shanna wanted it more, and that made the match interesting. I liked the action and exchanges in this as well. Fast-paced (as expected) and well structured. Good title match.
Match 5
Goddess of Stardom Title Match
Jungle Kyona (Artist of Stardom Champ) & HZK vs Hana Kimura & Kagetsu (Goddess of Stardom Champs)
(referee: Daichi Murayama; title match official: Rossy Ogawa)
Show/Hide Results
Result: Kagetsu pins Jungle Kyone after an Oedo Coaster (diving 450 splash), Oedo Tai retains the tag titles
Time: 15:53
Match Thoughts
Very good match. Kyona and HZK had some surprisingly good moments of teamwork, but Oedo Tai was consistently better as a team (as they usually are). Oedo Tai tried to brawl on the floor in the beginning, and it worked, but back in the ring the two teams shifted momentum back and forth. Both Kyona and HZK got frustrated at times with their partner and with Oedo Tai's resilience, and that frustration likely led to the way the final segment of the match played out. I liked the final segment. There were some nice near falls and a number of big moves. The momentum felt like it was falling more and more to one side near the end, but I think that was good for the match and for the stories going forward.
Ring Area
Kagetsu is tired, but she asks everyone to go buy Oedo Tai's merch. Hana thanks Kyona and HZK for their losing efforts. She also talks about the importance of good partners. She thinks Oedo Tai could use a new member, so Kagetsu and Kris pull Tam Nakano into the ring. Nakano doesn't seem sure about whether or not she should join, so Kimura tells her to think it over and take her time.
Match 6
World of Stardom Title Match
Yoko Bito vs Mayu Iwatani (World of Stardom Champ, Wonder of Stardom Champ)
(referee: Barb Sasaki; title match official: Rossy Ogawa)
Show/Hide Results
Result: Mayu Iwatani wins via pinfall with a bridging Dragon Suplex and retains her title
Time: 17:20
Match Thoughts
Very good match. I don't think I enjoyed this as much as Iwatani's win over Io Shirai last month, but this was a very nice first title defense. It built nicely, going from a feeling-out period to a little brawl on the outsode, then ending with some rough-looking strikes and throws which led to the finish. Iwatani took a lot of damage here, and it worked very well for her character. Bito is a lot bigger than Iwatani, so when Bito kicked her in the head or suplexed her, it was very believable when Iwatani would crumple to the mat. This was a good main event for a good show.
Show Impressions
Overall this was a very good show. I happened to attend this show and enjoyed it very much as part of the live (ringside) crowd, but even watching it back on video, I like it a lot. I think all of the title matches ended well, Shibusawa's debut was nice to see, and the other two matches were better than average for the mid and undercard.
Match of the Night
Shanna vs Kris Wolf
It's tough, and the tag title or world title might actually be better matches, but I enjoyed the High Speed Title match the most. I'm most likely to watch this one again, so I have to pick it as the match of the night.