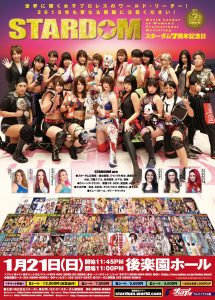 Stardom 7th Anniversary
Event Date: January 21, 2018 (11:45 JST)
matches published individually on Stardom World
City: Bunkyo, Tokyo, Japan
Venue: Korakuen Hall
Attendance: 950
Commentary: none
Ring Announcer: Fuka
Match 1
Hanan & Shiki Shibusawa & Starlight Kid vs Ruaka & Konami & Hiromi Mimura
(referee: Barb Sasaki)
Show/Hide Results
Result: Starlight Kid pins Ruaka after a twisting diving splash
Time: 7:21
Match Thoughts
This was definitely one of the better openers. The pace was kept high throughout, and everyone looked good. The rookies had some good teamwork and continuity in the match. Konami was the strongest on her team, but she didn't spend a lot of time as the legal person in the ring. That let the rookies shine, which seemed like the point of the match.
Match 2
Miranda & Xia Brookside (IPW:UK Women's Champ) & Nicole Savoy (Shimmer Champ) vs Natsuko Tora & Jungle Kyona & Kaori Yoneyama w/ Hiroyo Matsumoto
(referee: Daichi Murayama)
Show/Hide Results
Result: Jungle Kyona pins Miranda after a gutwrench into a spinning sit-out powerbomb
Time: 6:50
Match Thoughts
This felt kind of short, but I liked it a lot. Like the first match of the night, the pace was high. Team Jungle attacked World Selection before the opening bell, but Brookside and Savoy quickly gained control of the match thanks to their individual efforts. Miranda didn't fare as well, and Team Jungle showed some quick and good teamwork. The finish was nice and definitive, and I really liked the finishing move in this one.
Match 3
High Speed Title Match
Kay Lee Ray vs Mari Apache (High Speed Champ)
(referee: Barb Sasaki; title match official: Rossy Ogawa)
Show/Hide Results
Result: Mari Apaches wins via pinfall after a Michinoku Driver and retains her title
Time: 12:49
Match Thoughts
Great match. Kay Lee Ray usually jokes a little and has fun in her matches, but she was very serious in this one. She looked like she wanted to win at any cost, and it showed in the way she wrestled. Mari Apache is tough though, and she makes submissions and big moves look effortless. There were great sequences in this match where both wrestlers had counters for counters, and both were going for submissions pretty much from the start. I was really pulling for Ray to win this one, but it's hard not to love Apache when she gets going in the ring.
Match 4
Rachael Ellering vs Mayu Iwatani
(referee: Barb Sasaki)
Show/Hide Results
Result: Mayu Iwatani wins via pinfall with a stalling bridging Dragon Suplex
Time: 11:15
Match Thoughts
Very good match. Ellering quickly attacked Iwatani's previously injured arm, and that seemed to be her focus throughout the bout. That put Iwatani on the defensive a lot, but she did get a fair amount of offense against her bigger competitor. As the match went along, Iwatani's resilience was put to the test. I think that was a good and smart way to bring her back into the ring after being away for a few months. Iwatani was doing what she does best, and while it wasn't the flashiest of matches, it provided a nice return for her.
Ring Area
After the match, Iwatani thanks everyone for cheering for her and for waiting for her to come back. Ellering tells Iwatani that she loves Stardom and wants to come back. Ellering says that she wants to face Iwatani again, perhaps in the 5 Star Grand Prix.
Match 5
5 on 5 Loser Leaves Unit Match
Oedo Tai (Sumire Natsu & Tam Nakano & Kris Wolf (AWS Women's Champ) & Hana Kimura & Kagetsu (Goddess of Stardom Champs)) vs Queen's Quest (AZM & Momo Watanabe & Viper & HZK & Io Shirai (Artist of Stardom Champs, Wonder of Stardom Champ))
(referee: Daichi Murayama)
Show/Hide Results
Result: Tam Nakano is eliminated last and is forced to leave Oedo Tai
Fall 1: AZM pins Kris Wolf with a roll-up (0:08)
Fall 2: Sumire Natsu pins AZM after a fisherman DDT (4:50)
Fall 3: Io Shirai forces Sumire Natsu to submit to a Texas Cloverleaf (4:01)
Fall 4: Kagetsu eliminates Io Shirai after blue mist and a chokeslam from the apron to the floor (5:41)
Falls 5 & 6: Kagetsu and Viper are eliminated due to a time limit draw (10:00)
Falls 7 & 8: HZK eliminates herself and Hana Kimura with a sunset flip powerbomb from the apron to the floor (7:16)
Fall 9: Momo Watanabe pins Tam Nakano after a diving double knee strike (7:55)
Time: 39:51
Match Thoughts
Great match. The match worked kind of like a gauntlet match. Each team member had an assigned entry order, and once one person was eliminated, the next person on their team would take their place. Technically each match-up was a separate match. Eliminations could occur for all the normal reasons including pinfall, sumbissions, and countout, and if the time limit expired on any match, both wrestlers would be eliminated. Also, a wrestler could be eliminated by going over the top rope and both feet hitting the ground.
The first few falls went back and forth with momentum shifting in each consecutive match-up, but later on the matches became more evenly fought. Sumire Natsu stood out to me early. She had a lot of clever tricks that she tried to pull off. Kagetsu also looked really good in her time in the ring. AZM did too. Everyone looked good, really. This was definitely one of the longer matches/segments in the Stardom shows I've seen, and it never felt like it dragged. I really did like every second of it.
Ring Area
After the match, Momo Watanabe gloats and tells Tam Nakano that there is no more Oedo Tai for her. Kagetsu gets on the mic. She says that she came up with the rules for tonight's match, but she thought Oedo Tai could win. She didn't expect to lose anyone tonight. She doesn't apologize, but she says that losing tonight wasn't Nakano's fault. Even so, Kagetsu tells Nakano that she needs to think about her future away from the group now.
After Kagetsu leaves, Io Shirai tells Nakano that she might be out of Oedo Tai, but there's a spot for her in Queen's Quest if she wants it. Before Nakano can respond, Momo Watanabe grabs the mic from Shirai's hand. Watanabe says that she defended Queen's Quest tonight, and she wants to challenge Io Shirai for the Wonder of Stardom Title. Shirai thanks Watanabe for protecting QQ and accepts her challenge for the title.
Shirai turns back to Nakano and again says she can join QQ. Mayu Iwatani then enters the ring. Iwatani congratulates Nakano on her graduation from Oedo Tai. She then offers her hand to Nakano and asks her to join the Stardom Army. Nakano reaches out and grabs the mic. She says that she just lost and needs to start over. Shirai and Iwatani both hold out their hands, but Iwatani doesn't wait. Iwatani grabs Nakano's hand and takes her away from the ring.
After Iwatani and Nakano leave together, Momo Watanabe says she doesn't care about Oedo Tai or the Stardom Army. She won tonight, so she's going to close the show.
Show Impressions
This was a very good show. The culmination of Oedo Tai versus Queen's Quest delivered. I'd like to see them keep feuding, but I'd be fine if they went their separate ways for a while. Also, Mayu Iwatani's return was good and brought the promise more more, better things in the future. And I thought the High Speed Title match was great. Top to bottom, I enjoyed this show.
Match of the Night
Oedo Tai vs Queen's Quest
This had the most spectacle and drama for sure, and that's why I think it's the best of the night. The High Speed Title match is very, very close to the top though.