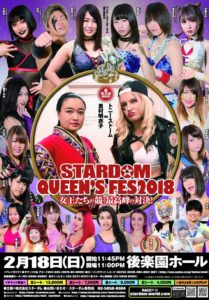 Stardom Queen's Fes 2018
Event Date: February 18, 2018
matches published individually on Stardom World
#stardomworld
City: Bunkyo, Tokyo, Japan
Venue: Korakuen Hall
Commentary: none
Ring Announcer: Yoritaka Ando (1, 2), Fuka (3 – 6)
Match 1
Konami & Kaori Yoneyama vs Hanan & Ruaka & Shiki Shibusawa
(referee: Barb Sasaki)
Show/Hide Results
Result: Konami pins Hanan after a buzzsaw kick
Time: 5:06
Match Thoughts
This was a pretty good opener. It was fast and energetic, and the team of Konami and Yoneyama definitely helped the rookies look good.
Match 2
Four Way Elimination Tag Team Match
Starlight Kid & Xia Brookside (IPW:UK Women's Champ) vs Miranda & Nicole Savoy (Shimmer Champ) vs Natsuko Tora & Jungle Kyona vs AZM & HZK (Artist Champ)
(referee: Daichi Murayama)
Show/Hide Results
Result: Nicole Savoy & Miranda win
Fall 1: AZM pins Starlight Kid after a triple jump diving crossbody
Fall 2: Natsuko Tora pins AZM after a side slam
Fall 3: Nicole Savoy pins Natsuko Tora with a bridging fisherman suplex
Time: 10:04
Match Thoughts
Good match. The pace was high the entire time and it was difficult to tell who was going to win. That kept things pretty exciting. There did seem to be a thing between Kyona and Savoy. Kyona was staring at Savoy before the match, and after the match she was very aggressive with Savoy. I liked that as buildup to their match later on.
Match 3
Sumire Natsu vs Hiromi Mimura
(referee: Barb Sasaki)
Show/Hide Results
Result: Hiromi Mimura wins via DQ when Sumire attacks the referee
Time: 7:10
Match Thoughts
Despite taking quite a beating, this was a good match for Mimura. Natsu helped make Mimura look good, and Mimura got the last shots in after the match ended with Natsu attacking everyone with her whip. It wasn't a great match, but I think this was more about Mimura's struggle to overcome Natsu's constant cheating and dirty tactics.
Match 4
Goddess of Stardom Title Match
Tam Nakano & Mayu Iwatani vs Hana Kimura & Kagetsu (Goddess Champs) w/ Sumire Natsu, Kris Wolf
(referee: Daichi Murayama; Title Match Official: Rossy Ogawa)
Show/Hide Results
Result: Kagetsu pins Tam Nakano after the Oedo Coaster
Time: 12:23
Match Thoughts
Good match. The first part was mostly Kimura fighting Nakano and Kagetsu fighting Iwatani. After a while, Nakano was in the ring for a long time, and she ended up facing Kasgetsu. Nakano was definitely the focus of this match, and it makes sense given the story going into it. Nakano fought well, but she still has an uphill battle against her former friends in Oedo Tai.
Match 5
Meiko Satomura vs Toni Storm (World of Stardom Champ, SWA Champ, Progress Women's Champ)
(referee: Barb Sasaki)
Show/Hide Results
Result: the match ends in a Time Limit Draw
Time: 20:00
Match Thoughts
Very good match. This one built from a place of respect and competition to a fight to get in the last big move (or succession of big moves). There was a decently long feeling-out process followed by a gadual buildup of holds and submissions. The match was very grounded throughout, though there were some moments where they would stand and throw strikes. I liked this quite a lot. It's a treat to watch Satomura, and Storm looked very good up against her.
Ring Area
After the match, Meiko Satomura tells Toni Storm that this is the kind of match she wanted. Also, Satomura would like to do it one more time. With that, both women leave the ring.
Mayu Iwatani heads to the ring and asks Toni Storm to come back. Iwatani says she couldn't win the tag titles tonight, and now she wants the red belt back. Iwatani challenges Toni Storm for the World of Stardom title on April first in Nagoya. Storm accepts.
Match 6
Wonder of Stardom Title Match
Momo Watanabe vs Io Shirai (Wonder, Artist Champ)
(referee: Daichi Murayama; title match official: Rossy Ogawa)
Show/Hide Results
Result: Io Shirai wins via pinfall after a top-rope moonsault
Time: 16:59
Match Thoughts
Very good match. Watanabe started quickly, and though Shirai was able to fend off Watanabe's initial assault, Watanabe spiked Shirai with a tornado DDT early in the match that looked like it really hurt. Shirai didn't move for a while, and when she did start moving it was mostly just to keep away from Watanabe. It was unclear how real the pain was since the referee kept going back to check on Shirai multiple times. The match continued though, and that DDT allowed Watanabe to dominate most of the match. This was a very strong showing for Watanbe, something think was needed if she really is being groomed to be one of the top wrestlers of the next generation. Later in the match, Shirai was in top form, but this match defnintely made a point that Watanabe is someone to watch.
Show Impressions
This was a good show. It had a little of everything, and the matches varied nicely in style (and quality). The final matches of the night were the best, and those were all very goof.
Match of the Night
Momo Watanabe vs Io Shirai
I really enjoyed the Storm/Satomura match as well, but I think the title being on the line helped make the main event more tense and exciting. There also felt like some real drama in the title match.