** The first PPV officially under the All Elite Wrestling banner, Double or Nothing, has happened, and it has pretty much been universally praised as a great show. It was a wrestling event that could very well be a turning point in the history of the industry, but beyond its historical significance, it was just a lot of fun to watch. But while one of the hosts of the Wrestling House Show (that being me, chris) had to sit home and watch the show on TV, the other host (Joey) and his wife Nola were able to travel to Las Vegas and watch Double or Nothing live and in person. They both loved the show, and Nola was so inspired that she wrote up a first-hand account of her experience at the MGM Grand Garden Arena. So, as a nice change of pace from hearing what Joey and I have to say all the time, I present to you Nola's reactions to AEW's Double or Nothing PPV event! **
Casino Battle Royale
Show/Hide Results
Winner: Adam Page, entrant #21

There are three things I truly love in professional wrestling: tag team matches, women's matches and battle royals/royal rumbles. I was fully prepared for this to be my favorite non-tag-team match of the night. While I enjoyed the match, I felt weird while watching it first. I would have loved for this to be the second match of the Buy In preshow, so the crowd is fully warmed up and excitement is built.
My biggest issue with the match was the timing of it seemed to be off from the start. Justin Roberts, ring announcer extraordinaire, only announced four of the five competitors most of the time. After the first suit (wave) was announced and came to the ring, they all just stood around for a few minutes before the bell even rang. After what felt like closer to five minutes, the second suit came out. Maybe 90 seconds to two minutes later the third wave came out, followed closely by the final suit. When the Joker/Wild Card/21st competitor came out, it was finally timed correctly. I still don't know who three or four competitors were since they weren't announced.
That being said, there were some great spots in the match. Orange Cassidy, whom I don't get, got what was coming to him in the form of Tommy Dreamer. MJF had great heat from the crowd and did the smart heel move of hiding most of the match, but not after laying waste to Dustin Thomas (the bilateral amputee) which felt lazy. I know someone had to do it, but it still felt wrong to watch, and it took Thomas a while to recover before hitting a 619 and 450 springboard splash on Joey Janella. Michael Nakasawa baby oiled himself to get out of holds, which made me chuckle. But the absolute highlight, for me, was seeing Shawn Spears. I definitely noticed that he came out 10th.
Page coming in as the Joker/Wildcard felt lazy to me. At that point there was no doubt in my mind that he would win. I would have loved to see him come out in one of the waves and have a "debuting" AEW wrestler come out as 21, or even MJF (nuclear heat)!
Kip Sabian vs Sammy Guevara
Show/Hide Results
Result: Kip Sabian wins via pinfall

I don't know much about either of these wrestlers but I still enjoyed their match. Guevara hit a shooting star press from the ring apron while Sabian was draped over the barricade. Sabian got his knees up on Guevara's 630 splash.
#Stronghearts vs SoCal Uncensored
Show/Hide Results
Result: SoCal Uncensored wins via pinfall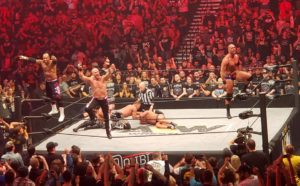 CHRISTOPHER DANIELS SANG. SO GOOD. 10/10. END THE MATCH. Kazarian needs to lay off the cigars, seriously.
I know CIMA, and was curious if he still had the speed I am used to hearing about. I had no knowledge of his promotion (Oriental Wrestling Entertainment), his stable (#StrongHearts), or his partners for this match. I was thoroughly impressed.
I love Kaz and Daniels, and I suppose by association, Scorpio Sky. The Addiction was one of the best tag teams in all of pro wrestling, and their experience has made SoCal Uncensored THE six man tag team (three man tag team?) that other teams strive to be.
Kylie Rae vs Nyla Rose vs Britt Baker vs Awesome Kong
Show/Hide Results
Result: Britt Baker pins Kyle Rae for the victory

The women come up. I AM EXCITED. I know AEW will deliver on tag team action. I can only hope the first women's match will set the bar high. Brandi comes out in ring gear. Wrestling boots and all. The crowd is buzzing that "(they) knew it, fatal four way, Brandi is wrestling" etc. She announces Awesome Kong, and we wait for her to say "Fatal Five Way" instead of four.
I only know Nyla Rose through AEW vignettes, I am cautiously optimistic about what she will do in the match, and in the future. Hopefully she can become more than just a "big-woman" and break into the ranks of Beth Phoenix, Aja Kong, and Chyna.
As cautious as I am about Nyla, I am all in with Britt Baker. She looks polished, her moves are crisp, and she can talk. I don't need to sell you on Britt Baker, her work speaks for itself. She kicked Kylie Rae's bow out of her hair btw.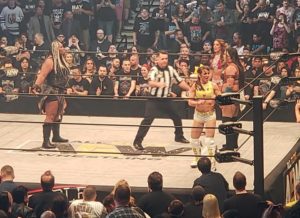 Some people say Kylie Rae is a watered down version of WWE's Bayley. While I understand the comparison, it needs to stop. Kylie Rae has said numerous times that Bayley is one of her idols, and one of the reasons she is a wrestler. Too many times, we marks will only see the gimmick and not the real person behind it. Do I think that Bayley and Kylie Rae are super happy all the time, or that they are just pretending to be nice? No on both counts. But I do think that they both realize that a positive attitude, optimism, and facing adversaries with a smile can go farther than being a grumpy, bitter, and unpleasant person.
While the inclusion of Awesome Kong in this match, was in fact awesome, I didn't feel it was a necessary addition and slightly took away from the match. Kong and Rose had a great stare down, which will no doubt lead to a feud later on. Kong has not wrestled in a few years, though for the majority of the match you could not tell. She was a bit slow at some points, but not what I would call rusty.
Brandi stayed ringside for the entirety of the match, cheering and motivation Kong. I expected her to have more involvement since she was in full gear but was pleased that she did not.
Rae and Baker stole the match, using their aerial skills and speed to take out their larger opponents they then enjoyed the spotlight together for the finish.
Best Friends vs Jack Evans & Angelico
Show/Hide Results
Result: Best Friends win via pinfall

Before I begin gushing over this match I just need to say, GET WITH YOUR OPPONENTS BEFORE A MATCH AND MAKE SURE YOU AREN'T WEARING THE SAME COLORS.
Ok.
What. A. Match.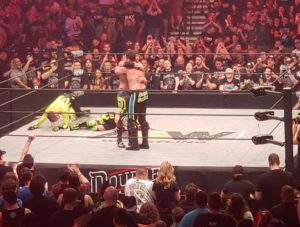 This is a highlight reel of what tag team wrestling can and should be. While I know and love and have followed the Best Friends for years now, I didn't have much knowledge about Angelico and Jack Evans. Apparently they have been a tag team since 2013 and are called Los Güeros del Cielo (the Sky Blondes or the White Boys from Heaven).
This was a classic back and forth, one upmanship, tandem fight. There were multiple two counts, all of which could have been the finish. After a nice display of honor (handshakes), the four were about to hug when the lights went off.
Now, when the room goes dark it is one of two things: shenanigans, or a botch. Most of the time, I want neither. This time it was shenanigans. Two wrestlers appeared, not really looking like a tag team, with no identifying characteristics. We chanted "who are you?" at them. I still didn't know who they were until we returned home and talked to Chris about the show. Lights go out again. Masked wrestlers appear. The ring is cleared, a human throne is made. The two randos sit. They are the Super Smash Bros (name change is pending, I'm sure), and while I have heard of their work, I don't know much about them. It will be interesting to see where AEW goes with this.
Hikaru Shida & Riho & Ryo Mizunami vs Yuka Sakazaki & Emi Sakura & Aja Kong
Show/Hide Results
Result: Shida, Riho, and Mizunami win via pinall

Japanese women's wrestling, to me, is everything great about professional wrestling. It has theatrics, aerial moves, and strong style all rolled up into one great package. Besides Aja Kong, I did not know any of these competitors. They all shined. This is the match where there is an obvious botch. The time keeper rang the bell on a two count, despite the ref holding up two, and the music began playing. Like true professionals though, the women kept going despite the "you fucked up" chants.
Cody vs Dustin Rhodes
Show/Hide Results
Result: Cody wins via pinfall

I don't think I have much to say about this match. It was as close to perfect as a match can be. Even for fans like me, who dislike blood/blading, everything that was done was with purpose.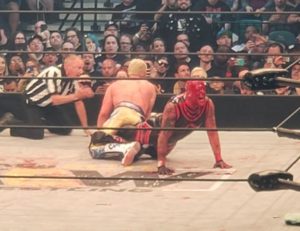 My biggest complaint is the fact that Earl Hebner, aged 70, was the ref for this match. I understand the history and thought process but would have preferred a younger referee (perhaps Brian Hebner, to continue to second generation storyline). I kept waiting for Earl to get hit, fall down, fake a heart attack, insert other shenanigans, and it took away from the match for me.
Brandi's involvement in this match was unnecessary but led to a Diamond Dallas Page appearance so I will allow it. After hitting Dustin with a spear ringside, Hebner ejected Brandi and after a brief yelling contest she was carried out by DDP.
The emotion was high all match, but reached the pinnacle when Dustin started to unlace his boots and Cody came back into the ring. Cody on the mic at that moment gave me goosebumps.
Bret Hart introduces the AEW championship belt
First of all, what kind of deal does Bret have with WWE? Second of all, how smart of AEW to put it after the Rhodes match.
This was the weirdest segment of the show. Bret isn't great on the mic, Page comes out (as one of the competitors who will vie for the championship) and then MJF comes out. He is greeted by Jungle Boy and Jimmy Havoc when he backed away from Page. After their quick scuffle, Hart holds up the belt to the stage, does a quick turn with it and is gone. He did not present it to the side we were sitting at, which was the side the stationary cameras were on! I finally saw the belt on Cody's Twitter, as he had forgotten to get it professionally photographed.
AAA Tag Team Title Match


Lucha Bros vs Young Bucks (Champs)
Show/Hide Results
Result: Young Bucks win via pinfall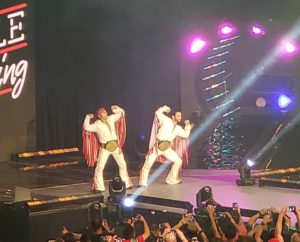 I counted the super kicks in this match. There were 11. I honestly expected Matt and Nick to hit each other more than the two times they connected with each other.
This was a classic lucha style tag match with both teams pulling out all the greatest hits. If any match was expected to steal the show, this was it.
All around entertaining, an instant classic, and despite being a title match, I forgot who the winner was multiple times over the weekend because the real winner was the fans who watched it.
Chris Jericho vs Kemmy Omega
Show/Hide Results
Result: Chris Jericho wins via pinfall

I went into this match completely torn as to who I thought would and should win. My arguments for both guys were pages and pages long. They are both super deserving, amazing talents. At the end of the day though, if Jericho didn't get his win back from Kenny Omega I didn't see the point of Chris Jericho being a part of All Elite Wrestling. Not only does Jericho bring prestige and experience to the title picture, it sets up the rubber match between him and Omega. Having a younger guy chase the title is a classic move in wrestling promotions and it plays well.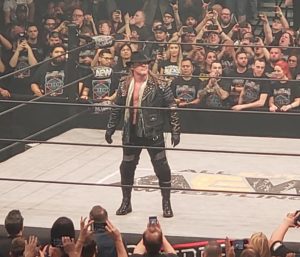 Truth bomb time: I have never seen Jericho successfully hit a Lionsault until Double or Nothing. Every single time he attempts it, and I am watching, it will not connect. It does not matter if it is live, on TV, or taped. The other guys moves, gets his knees up, whatever. On the first attempt in this match I happened to look away, and he did not connect. The second and third attempts he did connect AND I ACTUALLY SAW IT. BOTH TIMES. I nearly cried.
At one point Jericho had Omega in a Walls of Jericho and I yelled out "PUT YOUR KNEE ON HIS HEAD" to see a classic Lion Tamer. Jericho did it. I lost it. I thought Omega would tap right then.
I am not a fan (yet) of Jericho's new finisher, the Judas Effect, but I was also not expecting a spinning back elbow from Jericho to be a finisher. Now that I am looking for it, I expect I will enjoy it more.
Jon Moxley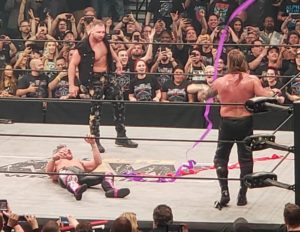 After so many years of The SHIELD coming down to the ring through the crowd, I would think that Jon Moxley is tired of it. I understand the buzz it generates when you aren't expecting it, but I would have been just as pleased if his music hit and he cam running down the ramp Nikki Cross NXT style.
He did exactly what we all thought he would do, hitting Jericho and the ref with Dirty Deeds, brawling with Omega, climbing the stage props, hitting Omega with a Dirty Deeds and threw him off the stage, and finally standing tall on the chips when the show ended.
Final Thoughts
Only one EVP lost their match.
All regular matches were decided by pin fall. I would have loved to see at least one submission (Omega tapping to the Lion Tamer gets my vote).
Apparently AEW is utilizing a 10 count for tag matches when tagging in/out. It was not mentioned or enforced.
Someone tagged in/out in a neutral corner. It was allowed. I'm ok with it, as I prefer Lucha rules to "traditional" tag rules.
All images taken by Nola and Joey.