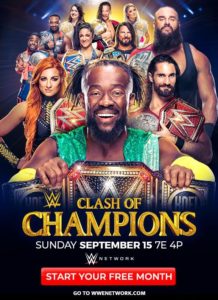 WWE Clash of Champions
#WWEClash
Original Air Date: September 15, 2019
Event Date: September 15, 2019
aired live on the WWE Network
City: Charlotte, NC
Venue: Spectrum Center
Commentary: Michael Cole (1, 4, 6, 9), Renee Young (1, 4, 6, 9), Corey Graves (1 – 9), Tom Phillips (2, 3, 5, 7, 8), Byron Saxton (2, 3, 5, 7, 8)
Spanish Commentary (ringside): Carlos Cabrera, Marcelo Rodriguez
German Commentary (ringside): Calvin Knie, Carsten Schaefer, Tim Haber
Portuguese Commentary: Marco Alfaro, Roberto Figueroa
Russian Commentary: Moti Margolin, Zhan Pomerantsev
Japanese Commentary: Shun Yamaguchi, Funaki
Hindi Commentary: Obaid Kadwani, Shez Sardar
French Commentary: Ray Rougeau, Jean Brassard
Mandarin Commentary: Meng Ai, Sean Deng
Ring Announcer: Mike Rome (1, 4, 6, 9), Greg Hamilton (2, 3, 5, 7, 8)
Brand: Co-Branded
Theme Song: "Champion" by Bishop Briggs
<< Read the Recap & Review for the Clash of Champions Kickoff show. <<
Intro Video
When you're a champion, you have to defend what's yours.
Match 1
RAW Tag Team Title Match
Dolph Ziggler & Robert Roode vs Braun Strowman (RAW Tag Champ) & Seth Rollins (RAW Tag & Universal Champ)
(referee: Darrick Moore)
Show/Hide Results
Result: Robert Roode pins Seth Rollins after the Glorious DDT
Time: 9:36
Match Thoughts
Good match. I think everyone watching this match expected some shenanigans between Strowman and Rollins, and we did get some near the end of the match. Thankfully the rest of the match was fought without much of that in-fighting taking away the focus of the titles being on the line. Rollins and Strowman both dominated the match individually, but Ziggler and Roode were able to pick their spots and fight a smart match. It felt like Roode and Ziggler kind of lucked into a miscommunication between Strowman and Rollins. I would have liked to have seen Ziggler and Rollins orchestrate the tension between the tag champs, but that's kind of a nitpick. The match was fun, and it was a good opener.
Backstage
Braun Strowman is unhappy as he walks. Charly Caruso asks Strowman about the Universal Title match later on. Strowman intends to keep Rollins on a losing streak tonight.
Video
NXT is starting live shows on USA this Wednesday.
Backstage
Kayla Braxton welcomes Becky Lynch. Lynch says that Sasha Banks has everything to prove. Becky has already proven how great she is. Becky has earned her spot, and Sasha has earned a beating when The Man comes around.
Video
A look a the buildup for the SmackDown Women's Title match.
Match 2
SmackDown Women's Title Match
Charlotte Flair vs Bayley (SD Women's Champ)
(referee: Danilo Anfibio)
Show/Hide Results
Result: Bayley wins via pinfall after running Charlotte face-first into an exposed turnbuckle
Time: 3:46
Match Thoughts
Pretty good match. It wasn't much of a wrestling match, but I enjoyed the story aspect of it. Charlotte dominated Bayley right from the opening bell. Bayley got desperate and used a desperate move to escape Charlotte's onslaught. The finish felt a little awkward simply because it felt like they were stalling for time, but overall I liked it.
Match 3
SmackDown Tag Team Title Match
The Revival vs Big E & Xavier Woods (SD Tag Champs)
(referee: Charles Robinson)
Show/Hide Results
Result: Scott Dawson submits Xavier Woods with a knee bar
Time: 10:04
Match Thoughts
Good match. This was very good most of the way through, but I wasn't super happy with the finish. I didn't mind the result, but it seemed to go against what The Revival usually does. They took too much time, and I understand that they were making a statement, but Corey Graves was right when he was saying that they needed to just finish the match and make a statement later. Other than that, this was a very good tag title match with a lot of frantic action.
Ring Area
After the match, The Revival makes a speech on the stage about themselves and Randy Orton making a new day in the WWE.
Backstage
Charly Caruso welcomes Alexa Bliss and Nikki Cross. Nikki Cross talks about teaching Mandy Rose another lesson when the boom mic drops into the shot. The camera pulls back to reveal R-Truth and Carmella hiding in disguise as crew members. R-Truth says Alexa Bliss has a beautiful voice, but for interrupting her interview time, Alexa lets everyone know that if they want they 24/7 Title, then R-Truth is on the set.
R-Truth and Carmella run away as Curt Hawkins, Heath Slater, Zack Ryder, and referee John Cone chase close behind. Drake Maverick, out of breathe, runs by last. He thanks Alexa as he passes by.
Match 4
Women's Tag Team Title Match
Fire & Desire vs Nikki Cross & Alexa Bliss (Women's Tag Champs)
(referee: Eddie Orengo)
Show/Hide Results
Result: Nikki Cross pins Mandy Rose after a hanging swinging neckbreaker
Time: 8:07
Match Thoughts
Pretty good match. This felt a bit different than Bliss and Cross's previous matches. Alexa took a lot of damage while Nikki came in to clean up late in the match. It seems as if they're completely moving away from the potential reveal of Alexa using Nikki. I suppose that's fine, but it just seems like they changed their mind about the story multiple times. Mandy Rose wasn't great, and the match was interrupted by a 24/7 Title chase, but Bliss, Cross, and Deville looked good. I guess I am still a little bitter that we never got to see The IIconics versus the Kabuki Warriors for the titles.
Match 5
Intercontinental Title Match
The Miz vs Shinsuke Nakamura (IC Champ) w/ Sami Zayn
(referee: Danilo Anfibio)
Show/Hide Results
Result: Shinsuke Nakamura wins via pinfall after Kinshasa
Time: 9:34
Match Thoughts
Good match. Nakamura was strong in this match. He hit Miz with multiple kicks and knees, though Miz did manage to counter from time to time. Miz really only had a few moments where it looked like he was getting on a roll, but those moments were highlighted with some "he could have won if not for Sami Zayn" commentary. That part of the story wasn't very original, but I enjoyed the match pretty well, and I definitely enjoyed the result.
Video
A look at the buildup for the RAW Women's Title match.
Match 6
RAW Women's Title Match
Sasha Banks vs Becky Lynch (RAW Women's Champ)
(referee: Dan Engler)
Show/Hide Results
Result: Sasha Banks wins via DQ when Becky Lynch inadvertently hits the referee with a chair
Time: 13:47
Match Thoughts
Very good match. This felt like a fight that both women would do anything to win. It also felt like they both wanted to hurt their opponent. Sasha got dirty in the match, and Becky had no problem doing the same. The match ended with shenanigans, but I'm pretty okay with that. It's a great set up for Hell in a Cell. And even with the non-ending, it was still a tense and rewarding match. I liked it a lot.
Ring Area
With the referee still down after the match, Becky and Sasha brawl out into the crowd. They fight their way up the stairs, onto the concourse, and back down another set of stairs. They brawl back into the ring where Becky eventually sets up a chair and applies Disarm Her onto Banks through the back of the chair. Referees finally come out and convince Becky to leave the ring area.
Video
Batista is in Gears of War 5, and he walks alone.
Video
A look at the feud between Kofi Kingston and Randy Orton.
Match 7
WWE Title Match
Randy Orton vs Kofi Kingston (WWE Champ)
(referee: Charles Robinson)
Show/Hide Results
Result: Kofi Kingston wins via pinfall after Trouble in Paradise
Time: 20:48
Match Thoughts
Very good match. This battle was given a good amount of time to develop, and it featured some nicely tense moments. I'm not sure why they couldn't have done this at the last PPV, but at least we got to see it here. Nothing really stood out to me as being spectacular, but it was another solid and entertaining performnace in Kofi Kingston's title reign. Kofi's title matches have had to struggle with their placement in a lot of these shows. They're never the main event, but they're usually placed late in the show after everyone has already been watching for hours. That can be a tough spot, but Kofi has always managed to put on a good performance regardless.
Backstage
The Street Profits enjoyed the WWE Title match, and they're looking forward to the King of the Ring finals tomorrow night on RAW. King Booker walks up and attempts to make a declaration, but Angelo Dawkins interrupts. Dawkins wants to be knighted, but Booker doesn't believe that Dawkins just said that. Booker wants the Street Profits to get their minds right.
Match 8
No DQ Match
Roman Reigns vs Rowan
(referee: Jason Ayers)
Show/Hide Results
Result: Rowan wins via pinfall after an iron claw slam
Time: 17:24
Match Thoughts
Pretty good match. It was a bit long and kind of slow, but it was fine. It felt like it was all building up to the big reveal a the end with the return of Luke Harper. That was definitely a surprise to me, and not an unwelcome one. So, the finish was the best art of a pretty good match.
Backstage
Charly Caruso asks Seth Rollins about losing the tag titles earlier in the night. Rollins can't focus on that. He's focused on the Universal Title and defending it against a man he might sometimes call a friend.
Match 9
Universal Title Match
Braun Strowman vs Seth Rollins (Universal Champ)
(referee: John Cone)
Show/Hide Results
Result: Seth Rollins wins via pinfall after a Pedigree and a series of curb stomps
Time: 10:55
Match Thoughts
Good match. Rollins acted like he was fighting Brock Lesnar, which means the match was prety much nothing but big moves and violence. For a big, violent match, it was entertaining, and it certainly made both men look good.
Ring Area
After the match, Rollins celebrates on the stage. The lights go out. The Fiend appears and hits Rollins with Sister Abigail. The Fiend then applies the Mandible Claw, and the lights go out as the show ends.
Show Impressions
Like most big WWE shows lately, Clash of Champions felt a bit long. I was getting fatigued towards the end, but I still enjoyed the show pretty well overall. I'm fine with where all of the titles ended up at he end of the night, and there were a couple of surprises that I enjoyed. Not a bad show.
Match of the Night
Sasha Banks vs Becky Lynch
Bell to bell (well, bell to brawl), I was most entertained by the RAW Women's Title match. The WWE Title match was also good, but Banks and Lynch grabbed my attention the most tonight.