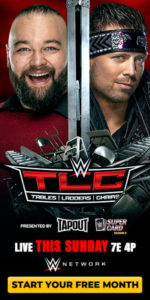 WWE TLC: Tables, Ladders & Chairs
#WWETLC
Original Air Date: December 15, 2019
Event Date: December 15, 2019
aired live on the WWE Network
City: Minneapolis, MN
Venue: Target Center
Commentary: Michael Cole (1, 4, 5), Corey Graves (1, 4, 5), Vic Joseph (2, 3, 6, 7), Jerry Lawler (2, 3, 6, 7), Samoa Joe (2, 3, 6, 7)
Spanish Commentary (ringside): Carlos Cabrera, Marcelo Rodriguez
German Commentary (ringside): Calvin Knie, Carsten Schaefer, Tim Haber
Portuguese Commentary: Marco Alfaro, Roberto Figueroa
Russian Commentary: Moti Margolin, Zhan Pomerantsev
Japanese Commentary: Shun Yamaguchi, Funaki
Hindi Commentary: Obaid Kadwani, Shez Sardar
French Commentary: Ray Rougeau, Jean Brassard
Mandarin Commentary: Meng Ai, Sean Deng
Ring Announcer: Greg Hamilton (1, 4, 5), Mike Rome (2, 3, 6, 7)
Brand: RAW, SmackDown
Theme Song: "Do You Feel Me?" by Kevin Rudolf
<< Read the Recap & Review for the TLC Kickoff show. <<
Firefly Fun House
Bray Wyatt wishes us happy holidays. He says it's the time of year when we all reflect on ourselves and see what kind of people we've been. Whether we were naughty or nice, we're all human. We've all made mistakes, so we all need a little TLC.
Match 1
SmackDown Tag Team Title Ladder Match
Kofi Kingston & Big E (SD Tag Champs) vs The Revival
(outside referees: Dan Engler, Danilo Anfibio, Jason Ayers)
Show/Hide Results
Result: New Day wins when Kofi grabs the titles after Big hits Wilder with a Big Ending off the ladder and Kofi smashes Dawson in the face with the hanging titles
Time: 19:04
Match Thoughts
Great match! There was one long moment of housekeeping by Big E fairly late in the match, but other than that, this was a fast and fun tag team ladder match. Both teams put their bodies on the line, and all four men took and gave some dangerous moves. There was definitely a nice amount of drama towards the end of the match. I like it a lot. This was a great way to start the show.
Backstage
Kayla Braxton welcomes King Corbin. Corbin says he's going to make Roman Reigns bow down.
Match 2
Buddy Murphy vs Aleister Black
(referee: Chad Patton)
Show/Hide Results
Result: Aleister Black wins via pinfall after Black Mass
Time: 13:40
Match Thoughts
Great match! I feel like Murphy got more offense and dominated Black for large sections of the match, but regardless, both men looked great. I loved the sequences of trading strikes, counters, and blocks. Black had his nose possibly broken on the ring post early in the match, and that helped make the fight look even more believable and brutal. Both men came out of this looking fantastic.
Backstage
Charly Caruso welcomes Rusev. Rusev is elated that Lana and Lashley are going to get married since that means he won't have to pay alimony. He's also happy about getting to put Lashley through a table later tonight.
Ring Area
The Viking Raiders head to the ring and issue another open challenge for their titles. Anderson and Gallows come out, and they're carrying their Best in the World trophy. They think the Viking Raiders' open challenge is lame. Why? Because there is only one tag team in the world that's beaten the Viking Raiders, and they have a trophy to prove it.
Match 3
RAW Tag Team Title Match
Viking Raiders (RAW Tag Champs) vs Karl Anderson & Luke Gallows
(referee: Rod Zapata)
Show/Hide Results
Result: the match ends in a Double Count Out
Time: 8:29
Match Thoughts
The match was good, but the finish made it feel like it should ave happened on RAW. The match was ultimately frustrating even though the action was good throughout.
Ring Area
After the match, the two teams brawl. The Viking Raiders end up powerbombing Anderson through a table covered with a KFC tablecloth.
Backstage
Kayla Braxton welcomes The Miz. Miz says he moved his family to an undisclosed location to keep them safe until his business with Bray Wyatt is done. Miz gets upset thinking about how Wyatt invaded his home. He says this is the most important and personal match in his career.
Match 4
TLC Match
King Corbin vs Roman Reigns
(referee: Jason Ayers; outside referee: Ryan Tran)
Show/Hide Results
Result: King Corbin wins via pinfall after End of Days on a steel chair
Time: 22:11
Match Thoughts
I got kind of bored with this. It was fine for what it was, and it wasn't any better or worse than I expected it to be. Corbin and Reigns beat each other up for a while, then a whole bunch of people came down to the ring to help Corbin beat up Reigns. Not only did all of Corbin's porters try to help, but so did Dolph Ziggler and The Revival. The finish was unsurprising. I would say it was a letdown, but I didn't expect this match to be anything I'd want to watch again (or to watch at all, really).
Match 5
The Miz vs Bray Wyatt (Universal Champ)
(referee: Dan Engler)
Show/Hide Results
Result: Bray Wyatt wins via pinfall after Sister Abigail
Time: 6:35
Match Thoughts
I love Bray Wyatt. I think he has created one of the most interesting and well thought out characters in the history of the WWE. This match fit Wyatt's character perfectly. Wyatt was almost all smiles, and he didn't even put up a fight for most of the match. As an actual wrestling match, it wasn't much to talk about, but as a pro wrestling story, it was great.
Ring Area
After the match, The Fiend appears on the tron. Wyatt looks up and smiles. Wyatt then goes under the ring and pulls out his giant mallet. Wyatt brings the mallet into the ring, but before he can use it, it sounds like The Fiend is about to arrive. Wyatt is elated, but instead of The Fiend, it's Daniel Bryan who arrives.
Bryan has short hair and almost no beard, and he proceeds to beat up Bray Wyatt. Bryan is about to use the mallet on Wyatt when the lights go out. When the lights come back on, Wyatt has disappeared from the ring. Bryan slams the mallet down, then he leads the crowd in a "yes" chant.
I loved how Wyatt actually seemed surprised and happy that The Fiend was going to show up. It's such a great choice that makes you believe that his character actually thinks The Fiend is a completely separate person. It makes you believe that Wyatt has no control over The Fiend. I really enjoyed this whole segment.
Match 6
Tables Match
Bobby Lashley w/ Lana vs Rusev
(referee: Eddie Orengo)
Show/Hide Results
Result: Bobby Lashley wins after a distraction from Lana
Time: 13:27
Match Thoughts
This was fine. It was fun to see Rusev when he got on a roll, but overall the match was just okay. The pace bogged down with a fair amount of housekeeping, something that the commentators even pointed out.
Backstage
The Street Profits talk about Rusev, Lashley, and Lana, but they're interrupts by a brawl going on beside them. Corbin, Reigns, Ziggler, Kingston, Big E, Buddy Murphy, Shorty G, and The Revival are all involved in the fracas. Dawkins and Ford join in the fight as the show goes to a commercial for for the WWE Shop.
Match 7
TLC Women's Tag Team Title Match
Charlotte Flair & Becky Lynch (RAW Women's Champ) vs The Kabuki Warriors (Women's Tag Champs)
(outside referees: Rod Zapata, Chad Patton)
Show/Hide Results
Result: The Kabuki Warriors wins when Asuka grabs the titles after pulling Becky Lynch off the ladder with a rope tied to the ladder
Time: 25:58
Match Thoughts
Great match. This was full of fun TLC violence with some neat new situations. Kairi seemed to struggle a bit a few times (she was too light to break a table at one point and there seemed to be some slow communication at other times), but overall all four women looked great. They were all willing to take and deliver some big moves, and it really did look like a huge grudge match. I was definitely pulling for the Kabuki Warriors 100%, so as the match went on it got more and more tense for me. The battle went back and forth multiple times, and I really enjoyed all of it.
EDIT: It's been reported that Kairi Sane suffered a concussion during the match. That makes sense given her struggles throughout the later parts of the match. Hopefully it's not too serious and she'll be able to return soon.
Ring Area
The big brawl from backstage has gotten bigger, and it's spilled out into the crowd. The show ends after Reigns spears Corbin off a riser onto a mass of men.
Show Impressions
I enjoyed this show overall, but that's because the good matches were really good. I think three of tonight's seven matches were duds (RAW Tag Titles, Reigns vs Corbin, and Rusev vs Lashley), but that still makes this show more than half good. Plus, if you add the Kickoff match, that makes the night even better.
Match of the Night
SmackDown Tag Title Ladder Match
I really enjoyed the main event as well as Murphy vs Black, but the SmackDown tag title match was probably the most solid and fun match all the way through.