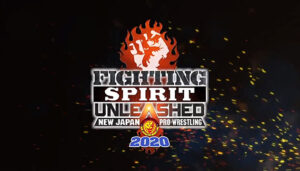 NJPW Strong
Episode 5
Fighting Spirit Unleashed 2020
#njpwstrong
Original Air Date: September 4, 2020
Event Date: September 4, 2020 (unconfirmed)
(uploaded to NJPW World)
City: Port Hueneme, CA (unconfirmed)
Venue: Oceanview Pavilion (empty arena) (unconfirmed)
Commentary (English): Kevin Kelly, Alex Koslov
Commentary (Japanese): Katsuyori Shibata, Shigeki Kiyono
Ring Announcer: Kimihiko Ozaki (remotely?), Adnan Kureishy (ringside)
Intro Video
Ring Area
Kevin Kelly and Alex Koslov welcome us to the Fighting Spirit Unleashed tour.
Video
A look at some of the wrestlers and matches coming up in the Fighting Spirit Unleashed tour, including Jeff Cobb challenging KENTA for the right to challenge for the IWGP US Heavyweight Title.
Match 1
The DKC & Clark Connors vs Alex Zayne & Fred Rosser
(referee: Sparky Ballard)
Show/Hide Results
Result: Fred Rosser pins The DKC after the Gutcheck (pop-up double-knee gut buster)
Time: 7:37
Match Thoughts
Good match. It was great to see Fred Rosser in NJPW. Rosser did well, and by the end of the match he was looking comfortable and strong. Clark Connors looked quite aggressive tonight, and that helped add a lot of energy to the match. I also think Alex Koslov missed lunch today, because he kept talking about how much Alex Zayne looked like a walking advertisement for Taco Bell. I liked it.
Backstage
Kevin Kelly is joined by Karl Fredericks via video. Fredericks says he's not in a good mood, and he's going to take some of his frustrations out on Misterioso.
Match 2
Misterioso vs Karl Fredericks
(referee: Justin Borden)
Show/Hide Results
Result: Karl Fredericks wins via pinfall after MD (implant DDT)
Time: 6:47
Match Thoughts
Very good match. It felt like it took Fredericks a little while to figure out how to attack Misterioso, and that gave the early part of the match a bit of a back-and-forth feeling with Misterioso being mostly in control. Fredericks started to put things together later in the match, and his attitude started to show as he stood up to Misterioso and began to deliver some strong moves. This was a good performance from both guys, and it was a nice step for Karl Fredericks.
Match 3
Hikuleo vs Brody King
(referee: Justin Borden)
Show/Hide Results
Result: Hikuleo wins via pinfall with Gunslinger (twisting flatliner)
Time: 7:35
Match Thoughts
Good match. This was a fight between two really big guys slamming each other with some hard shots. It felt like it was just a matter of each man trying to hit bigger and more impactful moves until their opponent just wouldn't get back up. Hikuleo has come a long way since I first saw him in NJPW a few years ago. Brody King definitely looked more experienced tonight, but Hikuleo looked really good in there with him.
Backstage
Hikuleo is confident after his match, and he says he's coming to pay back all the current and former young lions for never treating him like one of them.
Match 4
Flip Gordon vs Jay White
(referee: Jeremy Marcus)
Show/Hide Results
Result: Jay White wins via pinfall after Bladerunner
Time: 10:22
Match Thoughts
Very good match. Jay White had talked about looking past Flip Gordon and treating him as a tune-up match after months away from the ring. White, of course, had his usual attitude of downplaying the abilities of his opponent, and he did his usual shtick of slowing down the pace of the match immediately, but it also felt like he was taking Gordon seriously when they came together in the ring. This was a fun, well-fought match from both guys. The moves and excitement built up towards the end of the match, and I thought it was a very nice main event. I hate to say it, but it's good to see Jay White back in the ring, even if it does feel odd not to have Gedo by his side.
Ring Area
After the match, Jay White says he's warmed up now. He says there are a lot of questions surrounding Bullet Club with what's happened with EVIL in Japan, but White and Bullet Club owe the fans no answers. White is still King Switch, and this is still his new era.
Show Impressions
As the official first episode in the Fighting Spirit Unleashed 2020 tour, I thought this was a really good show. It was good to see Fred Rosser in an NJPW ring, Karl Fredericks and Hikuleo got some very solid buildup with a couple of strong performances, an the main event felt like the start of something now that Jay White is back in action.
Match of the Night
Flip Gordon vs Jay White
As much as I like to see him lose, Jay White is real good. I feel very similarly about Flip Gordon, so that made this match an interesting clash for me. Plus, the action between the bells was consistently the most fun out of any match tonight.
Official Results: https://www.njpw1972.com/tornament/79781?showResult=1