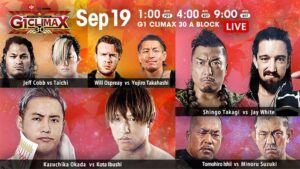 NJPW G1 Climax 30
Night 1
A Block: Round 1
#G1CLIMAX30
Event Date: September 19, 2020 (17:00 JST)
aired live on NJPW World
City: Naniwa, Osaka, Osaka, Japan
Venue: Osaka Prefectural Gymnasium (EDION Arena Osaka)
Attendance: 2,401
Series: G1 Climax 30
Theme Song: "Blazing Souls" by 9mm Parabellum Bullet
Commentary (Japanese): Milano Collection AT, Jushin Thunder Liger, Koki Yamazaki (1, 5), Yuichi Tabata (2, 4), Shinji Yoshino (3, 6)
Ring Announcer: Kimihiko Ozaki (1 – 3), Makoto Abe (4 – 6)
Video
The opening video looks at the competitors in A Block.
Match 1
Yuya Uemura vs Yota Tsuji
(referee: Kenta Sato)
Show/Hide Results
Result: Yuya Uemura wins via submission with a high angle Boston crab
Time: 6:58
Match Thoughts
Good match. Uemura and Tsuji can probably wrestle each other in their sleep at this point, so yeah, this was a good and competitive match. I particularly enjoyed the finish where Uemura was relentless with his application of a Boston crab. This was a rather quick match with a lot of energy, and it was a very good way to start the first night of the G1 Climax.
Match 2
G1 Climax 30 A Block Match
Yujiro Takahashi (0 pts) vs Will Ospreay (0 pts) (RPW British Heavyweight Champ)
(referee: Kenta Sato)
Show/Hide Results
Result: Will Ospreay wins via pinfall after Stormbreaker
Time: 7:45
Match Thoughts
Very good match. In a lot of ways, this felt more like a re-introduction of Will Ospreay to an NJPW ring than anything else. You could tell that Ospreay was happy and thankful to be back, and his excitement carried him through the first part of the match. Takahashi got some offense after a brief bit of ringside shenanigans, but that just led to Ospreay coming back with some quick offense of his own once they were both back in the ring. It was a good match, though it felt like somewhat of a warm-up for both wrestlers.
Ring Area
After the match, Ospreay gets on the mic and says, "I'm home." He says he was nervous before coming out to the ring tonight, but then he remembered there's no reason to be nervous because he is Will Ospreay. He says NJPW has been good during the pandemic era, but it's better now that Ospreay is back. This year's G1 Climax is about being "the one," and we are all looking at him.
Match 3
G1 Climax 30 A Block Match
Jeff Cobb (0 pts) vs Taichi (0 pts) (IWGP Tag Champ)
(referee: Marty Asami)
Show/Hide Results
Result: Taichi wins via pinfall after Black Mephisto
Time: 12:48
Match Thoughts
Great match. Taichi started the match by trying to frustrate Cobb. Taichi was in no hurry to lock up, and he would immediately go to the ropes whenever Cobb tried to touch him. Cobb did get a but frustrated, but he used that frustration in his offense and got the first advantage of the match. Taichi got his first real advantage shortly after that by using the bell hammer at ringside. Back in the ring, the fight built up and up until both wrestlers were trading strikes and heavy slams. After some early cheating from Taichi, he fought most of the rest of the match without resorting to any real shenanigans. Both wrestlers did a great job of building up the pace and intensity of the match to a nicely exciting finish.
Intermission
The rig is cleaned and sanitized during a brief intermission.
Match 4
G1 Climax 30 A Block Match
Tomohiro Ishii (0 pts) (NEVER 6-Man Champ) vs Minoru Suzuki (0 pts) (NEVER Openweight Champ)
(referee: Marty Asami)
Show/Hide Results
Result: Minoru Suzuki wins via pinfall after a Gotch-style piledriver
Time: 13:00
Match Thoughts
Great match. This is only the first match in this year's G1 Climax for both wrestlers, but they weren't conversing any energy tonight. The match started with both of them trowing strikes, and the strikes just got harder and harder as the match went on. There were multiple strikes that would've knocked out most people, but they both kept on going. Add to that the slams and (sometimes scary) drivers that both men were delivering, and it felt like they were both trying to steal the show through sheer force of will. This was the type of match we've come to expect from both Ishii and Suzuki, and it was a great way to begin both of their G1 Climax 30 journeys, though I don't see how either of them could keep this level of intensity up for the entire tournament.
Match 5
G1 Climax 30 A Block Match
Jay White (0 pts) w/ Gedo vs Shingo Takagi (0 pts)
(referee: Red Shoes Unno)
Show/Hide Results
Result: Jay White wins via pinfall after Blade Runner
Time: 19:30
Match Thoughts
Great match. Jay White was up to his usual tricks tonight (stalling, laying down to avoid attacks, using Gedo as a distraction, etc.), but Shingo wasn't going to fall for any of it. Well, he didn't fall for most of it. Shingo got off to a good start by shutting down Gedo and attacking White despite any of his devious tactics. Shingo began to dominate large sections of the match, and it looked like White might have been too out of practice for his usual tricks to work very well. But later in the match, White finally started to get his strategy together, and he began to chip away at Shingo's patience and focus. Shingo started to be susceptible to White's distractions, and that left him open for some quickly executed strings of offense. That flow of the match was great, and it built up well in a frustrating way (unless you're a fan of Jay White, then it was all great).
Match 6
G1 Climax 30 A Block Match
Kota Ibushi (0 pts) vs Kazuchika Okada (0 pts)
(referee: Red Shoes Unno)
Show/Hide Results
Result: Kota Ibushi wins via pinfall after Kamigoye
Time: 21:36
Match Thoughts
Great match. This was a rematch from the main event of night one of this year's Wrestle Kingdom, so not only was Ibushi looking to get a win back after his tough loss to Okada back in January, but as last year's G1 Climax winner, Ibushi was also looking to gain momentum by getting two points on one of the (if not THE) top guys in NJPW. Both men started cautiously, and they took their time to come together. There was a feeling-out process with some grappling, but the first real advantage went to Okada when he hit Inushi with a DDT on the floor. Okada was calculating and methodical in his attacks, and he minimized risks while doing as much damage as he could in short bursts. Ibushi fought with more emotion, and he took big risks while also baiting Okada into striking exchanges. Ibushi did a great job of pulling Okada into Ibushi's style a bit more, and that started to cost Okada as the match went on. This kind of high profile and highly entertaining match was a fantastic way to end the first night of G1 Climax action.
Show Impressions
This was a fantastic opening night for the G1 Climax 30. I thought all the matches were very smartly put together for the biggest impact. The main event was a huge high profile match, the three guys joining the G1 after months away were all highlighted in matches against guys we've seen week after week, and there was a lot of fun, hard-hitting action. B Block has a lot to live up to tomorrow night.
Match of the Night
Kota Ibushi vs Kazuchika Okada
It's hard to top this match-up.
Standings After Night 1
A Block

Show/Hide Results
| Wrestler | Points | Wins | Losses | Draws |
| --- | --- | --- | --- | --- |
| Jay White | 2 | 1 | 0 | 0 |
| Kota Ibushi | 2 | 1 | 0 | 0 |
| Minrou Suzuki (NEVER Openweight Champ) | 2 | 1 | 0 | 0 |
| Taichi (IWGP Tag Champ) | 2 | 1 | 0 | 0 |
| Will Ospreay (RPW British Heavyweight Champ) | 2 | 1 | 0 | 0 |
| Jeff Cobb | 0 | 0 | 1 | 0 |
| Kazuchika Okada | 0 | 0 | 1 | 0 |
| Shingo Takagi | 0 | 0 | 1 | 0 |
| Tomohiro Ishii (NEVER 6-Man Champ) | 0 | 0 | 1 | 0 |
| Yujiro Takahashi | 0 | 0 | 1 | 0 |
B Block

Show/Hide Results
| Wrestler | Points | Wins | Losses | Draws |
| --- | --- | --- | --- | --- |
| EVIL | 0 | 0 | 0 | 0 |
| Hirooki Goto (NEVER 6-Man Champ) | 0 | 0 | 0 | 0 |
| Hiroshi Tanahashi | 0 | 0 | 0 | 0 |
| Juice Robinson | 0 | 0 | 0 | 0 |
| KENTA | 0 | 0 | 0 | 0 |
| SANADA | 0 | 0 | 0 | 0 |
| Tetsuya Naito (IWGP IC & Heavyweight Champ) | 0 | 0 | 0 | 0 |
| Toru Yano | 0 | 0 | 0 | 0 |
| YOSHI-HASHI (NEVER 6-Man Champ) | 0 | 0 | 0 | 0 |
| Zack Sabre Jr. (IWGP Tag Champ) | 0 | 0 | 0 | 0 |
C Block (Young Lions)

Show/Hide Results
| Young Lion | Points | Wins | Losses | Draws |
| --- | --- | --- | --- | --- |
| Yuya Uemura | 2 | 1 | 0 | 0 |
| Gabriel Kidd | 0 | 0 | 0 | 0 |
| Yota Tsuji | 0 | 0 | 1 | 0 |
Official Results (Japanese): https://www.njpw.co.jp/tornament/255776?showResult=1