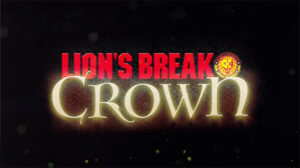 NJPW Strong
Episode 8
Lion's Break: Crown – Round 1
#njpwstrong
Original Air Date: September 25, 2020
Event Date: ?
(uploaded to NJPW World)
City: Port Hueneme, CA (unconfirmed)
Venue: Oceanview Pavilion (empty arena) (unconfirmed)
Series: Lion's Break: Crown
Commentary (English): Kevin Kelly, Alex Koslov
Ring Announcer: Adnan Kureishy (ringside)
Intro Video
Ring Area
Kevin Kelly asks TJP if Clark Connors is the favorite to win Lion's Break: Crown. TJP would like to think so, but the tournament is wide open.
Video
A brief look at the eight competitors in the Lon's Break: Crown tournament.
Match 1
Lion's Break: Crown First Round Match
The DKC vs Logan Riegel
(referee: Sparky Ballard)
Show/Hide Results
Result: Logan Riegel wins via pinfall with a schoolboy
Time: 6:31
Match Thoughts
Pretty good match. Both men started with a lot of grappling and struggling for dominance before moving on to some strikes. It felt like the match was really just starting to get going when it ended suddenly. It wasn't bad, it was just a surprise pin that didn't feel completely satisfying. It's good for the winner though.
Match 2
Lion's Break: Crown First Round Match
Jordan Clearwater vs Clark Connors
(referee: Sparky Ballard)
Show/Hide Results
Result: Clark Connors wins via submission with a Boston crab
Time: 6:11
Match Thoughts
Good match. Connor is being described as the favorite to win the tournament (by the commentators), and if he keeps performing this aggressively, I think I'll believe it. Clearwater just wasn't ready for Connors' strikes, and Connors wasn't affected by Clearwater's strikes. This was a nice first round match.
Intermission
The ring is cleaned and sanitized during a brief intermission.
Match 3
Lion's Break: Crown First Round Match
Barrett Brown vs Danny Limelight
(referee: Justin Borden)
Show/Hide Results
Result: Danny Limelight wins via pinfall after the Symbiote DDT
Time: 9:31
Match Thoughts
Very good match. To me, Danny Limelight is one of the favorites in the tournament. He comes into this match with a lot of good buzz and momentum, and he was brimming with confidence as the opening bell rang. He was maybe a bit overconfident though, and his showboating angered Barrett Brown. Brown got mad and aggressive, and he started to dominate Limelight in the middle of the match. That pushed Limelight to take the match more seriously, and that led to a nicely tense and well-fought finish.
Match 4
Lion's Break: Crown First Round Match
Blake Christian vs Adrian Quest
(referee: Jeremy Marcus)
Show/Hide Results
Result: Blake Christian wins via pinfall after Elia (corkscrew diving splash)
Time: 6:49
Match Thoughts
Very good match. Christian came out very aggressively and overwhelmed Quest, and that's probably because Christian wanted to end the match as quickly as possible. Christian came into the match with an injury to his abdomen, and after his initial onslaught he was noticeably slowed by his hurting ribs. That left a huge opening for Quest to gain some good offense. Christian was in trouble, but he pushed through and kicked out of a few pin attempts that I thought for sure would be the end. This match showed Christian's heart and determination, but it also sets him up for an extremely difficult run if he hopes to win the tournament.
Show Impressions
This was a fine first round. I think the third and fourth matches of the night were absolutely worth watching. I like that Strong has built up all eight of these guys enough over the last few weeks so that they can have a show without any of the bigger stars (Romero, TJP, Bullet Club, etc.) and the show is still very engaging.
Match of the Night
Barrett Brown vs Danny Limelight
Limelight is super fun to watch, and Brown impressed me with his aggression.
Official Results: https://www.njpw1972.com/tornament/80713?showResult=1