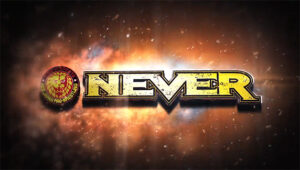 NJPW Strong
Episode 11
NEVER Night 1
#njpwstrong
Original Air Date: October 16, 2020
Event Date: ?
(uploaded to NJPW World)
City: Port Hueneme, CA (unconfirmed)
Venue: Oceanview Pavilion (empty arena) (unconfirmed)
Series: NEVER
Commentary (English): Kevin Kelly, Alex Koslov
Ring Announcer: Adnan Kureishy (ringside)
Intro Video
Ring Area
Kevin Kelly and Alex Koslov welcome us to the NEVER Tour and tell about some of the upcoming matches.
Video
A look at some of the heavyweights and junior heavyweights we'll see in NJPW Strong's NEVER tour.
Match 1
Danny Limelight vs Misterioso
(referee: Sparky Ballard)
Show/Hide Results
Result: Misterioso wins via pinfall after MSO (lung blower)
Time: 6:10
Match Thoughts
Good match. Misterioso looked stronger here than he has in most of his NJPW Strong matches. Limelight attempted to attack Misterioso will some high-flying moves early in the match, but Misterioso shut that down very quickly. Misterioso overpowered Limelight, and the luchador dominated a large part of the match. Limelight started to chip away at Misterioso with some kicks and flying, but Limelight was once again shut down fairly quickly. I was a little surprised with how handily Misterioso dealt with Limelight, but it was still and enjoyable match.
Match 2
Hikuleo vs TJP
(referee: Sparky Ballard)
Show/Hide Results
Result: Hikuleo wins via pinfall after Gunslinger
Time: 8:24
Match Thoughts
Very good match. TJP used his speed and skill to outmaneuver Hikuleo and go after his arm throughout the match. TJP seemed to be building up to a defeat of the bigger man, but whenever Hikuleo caught TJP, TJP was in trouble. Hikuleo managed to survive TJP's attack long enough to catch him a few times, and those few times did a lot of damage to TJP. This was a really good heavyweight versus junior match. TJP's experience and abilities helped make the much less experienced Hikuleo look really good.
Backstage
Breathing heavily after his match, Hikuleo talks about how good he is.
Intermission
The ring is cleaned and sanitized during a brief intermission.
Match 3
Alex Zayne vs PJ Black
(referee: Justin Borden)
Show/Hide Results
Result: PJ Black wins via pinfall after Bad Habit
Time: 10:21
Match Thoughts
Very good match. Zayne gave PJ Black a better and more exciting fight than I expected. I've enjoyed Zayne in his previous Strong appearances, but this was the first match where I really paid close attention to him. Zayne and Black have similar high-flying styles, though I think Black has an advantage in technical ability. This was way more of an even fight than I thought it would be though. Zayne matched Black's speed and aggression, and that kept the pace and the tension up. Black didn't seem to take Zayne completely seriously all the time, and that opened the door for Zayne to grab an advantage. Black was more serious later in the match though, but even then he found that he had trouble putting Zayne away. Zayne kept kicking out of some of Black's best moves, but by that point Black was in near-complete control. This match showed Zayne's skill and heart, but Black still came away looking stronger.
Match 4
Chase Owens & KENTA vs Jeff Cobb & David Finlay
(referee: Jeremy Marcus)
Show/Hide Results
Result: Jeff Cobb pins Chase Owens after Tour of the Islands
Time: 9:44
Match Thoughts
Very good match. Buller Club got an early advantage by attacks Cobb and Finlay before the opening bell, and they kept the advantage by isolating and double-teaming Cobb. Cobb took an extended beating, but he finally made it to his corner to tag in Finlay. That opened up the match considerably, and everyone got involved in the fight for a while. Bullet Club still worked better as a team though, and Owens and KENTA again started to double team Cobb. Cobb's strength kept him the fight until the end though, and when the fight became one on one, Cobb was the most dangerous man in the ring.
Show Impressions
I enjoyed this show. I like the idea of a heavyweight versus junior series of matches, and even though the main event didn't really follow that format, the other matches more or less did. I was a little disappointed that Danny Limelight kind of got dominated tonight, but that was a small complaint that didn't keep me from liking his match along with all the others.
Match of the Night
Alex Zayne vs PJ Black
This match surprised me the most. It was a lot of fun, and I wouldn't mind seeing it again sometime.
Official Results: https://www.njpw1972.com/tornament/82486?showResult=1