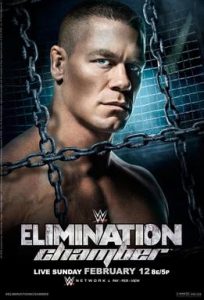 February 12, 2017
(aired live)
#WWEChamber
City: Phoenix, AZ
Venue: Talking Stick Resort Arena
Commentary: Tom Phillips, Mauro Ranallo, JBL, David Otunga
Spanish Commentary: Carlos Cabrera, Marcelo Rodriguez
German Commentary: Calvin Knie, Tim Haber
Mandarin Commentary: Meng Ai, Sean Deng
Japanese Commentary: Shun Yamaguchi, Funaki
Russian Commentary: Moti Margolin, Zhan Pomerantsev
Portuguese Commentary: Marco Alfaro, Roberto Figueroa
Ring Announcer: Greg Hamilton
Brand: SmackDown
Theme Song: "Air" by No Wyld
Intro Video
"Beauty is everywhere."
Match 1
Becky Lynch vs Mickie James
(referee: Danilo Anfibio)
Show/Hide Results
Result: Becky Lynch wins via pinfall with a jackknife cover
Time: 11:34
Match Thoughts
Good match. They started out with lots of extended and exchanged holds, then moved into some more action. There was some good psychology early with both women focusing on the other's arms, but eventually none of that mattered too much. The last sequence was quick, but it was a good finish to the match that added a little excitement where the rest of the match had been fairly methodical.
Arena
James Ellsworth and Carmella are in a skybox watching the show. Dasha Fuentes asks them what they thought about the match they just saw. Neither of them seems to care very much.
Ring Area
Apollo Crews comes out for the next match, a handicap match teaming with Kalisto against Ziggler. Kalisto comes out next but is immediately attacked from behind by Ziggler. Ziggler throws Kalisto into the light board on the stage. As referees attend to Kalisto, Apollo Crews heads towards the ring where Ziggler is waiting.
Match 2
Two-on-One Handicap Match
Apollo Crews & Kalisto vs Dolph Ziggler
(referee: Rod Zapata)
Show/Hide Results
Result: Apollo Crews pins Dolph Ziggler after a spin-out powerbomb
Time: 7:20
Match Thoughts
An okay match. They did all the right things to build interest in a handicap match where the guy being handicapped has already lost to one of his two opponents. The pre-match attack gave the early part of the match some good excitement, though they didn't maintain it for very long. The match then moved along, seeming to bide time until Kalisto returned for a pretty okay finish.
Ring Area
After the match, Ziggler trips Kalisto on the apron and attacks Crews with a chair. Ziggler traps Crews' ankle in the chair and stomps on it.
** It looks like this match was really just a way to build up some pretty good animosity between Crews and Ziggler. I can get behind that. **
Match 3
SmackDown Tag Title Tag Team Turmoil Match
Heath Slater & Rhyno vs Breezango vs The Vaudevillains vs The Usos vs American Alpha (SD Tag Champs) vs The Ascension
(referee: Dan Engler; outside referee: Jason Ayers)
#TagTeamTurmoil
Show/Hide Results
Results: American Alpha retains the SmackDown Tag Titles
Fall 1: Rhyno pins Fandango after a Gore (4:36)
Fall 2: Heath Slater pins Aiden English after an impaler DDT (6:45)
Fall 3: Jimmy Uso pins Heath Slater after a superkick (9:46)
Fall 4: Chad Gable pins Jey Uso with a rollup (15:22)
Fall 5: Chad Gable pins Viktor after Grand Amplitude (21:06)
Time: 21:06
Match Thoughts
I liked the match. I always enjoy turmoil matches, and this one was done pretty well. The first three falls were kind of quick, TV quality matches, but the cumulative effect was good. The Usos versus American Alpha was definitely the focal point of the match, and it was entertaining. I'm not sure if having The Ascension as the last team helped build much tension for the final fall, but it was still a pretty good finish.
Video
Buildup for Nikki verus Natalya.
Match 4
Nikki Bella vs Natalya
(referee: Jason Ayers)
Show/Hide Results
Result: The match ends in a double countout
Time: 13:17
Match Thoughts
Pretty good match. This one was a lot more hard-hitting than James versus Lynch which made it entertaining. The ending didn't help the match's quality, but it really just seems like it's an attempt to continue building towards a Wrestlemania match.
Arena
In the skybox, Carmella comments about Nikki and Natalya being out of control. James Ellsworth agrees.
Ring Area
On the video screen, Bray Wyatt (with Randy Orton) says the family must go its separate ways, but in the end they will be one.
Video
Buildup for Orton versus Harper.
Match 5
Randy Orton vs Luke Harper
(referee: John Cone)
Show/Hide Results
Result: Randy Orton wins via pinfall after an RKO
Time: 17:14
Match Thoughts
Very good match. I don't think the winner of this match was ever in question, it still felt like either guy could win. This match showed how good Luke Harper is.
Backstage
Renee Young asks Nikki Bella about Natalya. As Nikki speaks, Natalya attacks her from behind. While fighting they run into Maryse. Referees eventually come and break it up.
Match 6
SnackDown Women's Title Match
Naomi vs Alexa Bliss (SD Women's Champ)
(referee: Ryan Tran)
#WomensChampionship
Show/Hide Results
Result: Naomi wins via pinfall after a split-legged moonsault to become the new SD Women's Champ
Time: 8:18
Match Thoughts
Good match. Alexa kept trying to outsmart Naomi, but Naomi's athleticism kept her in the match. This was a good, fast-paced title match.
Ring Area
Renee Young congratulates Naomi on becoming the new champ.
Arena
In the skybox, Carmella is tired of being interrupted. Ellsworth tells Dasha Fuentes to "scram."
Video
Buildup for the Chamber match.
Match 7
WWE World Title Elimination Chamber Match
Dean Ambrose (IC Champ) vs Baron Corbin vs The Miz vs Bray Wyatt vs AJ Styles vs John Cena (World Champ)
(referee: Dan Engler; outside referee: John Cone, Danilo Anfibio, Jason Ayers, Ryan Tran, Rod Zapata)
Show/Hide Results
Result: Bray Wyatt wins and becomes the new WWE World Champ
Start: AJ Styles, John Cena (0:00)
Entrant 3: Dean Ambrose (4:56)
Entrant 4: Bray Wyatt (9:08)
Entrant 5: Baron Corbin (14:02)
Entrant 6: The Miz (18:16)
Fall 1: Dean Ambrose pins Baron Corbin with a schoolboy (18:37)
Fall 2: The Miz pins Dean Ambrose after Baron Corbin attacks Ambrose, throwing him into a chamber and hitting him with End of Days (20:43)
Fall 3: John Cena pins The Miz after an Attitude Adjustment (23:30)
Fall 4: Bray Wyatt pins John Cena after Sister Abigail (29:08)
Fall 5: Bray Wyatt pins AJ Styles after Sister Abigail (34:27)
Time: 34:27
Match Thoughts
This was a good Chamber match. It started off with Cena and Styles getting in to it very quickly. They only had about five minutes before someone else would enter, but they managed to hit some big moves on each other. It set a good tone for the match. Once people started entering the match one by one, the big moves kept coming.
As expected, each guy had a burst of offense whenever he entered the match, but no one person ever really dominated the match for any long period of time. Baron Corbin probably came the closest to dominating, using his brief time in the ring to beat up most of the other guys. Styles probably took the most damage, taking a few big hits from and onto the chamber.
The last five minutes or so of the mast was pretty exciting and was a good way to end the night.
Show Impressions
This was a pretty good show. Tag Team Turmoil is always fun and the last three matches delivered a lot of entertainment. Some of the matches (like the Ziggler/Crews/Kalisto and the Nikki/Natalya matches) felt like they were basically just promos for Wrestlemania, but that's kind of expected at this time of year.
Match of the Night
World Title Elimination Chamber Match
I really liked the Orton versus Harper match, but it's hard to beat the Chamber itself. The results helped the quality of the match, and the action was good.
<< Read Elimination Chamber Kickoff Recap & Review.