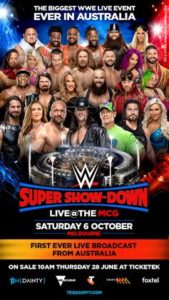 WWE Super Show-Down
#WWESSD
Original Air Date: October 6, 2018
Event Date: October 6, 2018
aired live on the WWE Network
City: Melbourne, Australia
Venue: Melbourne Cricket Ground
Attendance: 70,309
Commentary: Michael Cole, Corey Graves, Renee Young
Ring Announcer: Jojo
Brand: Co-Branded
Video
Tonight, in Melbourne, Australia, Triple H and The Undertaker will battle one last time. Other people will also compete tonight.
Match 1
SmackDown Tag Title Match
Sheamus & Cesaro vs Kofi Kingston & Xavier Woods w/ Big E (SD Tag Champs)
(referee: Jason Ayers)
Show/Hide Results
Result: Kofi Kingston pins Cesaro after a tandem lung blower and diving stomp
Time: 9:41
Match Thoughts
Good match. This was a fun and energetic way to start the show. I might've liked to have seen The Bar get a little closer to a win (or maybe actually get the win), but as it was, I liked the match.
Video
A commercial or WWE 2K19.
Video
Clips of how Becky Lynch and Charlotte Flair went from best friends to bitter enemies.
Match 2
SmackDown Women's Title Match
Charlotte Flair vs Becky Lynch (SD Women's Champ)
(referee: Mike Chioda)
Show/Hide Results
Result: Charlotte wins via DQ when Becky Lynch hits her with the title belt
Time: 10:36
Match Thoughts
Good match, but I could see the (unfortunate) finish coming from a mile away. I really don't think you need DQs and other non-finishes in order to build a heated feud, but WWE continues to do it over and over. It's kind of frustrating, and it helps start this show with a feeling of pointlessness similar to what the Greatest Royal Rumble suffered from.
The match itself, prior to the finish, was good. I liked how this felt more like a fight than a wrestling match, and I liked Becky's attention to setting up her finisher right from the start. I really don't want Becky to be a typical heel champ who takes shortcuts to win (DQ, count-out, etc.). The start of the match didn't feel like that, but the end of the match did. I think Charlotte and Becky could have some great matches together if they would just let them have long matches with definitive finishes.
Video
A commercial for the WWE Network and some upcoming events.
Ring Area
In the ring, Elias, joined by Kevin Owens, plays his guitar. Elias talks about how Australia loves him. Owens isn't so happy to be here. He thinks Super Show-Down should have taken place in Canada. As Elias speaks again, Bobby Lashley interrupts him by heading to the ring.
Match 3
Elias & Kevin Owens vs Bobby Lashley & John Cena
(referee: Darrick Moore)
Show/Hide Results
Result: John Cena pins Elias after the Lightning Fist
Time: 10:03
Match Thoughts
This wasn't great. It was essentially Bobby Lashley versus Elias and Owens for nearly ten minutes. Cena got a tag extremely late in the match, did a few moves, and finished things off with a backfist that was super goofy. I get that Cena hasn't been in the ring much this year, but this really just felt like a blatant excuse to put Cena's name on the show for advertising and historical purposes. I suppose they couldn't take a risk of him getting injured in any way since he's working on movies now, so I get it, but that doesn't help make the match entertaining. Watching Lashley fight off two very good guys for the vast majority of the match isn't much fun for me.
Ring Area
After the match, John Cena says "thank you." WWE will always be his home, and he will never forget where he came from. He doesn't know what the future holds, so he focuses on the now. And right now, he is grateful.
Video
Naomi and Jimmy Uso star in a commercial for Four 'n Twenty meat pies.
Match 4
The IIconics vs Asuka & Naomi
(referee: Charles Robinson)
Show/Hide Results
Result: Peyton Royce pins Naomi after a running knee strike
Time: 5:41
Match Thoughts
This was fun. The match was short, but they managed to fit a lot of fast-paced action into just under six minutes. I don't think the winners were surprising, but it was still nice to see.
Video
A commercial for WWE Evolution.
Video
Clips of the feud between AJ Styles and Samoa Joe.
Match 5
No DQ, No Count Out WWE Title Match
Samoa Joe vs AJ Styles (WWE Champ)
(referee: Jason Ayers)
Show/Hide Results
Result: AJ Styles wins via submission with the calf crusher
Time: 23:43
Match Thoughts
Great match. Styles took a beating in this match. He started strong, but he was more focused on fury than on winning the match. That allowed Joe to take over once he survived the initial onslaught. Joe then proceeded to destroy Styles on his way to setting him up for the Coquina Clutch. Styles got a lucky break when Joe took the worse of a table spot, and that set the direction for the last few minutes of the match. This was a great battle. I would have been fine with either man winning, and I could see either outcome being good for the story (though I'm still not a fan of the story).
Video
A commercial for SmackDown 1000 in just over a week.
Video
A commercial for the new WWE Network Wednesday night lineup.
Match 6
The Riott Squad vs The Bella Twins & Ronda Rousey (RAW Tag Champ)
(referee: Rod Zapata)
Show/Hide Results
Result: Ronda Rousey forces Sarah Logan to submit to a double arm bar (Liv Morgan also tapped but was not legal in the match)
Time: 9:59
Match Thoughts
This was okay. It was fun seeing the Riott Squad beat up the Bella Twins, but it was clear that they were saving Rousey until the end of the match so she could just destroy everyone. There was no tension in this match. It was just an exhibition for Rousey, and for that it was fine.
Video
A commercial for The Marine 6 featuring The Miz and Shawn Michaels.
Match 7
Cruiserweight Title Match
Cedric Alexander (Cruiserweight Champ) vs Buddy Murphy
(referee: Darrick Moore)
Show/Hide Results
Result: Buddy Murphy wins via pinfall after Murphy's Law (pump handle into a whale hunt)
Time: 10:34
Match Thoughts
Great match. Buddy Murphy was fueled by adrenaline in this match. He came out strong from the opening bell, and the crowd's energy propelled him through the match. This set up Cedric Alexander as kind of the underdog, and he had to try to keep up with Murphy throughout the match. There were some bursts of highly entertaining offense from both men, and the last few minutes were exciting.
Video
A commercial for Total Divas.
Video
A commercial for WWE Story Time.
Match 8
Dolph Ziggler & Drew McIntyre (RAW Tag Champs) & Braun Strowman vs The Shield
(referee: Rod Zapata)
Show/Hide Results
Result: Dean Ambrose pins Dolph Ziggler after Dirty Deeds
Time: 19:38
Match Thoughts
Good match. They used the recent questions about Ambrose's loyalty at certain points in the match, but I don't really think there was ever really a question of what he would do. Besides that, this was a fine tag match. It built up well to a nicely chaotic finish. It doesn't feel like the match will mean much in the long run, but it did seem to settle the Ambrose situation.
Video
Clips of the ongoing feud between Daniel Bryan and The Miz.
Match 9
WWE Title Number One Contender Match
The Miz vs Daniel Bryan
(referee: Charles Robinson; watching in the back: AJ Styles)
Show/Hide Results
Result: Daniel Bryan wins via pinfall with a small package
Time: 2:22
Match Thoughts
This wasn't much of a match. The Miz started strong, but Daniel Bryan ended things suddenly. I have to wonder if this is how they're going to end this chapter of the feud. If so, it is quite underwhelming, especially after everything Miz has done lately and in the past.
Video
Buildup for Triple H versus The Undertaker.
Match 10
No DQ Match
Triple H w/ Shawn Michaels vs The Undertaker w/ Kane
(referee: Mike Chioda, Rod Zapata)
Show/Hide Results
Result: Triple H wins via pinfall after the Pedigree
Time: 27:35
Match Thoughts
This was largely about paying respect to some legends of pro wrestling. For that, the match was surprisingly good. Triple H dictated almost every segment of this match. It felt like Undertaker was trying to keep up a lot of the time, like he's a man who was done with wrestling but got pulled back in even though he had nothing left to prove. The no DQ stipulation helped the match, as it allowed everyone to get involved. It also allowed the match to become a brawl through the crowd which bulked up the match length. Shawn Michaels was easily the better corner man. He consistently helped Triple H while Kane didn't do much of anything. I'm not sure how I feel about the finish and who won, but it certainly feels like a chapter has closed.
Show Impressions
There were ups and downs on the show. Overall it had the feeling of a glorified house show like the Greatest Royal Rumble did, but there were some moments that actually felt like they meant something (such as the Cruiserweight Title match and the WWE Title match). I think this was the better of WWE's overseas super shows this year so far.
Match of the Night
WWE Title Match
Even though the main event was a huge spectacle and has some definite historical significance, I feel like I'll watch Styles versus Joe again before I'll watch Undertaker versus Triple H again. I also liked the Cruiserweight Title match a lot, but the WWE Title edges it out for the best of the night for me.