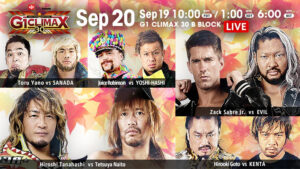 NJPW G1 Climax 30
Night 2
B Block: Round 1
#G1CLIMAX30
Event Date: September 20, 2020 (14:00 JST)
aired live on NJPW World
City: Naniwa, Osaka, Osaka, Japan
Venue: Osaka Prefectural Gymnasium (EDION Arena Osaka)
Attendance: 2,640
Series: G1 Climax 30
Theme Song: "Blazing Souls" by 9mm Parabellum Bullet
Commentary (English – recorded remotely): Kevin Kelly, Rocky Romero
Commentary (Japanese): Milano Collection AT, Jushin Thunder Liger, Koki Yamazaki (1, 6), Shinji Yoshino (2, 4), Yuichi Tabata (3, 5)
Ring Announcer: Kimihiko Ozaki (1 – 3), Makoto Abe (4 – 6)
Video
The opening video looks at the competitors in B Block.
Match 1
Gabriel Kidd vs Yota Tsuji
(referee: Kenta Sato)
Show/Hide Results
Result: Yota Tsuji wins via submission with a Boston crab
Time: 9:15
Match Thoughts
Good match. Once again, the young lions deliver a nicely competitive, high-energy match to start the night. I feel like were going to get a lot of good opening matches with the three young lions fighting each other over and over during the G1 Climax tour.
Match 2
G1 Climax 30 B Block Match
YOSH-HASHI (0 pts) (NEVER 6-Man Champ) vs Juice Robinson (0 pts)
(referee: Kenta Sato)
Show/Hide Results
Result: Juice Robinson wins via pinfall after Pulp Friction
Time: 15:57
Match Thoughts
Very good match. Juice came into the match not having wrestled much since he's had an injury during the pandemic, but YOSHI-HASHI has been wrestling and building up his confidence over the past few months. Juice looked great tonight though, in his physical appearance and in his work in the ring. Juice and YOSHI-HASHI had a nice back-and-forth battle that built up to a nicely tense finish. I didn't really expect this match to be as competitive as it was, so as the match went longer and the action got more heated, I got more and more into it. This was a solid way of starting B Block. Plus, it's great having Juice back in Japan (and in his new Blues Brothers gear).
Match 3
G1 Climax 30 B Block Match
SANADA (0 pts) vs Toru Yano (0 pts)
(referee: Marty Asami)
Show/Hide Results
Result: Toru Yano wins via count out by taping SANADA's leg to Yuya Uemura on the entrance ramp
Time: 6:16
Match Thoughts
This was fun. Yano was up to his usual tricks, but SANADA was ready for it. Well, SANADA was ready for a lot of Yano's tricks. The match ended up being about Yano trying to avoid SANADA while figuring out how to enact some devious plan. SANADA was doing so well throughout the match that he might have gotten a little too confident, and he entered Yano's domain outside the ring late in the match. Even though SANADA had a smart plan, being outside the ring with Yano is pretty much always a mistake.
Intermission
The ring is cleaned and sanitized during a brief intermission.
Match 4
G1 Climax 30 B Block Match
Hirooki Goto (0 pts) (NEVER 6-Man Champ) vs KENTA (0 pts)
(referee: Marty Asami)
Show/Hide Results
Result: KENTA wins via submission with Game Over
Time: 17:14
Match Thoughts
Very good match. KENTA was dominant in this match, and Goto just wasn't ready for him. KENTA was moving all around the ring, and he was attacking Goto at will. Goto had few counters or comebacks throughout the match, and early on it felt like it was only a matter of time before KENTA's hand would be raised in voctory. Goto made a push for some offense late in the match though, and he made a nice attempt at turning KENTA's submission game back around on him. That helped put some tension in the match that otherwise felt like a clinic for KENTA.
Match 5
G1 Climax 30 B Block Match
EVIL (0 pts) w/ Dick Togo vs Zack Sabre Jr. (0 pts) (IWGP Tag Champ)
(referee: Red Shoes Unno)
Show/Hide Results
Result: Zack Sabre Jr. wins via pinfall with a European clutch
Time: 14:54
Match Thoughts
Great match. EVIL got off to a quick start with a small distraction from Dick Togo, and ZSJ was in trouble right from the start. It took a while, but ZSJ started to mount a comeback by tying up and twisting EVIL on the mat. From there, the match went back and forth with ZSJ getting beautiful sequences of holds, then EVIL (and sometimes Togo) cheating and beating ZSJ down. Towards the end of the match ZSJ was practically fighting a handicap match. It was interesting seeing ZSJ play the role of a babyface in this match by default just because EVIL is such a bastard in the ring. ZSJ wrestled a very defensive match, and he was very smart about which moves to apply and when. Sabre out-thought EVIL tonight.
Match 6
G1 Climax 30 B Block Match
Hiroshi Tanahashi (0 pts) vs Tetsuya Naito (0 pts) (IWGP IC & Heavyweight Champ)
(referee: Red Shoes Unno)
Show/Hide Results
Result: Tetsuya Naito wins via pinfall after Destino
Time: 27:16
Match Thoughts
Great match! This match felt supremely important for both men. As he IWGP Heavyweight (and Intercontinental) Champ, Naito has an uphill battle throughout the G1. The champion rarely wins the tournament, and everyone is going to be looking to make a name for themselves at Naito's expense. For Tanahashi, he needed to get off to a good start. He underperformed in last year's G1, and he's struggled at time since then with injuries and his own confidence. Tanahashi has been looking great lately though, so a win here tonight would give him the mental boost he needs to push through some of his physical limitations that are sure to pop up throughout the grueling tournament. So even though this is both men's first match in the tournament and it's only worth two points, both men were fighting like it was the last match in the tournament.
Naito didn't seem to take Tanahashi too seriously at first, but that was likely just Naito trying to frustrate Tanahashi and get him to make mistakes. Tanahashi wouldn't be pushed aound with mind games though, and he attacked Naito first, getting an early advantage in the match. The match then continued to build up and up, and Tanahashi almost always seemed to be a few steps ahead of Naito. Tanahashi was pouring everything into this match, and Naito was in trouble. Tanahashi viciously went after Naito's knees, and that set up Naito for some tense submission attempts later in the match. Naito started to wear Tanahashi down though, and neither man was going to back down. The clock became a factor, and Tanahashi seemed to be a bit more desperate in the final stretch. This was a great main event, and it's the match to beat so far in this year's G1.
Show Impressions
Overall, I think last night's show might have been a little better, but tonight's main event was better than any single match during A Block's first night of action. This G1 Climax is off to a great start.
Match of the Night
Hiroshi Tanahashi vs Tetsuya Naito
I loved it.
Standings After Night 2
A Block

Show/Hide Results
| Wrestler | Points | Wins | Losses | Draws |
| --- | --- | --- | --- | --- |
| Jay White | 2 | 1 | 0 | 0 |
| Kota Ibushi | 2 | 1 | 0 | 0 |
| Minrou Suzuki (NEVER Openweight Champ) | 2 | 1 | 0 | 0 |
| Taichi (IWGP Tag Champ) | 2 | 1 | 0 | 0 |
| Will Ospreay (RPW British Heavyweight Champ) | 2 | 1 | 0 | 0 |
| Jeff Cobb | 0 | 0 | 1 | 0 |
| Kazuchika Okada | 0 | 0 | 1 | 0 |
| Shingo Takagi | 0 | 0 | 1 | 0 |
| Tomohiro Ishii (NEVER 6-Man Champ) | 0 | 0 | 1 | 0 |
| Yujiro Takahashi | 0 | 0 | 1 | 0 |
B Block

Show/Hide Results
| Wrestler | Points | Wins | Losses | Draws |
| --- | --- | --- | --- | --- |
| Juice Robinson | 2 | 1 | 0 | 0 |
| KENTA | 2 | 1 | 0 | 0 |
| Tetsuya Naito (IWGP IC & Heavyweight Champ) | 2 | 1 | 0 | 0 |
| Toru Yano | 2 | 1 | 0 | 0 |
| Zack Sabre Jr. (IWGP Tag Champ) | 2 | 1 | 0 | 0 |
| EVIL | 0 | 0 | 1 | 0 |
| Hirooki Goto (NEVER 6-Man Champ) | 0 | 0 | 1 | 0 |
| Hiroshi Tanahashi | 0 | 0 | 1 | 0 |
| SANADA | 0 | 0 | 1 | 0 |
| YOSHI-HASHI (NEVER 6-Man Champ) | 0 | 0 | 1 | 0 |
C Block (Young Lions)

Show/Hide Results
| Young Lion | Points | Wins | Losses | Draws |
| --- | --- | --- | --- | --- |
| Yuya Uemura | 2 | 1 | 0 | 0 |
| Yota Tsuji | 2 | 1 | 1 | 0 |
| Gabriel Kidd | 0 | 0 | 1 | 0 |
Official Results (Japanese): https://www.njpw.co.jp/tornament/255777?showResult=1