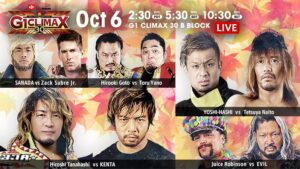 NJPW G1 Climax 30
Night 10
B Block: Round 5
#G1CLIMAX30
Event Date: October 6, 2020 (18:30 JST)
aired live on NJPW World
City: Nishi, Hiroshima, Hiroshima, Japan
Venue: Hiroshima Sun Plaza Hall
Attendance: 1,422
Series: G1 Climax 30
Theme Song: "Blazing Souls" by 9mm Parabellum Bullet
Commentary (English – recorded remotely): Kevin Kelly, Rocky Romero
Commentary (Japanese – Samurai TV): Milano Collection AT, Shigeki Kiyono, Jado (2 – 6)
Commentary (Japanese – NJPW World): Jushin Thunder Liger
Ring Announcer: Kimihiko Ozaki (1 – 3), Makoto Abe (4 – 6)
Video
The opening video looks at the competitors in B Block.
Match 1
Yuya Uemura vs Yota Tsuji
(referee: Kenta Sato)
Show/Hide Results
Result: Time Limit Draw
Time: 15:00
Match Thoughts
This was a great opener. Both young lions played to their own strengths, and that made both of them extremely hard to beat. They both put a ton of heart and energy in the match, and by the end they could barely stand, but they were still slugging it out. This might be the best young lions match during this G1 tour.
Match 2
Toru Yano (6 pts) vs Hirooki Goto (2 pts) (NEVER 6-Man Champs)
(referee: Kenta Sato)
Show/Hide Results
Result: Hirooki Goto wins via pinfall with a roll-up
Time: 0:18
Match Thoughts
This was an unfortunate night for Yano. Goto has been dealing with a shoulder injury since the first match in the tournament, and this match seemed like a perfect opportunity to give him a rest. That's just what happened, because the match consisted of just one move. For once though, Yano was the one getting surprised.
Match 3
SANADA (2 pts) vs Zack Sabre Jr. (4 pts) (IWGP Tag Champ)
(referee: Marty Asami)
Show/Hide Results
Result: SANADA wins via pinfall after a diving moonsault
Time: 14:31
Match Thoughts
Great match. SANADA and ZSJ always have great chemistry when they face each other one on one. ZSJ brings out the more technical side of SANADA, and it's a lot of fun watching the two of them battle on the mat. SANADA often tries to match ZSJ in his technical attacks, and though SANADA does very well, ZSJ almost always comes out with the advantage in a grappling session. It's great watching ZSJ bait SANADA into doing specific offensive moves, only to have a counter or two ready well in advance. ZSJ was the first person to throw some strikes in this match, and that opened things up to some faster-paced action. The holds and submissions were always present though, and SANADA eventually started to go for Skull End later in the match. ZSJ, of course, had some counters, but when SANADA gets focused on Skull End it's difficult to control him. That led to a rather sudden but very well done finish.
Video
It's announced that the World Tag League and the Best of the Super Juniors will take place concurrently in November and December, with both tours ending at the Nippon Budokan!
Intermission
The ring is cleaned and sanitized during a brief intermission.
Match 4
EVIL (4 pts) w/ Dick Togo vs Juice Robinson (6 pts)
(referee: Marty Asami)
Show/Hide Results
Result: EVIL wins via pinfall after EVIL
Time: 15:35
Match Thoughts
Great match. Juice was prepared to defend against the two-sided attacks from EVIL and Togo, but no amount of preparation can completely nullify Togo's effect on EVIL's matches. Togo repeatedly caused distractions or got in a few cheap shots, and as the match went on, Togo became more and more of a problem for Juice. It felt like Juice and EVIL were pretty evenly matched with a similar, power-heavy style, but in a fair fight Juice probably would have had the advantage most of the time. Juice has been looking great in the tournament so far, but EVIL and Togo together can wear anyone down. This was a very entertaining match with a lot of the tension built around Juice getting some momentum only to have it taken away by a cheap or dirty tactic.
Match 5
YOSHI-HASHI (2 pts) (NEVER 6-Man Champ) vs Tetsuya Naito (6 pts) (IWGP IC & Heavyweight Champ)
(referee: Red Shoes Unno)
Show/Hide Results
Result: Tetsuya Naito wins via pinfall after Destino
Time: 24:43
Match Thoughts
Great match. This was by far the best singles match I've ever seen YOSHI-HASHI have. YOSHI-HASHI got a whole bunch of offense in the first half of the match. It's not too unusual to see Naito take a beating in the first half of a match, but regardless, it still made YOSHI-HASHI look good. The best parts came in the second half of the match though. Naito hit a tornado DDT that spiked YOSHI-HASHI hard on the top of his head, and from there Naito was able to start building a comeback. It took a little while, but YOSHI-HASHI regained his senses and took Naito down to the mat with his butterfly lock. Naito got in serious trouble as YOSHI-HASHI repeatedly pulled Naito away from the ropes and adjusted his submission deeper and deeper. Naito was in various holds for a few minutes, that drained most of his energy. YOSHI-HASHI got frustrated that he couldn't get a submission though, and that opened the door for Naito to start hitting some strikes and slams. The pace picked up, and the final sequences of the match were built around good counters and a few tense near falls.
Match 6
Hiroshi Tanahashi (4 pts) vs KENTA (4 pts)
(referee: Red Shoes Unno)
Show/Hide Results
Result: Hiroshi Tanahashi wins via submission with a Texas cloverleaf
Time: 23:41
Match Thoughts
Great match. Tanahashi come into this match with a ton of confidence (and a great head of hair). KENTA tried some patented Bullet Club stalling tactics, but Tanahashi forced KENTA into a fight. Early in the match though, KENTA attacked Tanahashi's knees, and that became KENTA's focus throughout most of the rest of the match. KENTA completely dominated Tanahashi, and it was probably the most brutal attack Tanahashi has suffered so far in the G1 this year. Tanahashi started to fight back at times, but the damage to his knees was so great that even some of his favorite holds like the Texas cloverleaf were difficult to execute. Regardless, Tanahashi fought, and that led to a nice and exciting finish.
Show Impressions
This was a very good show. I don't think any of the match results were super surprising, but the matches themselves were all quite entertaining. Like A Block, B Block is really tight, so even though we've passed the halfway point of the tournament, the top spot is still fairly wide open.
Match of the Night
Hiroshi Tanahashi vs KENTA
It was a close call between this match and ZSJ vs SANADA, but I think overall the excitement of the main event was better.
Standings After Night 10
A Block

Show/Hide Results
| Wrestler | Points | Wins | Losses | Draws |
| --- | --- | --- | --- | --- |
| Kota Ibushi | 8 | 4 | 1 | 0 |
| Jay White | 6 | 3 | 2 | 0 |
| Kazuchika Okada | 6 | 3 | 2 | 0 |
| Minrou Suzuki (NEVER Openweight Champ) | 6 | 3 | 2 | 0 |
| Taichi (IWGP Tag Champ) | 6 | 3 | 2 | 0 |
| Will Ospreay (RPW British Heavyweight Champ) | 6 | 3 | 2 | 0 |
| Jeff Cobb | 4 | 2 | 3 | 0 |
| Shingo Takagi | 4 | 2 | 3 | 0 |
| Tomohiro Ishii (NEVER 6-Man Champ) | 4 | 2 | 3 | 0 |
| Yujiro Takahashi | 0 | 0 | 5 | 0 |
B Block

Show/Hide Results
| Wrestler | Points | Wins | Losses | Draws |
| --- | --- | --- | --- | --- |
| Tetsuya Naito (IWGP IC & Heavyweight Champ) | 8 | 4 | 1 | 0 |
| EVIL | 6 | 3 | 2 | 0 |
| Hiroshi Tanahashi | 6 | 3 | 2 | 0 |
| Juice Robinson | 6 | 3 | 2 | 0 |
| Toru Yano | 6 | 3 | 2 | 0 |
| Hirooki Goto (NEVER 6-Man Champ) | 4 | 2 | 3 | 0 |
| KENTA | 4 | 2 | 3 | 0 |
| SANADA | 4 | 2 | 3 | 0 |
| Zack Sabre Jr. (IWGP Tag Champ) | 4 | 2 | 3 | 0 |
| YOSHI-HASHI (NEVER 6-Man Champ) | 2 | 1 | 4 | 0 |
C Block (Young Lions)

Show/Hide Results
| Young Lion | Points | Wins | Losses | Draws |
| --- | --- | --- | --- | --- |
| Yota Tsuji | 8 | 3 | 2 | 2 |
| Yuya Uemura | 7 | 3 | 3 | 1 |
| Gabriel Kidd | 5 | 2 | 3 | 1 |
Official Results (Japanese): https://www.njpw.co.jp/tornament/255785?showResult=1