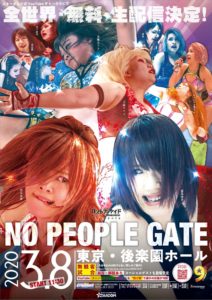 STARDOM No People Gate
Event Date: March 8, 2020 (11:30 JST)
streamed on YouTube, matches published individually on Stardom World
City: Bunkyo, Tokyo, Japan
Venue: Korakuen Hall
Attendance: empty arena
Presented By: Lost Decade
Commentary: Haruo Murata, Makoto Oe (1, 2, 4), Jushin Thunder Liger (1, 5), Momoe Nakanishi (2), Yoko Bito (3, 4), Aina Aiba (3, 5)
Ring Announcer: Yurie Kozakai (1 – 3, 5), Yoritaka Ando (4)
Note: This show was streamed on YouTube as one unbroken event, and it was later uploaded to Stardom World in their usual fashion of breaking up the matches into individual videos. This recap is based on the YouTube stream since there is slightly more to see, though the extras are only a few inconsequential videos and some unimportant announcements. I did go back and forth from YouTube to Stardom World though, because Stardom World has pre-match comments from most of the wrestlers, and all the talking on the mic in the ring is subtitled. The YouTube stream archive doesn't have either of those things.
Video
The stream starts with an ad for a video game, Lost Decade.
Ring Area
At a ringside table, Haruo Murata introduces himself and the rest of the commentary team, Jushin Thunder Liger and Makoto Oe.
Video
Tonight's matches are introduced.
Match 1
Special Time Change Battle Royal
(referee: Barb Sasaki; stipulation: the winner will face Natsuko Tora in a singles match)
Show/Hide Results
Result: Super Strong Starlight Machine wins
Time: 24:20
| Entry Order | Wrestler | Time In Ring | Elimination Order | Eliminated By | Elimination Method | Total Eliminations |
| --- | --- | --- | --- | --- | --- | --- |
| 1 | DEATH Yama-san | 5:46 | 2 | Momoe Nakanishi | pin (hurricanrana) | 0 |
| 2 | Saya Iida | 1:42 | 1 | AZM | pin (Azumi Sushi) | 0 |
| 3 | AZM | 22:44 | 15 | Super Strong Starlight Machine | top rope | 2 |
| 4 | Momoe Nakanishi | 21:26 | 14 | Super Strong Starlight Machine | top rope | 2 |
| 5 | Ruaka | 2:33 | 3 | AZM | pin (cross body block) | 0 |
| 6 | Rina | 9:39 | 4 | Captain STARDOM | pin (roll-up) | 0 |
| 7 | Hina | 9:10 | 5 | Starlight Kid | pin (O'Connor Roll) | 0 |
| 8 | Captain STARDOM | 7:34 | 6 | Leyla Hirsch | pin (crucifix pin) | 1 |
| 9 | Starlight Kid | 9:21 | 9 | Momoe Nakanishi | pin (moonsault press) | 1 |
| 10 | Leyla Hirsch | 6:15 | 7 | Konami | submission (arm bar) | 1 |
| 11 | Konami | 8:08 | 10 | Tam Nakano | top rope | 1 |
| 12 | Tam Nakano | 8:31 | 11 | Mima Shimoda | top rope | 1 |
| 13 | Sumire Natsu | 4:04 | 8 | Mima Shimoda | pin (chair shot) | 0 |
| 14 | Saya Kamitani | 8:30 | 13 | Super Strong Starlight Machine | pin (hammerlock suplex hold) | 1 |
| 15 | Mima Shimoda | 5:47 | 12 | Saya Kamitani | top rope | 2 |
| 16 | Super Strong Starlight Machine | 5:14 | | WINNER! | | 3 |
Match Thoughts
This was fun. It was pretty silly the entire time, but I enjoyed it. A couple of veterans of All Japan Women's Pro-Wrestling made an appearance (Momoe Nakanishi and Mima Shimoda), and they both made big impressions. Nakanishi kept hurting herself while performing offensive moves, but she lasted a very long time by mostly just avoiding action. Shimoda made a strong statement right away by using a steel chair, but then she got beat up by some of the younger competitors. Saya Iida also stood out. Iida started the match and was quickly eliminated, but she did the "three faces of Foley" thing and showed up two more times throughout the battle royal (as Captain STARDOM and Super Strong Starlight Machine). So that was fun. Other than that, the match was light-hearted and entertaining.
Ring Area
After the match, Super Strong Starlight Machine calls Natsuko Tora out to the ring.
Match 2
Super Strong Starlight Machine vs Natsuko Tora
(referee: Daichi Murayama)
Show/Hide Results
Result: Natsuko Tora wins via pinfall after a spinning side slam
Time: 4:42
Match Thoughts
Pretty good match. Super Strong Starlight Machine didn't have much left in her after the battle royal, and Tora took away most of what she had left with a ringside attack as the match started. SSSM got a little bit of offense, but this was a mostly just a dominant performance from Tora. Tora was supposed to face Arisa Hoshiki for the Wonder of Stardom title tonight, but since that match was canceled, this seemed like a consolation for her. She was given an easy night and a strong performance.
Video
In between matches, we see a commercial for Lost Decade with a couple of schoolgirls.
Match 3
Maika & Giulia (Artist Champs) vs Jungle Kyona & Hana Kimura
(referee: Daichi Murayama)
Show/Hide Results
Result: Jungle Kyona pins Maika after a Muscle Buster
Time: 13:11
Match Thoughts
Very good match. Tokyo Cyber Squad (Kimura and Kyona) were finally able to show that Donna del Mondo (Giulia and Maika) do have some weaknesses. TCS worked very well as a team, at least when it counted. Giulia and Maika had some very nice individual performances, specifically Giulia against Kimura and Maika against Kyona, but TCS were able to work together better tonight.
Ring Area
After the match, Jungle Kyona says she took out her frustrations on Maika tonight, and she challenges Giulia to a singles match. Giulia downplays Kyona's efforts tonight, and she insults Kyona's ability to speak Italian. Giulia doesn't explicitly accept Kyona's challenge for a match, but she insinuates that Kyona will regret asking for a match at all. Donna del Mondo leave the ring, then TCS leaves as well.
Match 4
Goddess of Stardom Title Match
Utami Hayashishita & Momo Watanabe vs Jamie Hayter (SWA & Goddess Champ) & Bea Priestley (Goddess Champ)
(referee: Barb Sasaki; title match official: Rossy Ogawa)
Show/Hide Results
Result: Bea Priestley pins Momo Watanabe with Queen's Landing
Time: 13:45
Match Thoughts
Very good match. Queen's Quest (Watanabe & Hayashishita) started the match by quickly attacking Oedo Tai (Hayter & Priestley), and the action never really slowed down from there. It felt like QQ had Oedo Tai reeling for most of the match, but they just couldn't put the champs away. Eventually Watanabe and Priestley ended up having an extended sequence against each other with Hayter and Hayashishita coming in and out of the ring from time to time. I think having Watanabe and Priestley focus almost solely on each other for so long really helped build up the tension. I enjoyed this quite a lot.
Ring Area
After the match, Saya Kamitani enters the ring. She says Queen's Quest's strongest tag team didn't win the titles, but she'd like to team with Hayashishita to challenge for the titles herself. Hayashishita looks surprised. She says the Goddess champs are really strong, and she and Kamitani might not match up to them. Regardless, Hayashishita accepts Kamitani's offer to team up and challenge for the Goddess titles.
Priestley can't believe what she's hearing. Hayashishita couldn't beat either Priestley or Hayter on her own, and she couldn't beat them together with Watanabe. How does she expect to beat them with Kamitani? Nevertheless, Priestley and Hayter accept the challenge of Kamitani and Hayashishita. Hayashishita says that the future of Stardom will win the Goddess tag titles.
Video
Once again we see a commercial for Lost Decade with schoolgirls.
Match 5
Lumberjack Match
Saki Kashima vs Mayu Iwatani (World Champ)
(referee: Daichi Murayama; lumberjacks: Tam Nakano, Starlight Kid, Saya Iida, Hanan, Natsuko Tora, Sumire Natsu, Jamie Hayter, Bea Priestley)
Show/Hide Results
Result: Mayu Iwatani wins via pinfall after a moonsault press
Time: 17:43
Match Thoughts
Great match! Stars and Oedo Tai took full advantage of the lumberjack stipulation and the empty arena situation in this match. There were multiple segments of complete chaos as both factions basically had a gang war at ringside, through the seats, and up to the risers. Everyone took a beating in the match (including referee Daichi Murayama), and the excitement just kept building throughout the match. Without a crowd, I think the commentators really helped put over the excitement as they got louder and more excited themselves as the match went on.
As for Kashima and Iwatani, they both did great. With the beating they gave each other and the contempt they showed for each other, this really did feel like a long-simmering grudge match. The segment leading up to the finish was particularly brutal. With the global pandemic going on it's unclear when or if this feud will continue, so they gave us everything tonight. If this is the end of the feud, then it was definitely satisfying. But hopefully these two will keep going after each other for a very long time.
Ring Area
After the match, Mayu Iwatani says she never imagined having a match like this, but having no people was amusing in a way. She wanted to to get revenge on Kashima in front of a big crowd, but with the match streaming on YouTube, even more people got to see it. She hopes that the people who discovered Stardom today will continue to watch.
Iwatani then brings in her Stars teammates and has them all say a few words about their matches tonight. Starlight Kid says it was a little sad seeing empty seats, but she hopes everyone will continue to support Stardom. Tam Nakano says she felt energy from the other side of the screen. Hanan says it was lonely without fans. Saya Iida says she got eliminated early in the battle royal early, but she hopes people will eventually be able to come see the real Saya Iida in the future.
Iwatani then closes the show with "we are Stardom!"
Show Impressions
This was a really fun show. I wasn't sure what to expect, but Stardom delivered a highly entertaining show even with so many difficulties (pandemic, Arisa Hoshiki being out, no people in attendance). Again, I think the commentators really helped in the absence of a crowd. Even if you don't speak Japanese, the excitement in their voices helped replace the excitement of a crowd. Plus, the matches were just really good overall.
Match of the Night
Saki Kashima vs Mayu Iwatani
I don't think this match will necessarily lead to a title match for Kashima, but that's not really what their feud is about anyway. I like how they built up to this with Kashima chasing Iwatani, and Iwatani basically blowing Kashima off until tonight. I also really enjoyed the gang war mentality of this lumberjack match. I wonder if Kashima and Iwatani would have met in the ring so soon if they weren't sure when their next show would be, and I wonder if that match would have had the same feeling. We'll never know, but I'm glad we got this match. I've been a fan of Kashima for a while, and her joining Oedo Tai has made me an even bigger fan. I love her new attitude and how it affects her in-ring actions.
Official Results (Japanese): https://wwr-stardom.com/news/20200308-2/