From the indies to the majors, from the United States to Mexico to Japan and beyond, the crew of Wrestling House Show provides as much news, reviews and commentary that can be crammed into an hour or so. Brought to you by two life long professional wrestling enthusiasts, our highly opinionated and entertaining discussions will cover a vast array of topics covering the past, present and future of professional wrestling.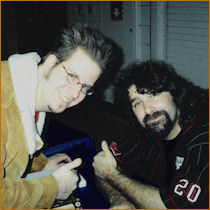 Current Favorite Wrestlers:
Match of the Week:
More of Joey's favorites!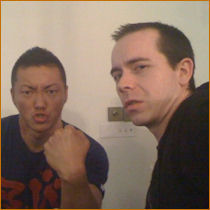 Chris has been a fan of pro wrestling from as far back as he can remember. As a child his heroes were Hulk Hogan, The Ultimate Warrior, and Randy Savage. Upon meeting his best friend Joey in the late nineties his love for wrestling was renewed and solidified. WWE's Attitude Era turned this wrestling fan into a wrestling fanatic. Ever since the Montreal Screw Job in 1997, chris has followed pro wrestling with an obsessive fanaticism that borders on crazy.
Chris' first love is WWF/E, but he loves the sport of pro wrestling in all of its forms. In the late nineties he fell in love with Japanese wrestling and sought a more worldly approach for his obsession. He discovered ECW, Toryumon (and then Dragon Gate), Triple A, CMLL, and an entire world of wrestling that he never knew existed. Today he strives to appreciate pro wrestling for what it means to him: athleticism and entertainment.
Chris believes that the best wrestlers can tell a story in the ring. He appreciates technical wrestling ability as well as the ability to create a compelling story over time. Story lines are what drive the business, but great matches live forever.
Chris is an advocate for female wrestling and believes that wrestlers are not male or female, they are simply wrestlers. Some of his favorite wrestlers happen to be female. Not because they are female, but because they are the best.
Wrestling is an integral part of chris's life. It is something that he loves and something that wants to make a part of his life. Wrestling House Show is a way for him to share his obsession with anyone who would care to listen.
Current Favorite Wrestlers:
Seth Rollins
Sasha Banks
New Day
Favorite Match:
Lance Storm vs. Jerry Lynn
ECW Anarchy Rulz – 9/19/1999
Villa Park, IL