NJPW THE NEW BEGINNING in NAGOYA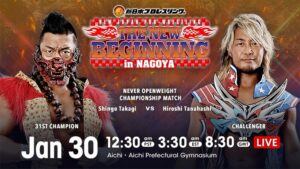 Event Date: January 30, 2021 (17:30 JST)
aired live on NJPW World
#njnbg
City: Naka, Nagoya, Aichi, Japan
Venue: Aichi Prefectural Gymnasium (Dolphin's Arena)
Attendance: 2,156
Tour: The NEW BEGINNING
Commentary (English): Kevin Kelly, El Phantasmo
Commentary (Japanese): Milano Collection AT, Haruo Murata, Hiromu Takahashi (5)
Ring Announcer: Kimihiko Ozaki (1 – 3), Makoto Abe (4 – 5)
Video
The opening video highlights some of the big matches coming up in The New Beginning tour including tonight's main event between Shingo Takagi and Hiroshi Tanahashi for the NEVER Openweight Title.
Match 1
Yujiro Takahashi & EVIL w/ Dick Togo vs Toru Yano & Kazuchika Okada
(referee: Kenta Sato)
Show/Hide Results
Result: Toru Yano pins Yujiro Takahashi with a schoolboy (and a low blow)
Time: 7:46
Match Thoughts
This was fun. Bullet Club did their usual thing and tried to cheat as much as possible, and Yano did the same. The story the commentators were talking about involved EVIL avoiding giving Okada a one on one match, and that was not resolved tonight. Instead, there were a lot of shenanigans with Yujiro and Yano which led to an entertaining finish.
Match 2
BUSHI & Hiromu Takahashi (IWGP Jr. Heavyweight Champ) & Tetsuya Naito & SANADA vs Master Wato & SHO & Tomoaki Honma & Kota Ibushi (IWGP Heavyweight & IC Champ)
(referee: Kenta Sato)
Show/Hide Results
Result: SHO pins BUSHI after Shock Arrow
Time: 11:32
Match Thoughts
Very good match. This had some nice previews for the Hiromu/SHO and Ibushi/SANADA title matches upcoming in the tour, and there was a fun breakdown towards the end. A good, fun, preview match.
Match 3
Great-O-Khan vs Hiroyoshi Tenzan
(referee: Marty Asami; stipulation: The loser can no longer use the Mongolian chop.)
Show/Hide Results
Result: Great-O-Khan wins via pinfall after The Dominator (iron claw slam)
Time: 12:45
Match Thoughts
Very good match. With the brief history between these two (O-Khan sent Tenzan to the hospital earlier this month), and with the stipulation that the loser would be forbidden from ever using the Mongolian chip again, there was some good intrigue in this match. The action was good with lots of power moves and strikes, and the Mongolian chop of course took a central role in the match. I can't say the finish was a complete surprise, but I think it was a great step forward for the Great-O-Khan who is already looking very good since his return from excursion.
Intermission
The ring is cleaned and sanitized during a brief intermission.
Match 4
No DQ Match
Will Ospreay (RPW British Heavyweight Champ) vs Satoshi Kojima
(referee: Marty Asami)
Show/Hide Results
Result: Will Ospreay wins via pinfall after Stormbreaker
Time: 16:57
Match Thoughts
Great match. No DQ matches are a rarity in NJPW, and the uniqueness of them within the promotion makes them a big deal. At least, to me it does. This was a highly entertaining fight with a good amount of weapons and furniture used wisely. Whoever introduced a weapon generally was the person to have that weapon used on them, but that's just how it works in pro wrestling. Ospreay definitely seemed to have the advantage in this type of match, but Kojima did strike back well, especially when he got angry. Just like the match between Great-O-Khan and Tenzan, the result of Ospreay versus Kojima wasn't a huge surprise, but it was a strong step for Ospreay as the leader of his own faction.
Match 5
NEVER Openweight Title Match
Hiroshi Tanahashi vs Shingo Takagi (NEVER Openweight Champ)
(referee: Red Shoes Unno)
Show/Hide Results
Result: Hiroshi Tanahashi wins via pinfall after the High Fly Flow and becomes the 32nd champion in his first reign
Time: 35:40
Match Thoughts
Great match! This was the longest NEVER Openweight Title match in history, and I loved it. Tanahashi felt somewhat like an underdog in the match given Takagi's brutal dominance as champ and Tanahashi's struggles with injuries, but Tanahashi wrestled a very smart match. Tanahashi was able to pull Takagi out of his usual style, and that hurt the champ throughout the match. Takagi usually relies on many, many strikes to go along with his speed and power, but the targets on Tanahashi's knees were too much for Takagi to resist. Takagi and Tanahashi both targeted each other's knees throughout the match, but Tanahashi has much more experience recently with that sort of game plan, so Tanahashi was able to pile on a lot of offense. Takagi started to strike more and more as the match went on, but by that point his own legs were feeling the effects of Tanahashi's attacks. As the match went longer the intensity picked up, and both men seemed like they were one strong move away from a victory. I don't know that I wanted to see this outcome happen the way it did, but I enjoyed it very much regardless.
Ring Area
After the match, Shingo shows respect to Tanahashi and says he wants one more match. Shingo leaves the ring as Tanahashi celebrates. Tanahashi plays some air guitar with the NEVER Openweight Title belt, but he is attacked from behind by the Great-O-Khan. O-Khan hits Tnahashi with The Dominator before issuing a challenge for the NEVER Openweight Title.
Show Impressions
This was a good show. After the two tag previews (which were fun and did their jobs), the three singles matches got increasingly better.
Match of the Night
Hiroshi Tanahashi vs Shingo Takagi
While not Takagi's typical style of NEVER match, the differences Tanahashi brought to this main event made it one of the more memorable NEVER Openweight Title matches.
Official Results (Japanese): https://www.njpw.co.jp/tornament/270331?showResult=1