NJPW Strong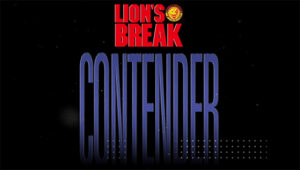 Episode 25
Lion's Break: Contender (Night 2)
#njpwstrong
Original Air Date: January 29, 2021
Event Date: ?
(uploaded to NJPW World)
City: Port Hueneme, CA (unconfirmed)
Venue: Oceanview Pavilion (empty arena) (unconfirmed)
Series: Lion's Break: Contender
Commentary (English): Kevin Kelly, Alex Koslov
Ring Announcer: Adnan Kureishy (ringside)
Intro Video
Ring Area
Kevin Kelly and Alex Koslov welcome us to Lion's Break: Contender.
Video
The hype video for Lion's Break: Contender.
Match 1
The DKC vs Clark Connors
(referee: Nick Bonanno)
Show/Hide Results
Result: Clark Connors wins via submission with a Boston crab
Time: 7:22
Match Thoughts
Good match. With The DKC being a new young lion, that gave this match a bit of a different feeling. Even though we've seen The DKC on Strong before, the black trunks gave the impression that, since Connors is his senior in the L.A. Dojo, The DKC was the underdog and would almost surely lose. Regardless of that, The DKC gave Connors a good fight. It does seem odd for someone to be accepted as a young lion and to be on TV as as soon as they start their new training though. I understand we've seen The DKC before, but other wrestlers were on television before becoming young lions, and to my knowledge they weren't put on a NJPW show until they had progressed far enough in their training. I'm not saying it's a bad thing, I just think it's strange.
Backstage
After the match, Clark Connors says he's looking forward to The DKC's next lesson.
Match 2
"Dirty Daddy" Chris Dickinson vs Rocky Romero
(referee: Justin Borden)
Show/Hide Results
Result: Chris Dickinson wins via submission with an STF
Time: 9:53
Match Thoughts
Very good match. Dickinson is a huge guy and he had a tremendous size advantage over Romero, but Dickinson didn't use a power-based game plan. Instead, Dickinson worked on Romero's legs throughout the match, effectively slowing Romero down quite a lot. Though I didn't expect that from Dickinson, it was very smart. With Romero's speed advantage in trouble, he started to focus on Dickinson's arms instead. So, surprisingly, this match turned into a race for a submission. I enjoyed it, and I'm looking forward to seeing more from Dickinson.
Backstage
After the match, Chris Dickinson doesn't tell us how awesome he is, he tells us about how awesome it was to step into NJPW and tap out one of the most decorated foreigners in the history of the company. As a human being, that means a lot to Chris Dickinson. Dickinson wants to fight and beat everyone in NJPW.
Intermission
We watch some NJPW commercials as the ring is cleaned and sanitized.
Ring Area
Kevin Kelly and Alex Koslov announce that the Road to New Beginning USA tour will begin next week on NJPW Strong.
Match 3
Hikuleo & El Phantasmo & KENTA vs TJP & Lio Rush & Fred Rosser
(referee: Jeremy Marcus)
Show/Hide Results
Result: Lio Rush pins El Phantasmo with a sunset flip
Time: 11:54
Match Thoughts
Very good match. There was a wide variety of wrestling styles on display to keep the action unpredictable, and there was a fair amount of anger within some of these rivalries to add emotion to the fight. Lio Rush wanted some revenge on El Phantasmo after their match in the Super J-Cup, and Rosser was gunning for Hikuleo. Those pairings did interact quite a lot, but everyone mixed it up with everyone throughout the match. This was a lot of fun.
Ring Area
After the match, Bullet Club attacks their opponents. The lights go out, and when they come back on Jon Moxley is in the ring with the U.S. Title. Moxley eliminates ELP and Hikuleo from the ring, and he hits KENTA with Death Rider. With KENTA flat on his back, Moxley informs him that his dream of becoming the U.S. Champion has just become a nightmare.
Show Impressions
This was a good show. It had two nice undercard matches that helped build up some of the performers, and the main event was very good. Plus, the surprise of seeing Jon Moxley finally back in an NJPW ring was great. It remains to be seen when and where the U.S. Title match will happen, but at least we know it's happening.
Match of the Night
Bullet Club vs TJP & Rush & Rosser
Variety and excitement.
Official Results: https://www.njpw1972.com/tornament/89384?showResult=1