NJPW Strong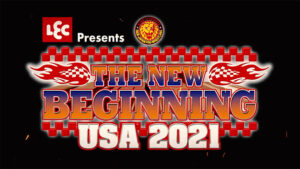 Episode 26
Road to The New Beginning USA (Night 1)
#njpwstrong
Original Air Date: February 5, 2021
Event Date: ?
(uploaded to NJPW World)
City: Port Hueneme, CA (unconfirmed)
Venue: Oceanview Pavilion (empty arena) (unconfirmed)
Series: The New Beginning USA
Commentary (English): Kevin Kelly, Alex Koslov
Ring Announcer: Adnan Kureishy (ringside)
Intro Video
Ring Area
Kevin Kelly and Alex Koslov welcome us to The Road to New Beginning USA.
Video
The hype video for The New Beginning USA tour.
Match 1
The DKC vs Kevin Knight
(referee: Justin Borden)
Show/Hide Results
Result: The DKC wins via submission with a triangle choke
Time: 7:23
Match Thoughts
Good match. Kevin Knight was aggressive and had some nice moments throughout the match, but The DKC was able to remain calm and counter-attack well. I still feel like The DKC should have gone away for a while before seeing him as a young lion, but he's providing good matches so I can't complain.
Ring Area
Via a video conference call, Kevin Kelly welcomes Jon Moxley. Moxley explains that despite what KENTA and his friends have been saying, the only path to the US Heavyweight Championship is through Jon Moxley. Moxley goes on to talk about how KENTA inspired a generation of wrestlers, but he's not the same wrestler he used to be now that he's in the Bullet Club. Moxley wants to fight the real KENTA.
Match 2
The Riegel Twins & Barrett Brown & Brody King vs Jordan Clearwater & Adrian Quest & Misterioso & Bateman
(referee: Nick Bonanno)
Show/Hide Results
Result: Bateman pins Barrett Brown after This is a Kill (spinning tombstone piledriver)
Time: 11:19
Match Thoughts
Very good match. The action was chaotic and fast-paced pretty much from bell to bell. Both teams are really odd combinations of individuals (and one tag team), and for the most part this was a tag match full of individual efforts. Even so, it was a lot of fun.
Backstage
After the match, Bateman congratulates his team despite claiming to have done most of the heavy lifting himself.
Intermission
As the ring is cleaned and disinfected, we are treated to another LEC Gekiochikun commercial featuring the LA Dojo young lions (and Karl Fredericks).
Match 3
TJP vs Rey Horus
(referee: Jeremy Marcus)
Show/Hide Results
Result: Rey Horus wins via pinfall with a victory roll slam off the top rope
Time: 10:41
Match Thoughts
Great match. TJP made it look effortless with his smooth transitions and innovative technical moves, but Rey Horus was willing to take some big risks for some big rewards.
Show Impressions
This was a fun show. NJPW Strong continues to build up some of their newer stars, and the matches continue to be very entertaining.
Match of the Night
TJP v Rey Horus
A bit of a surprise finish, and a very well done match.
Official Results: https://www.njpw1972.com/tornament/90210?showResult=1