NJPW THE NEW BEGINNING in HIROSHIMA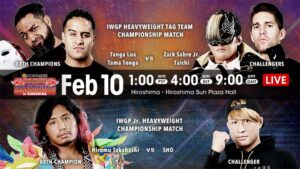 Night 1
Event Date: February 10, 2021 (18:00 JST)
aired live on NJPW World
#njnbg
City: Nishi, Hiroshima, Hiroshima, Japan
Venue: Hiroshima Sun Plaza Hall
Attendance: 1,135
Tour: The NEW BEGINNING
Commentary (English): Kevin Kelly, El Phantasmo (5, 6)
Commentary (Japanese): Milano Collection AT, Jushin Thunder Liger, Koki Yamazaki (1, 6), Yuichi Tabata (2, 4), Hiroki Mikami (3, 5), Yoshinobu Kanemaru (4, 5), Hiroshi Tanahashi (6)
Ring Announcer: Kimihiko Ozaki (1 – 3), Makoto Abe (4 – 6)
Video
The opening video highlights some of the big matches coming up over the next two days in The New Beginning in Hiroshima including tonight's IWGP Tag Title match and IWGP Jr. Heavyweight Title match.
Match 1
Yuya Uemura & Gabriel Kidd & Yota Tsuji vs Yoshinobu Kanemaru & El Desperado & Minoru Suzuki
(referee: Kenta Sato)
Show/Hide Results
Result: Minoru Suzuki forces Referee Stoppage by applying a half Boston crab to Yuya Uemura after a series of strikes
Time: 8:01
Match Thoughts
This was a very good opener. The big story here was Yuya Uemura repeatedly going after Minoru Suzuki during the New Beginning tour. It was clear to everyone that Uemura would be in for a beating tonight, but his young lion partners did a great job supporting him in this six-man tag. Gabriel Kidd was especially good at setting up Tsuji and Uemura to shine in the ring. Suzuki was isolated three on one for a while, and that was a lot of fun to see. Of course, that just made him even more angry, and he took out that anger on Uemura at the end of the match (which was also fun to see).
Match 2
BUSHI vs Master Wato w/ Hiroyoshi Tenzan
(referee: Kenta Sato)
Show/Hide Results
Result: BUSHI wins via pinfall after MX
Time: 11:08
Match Thoughts
Very good match. Master Wato gets better and better as time goes on, and this match with BUSHI was quite fun and exciting. Wato started with a flurry of offense after attacking BUSHI before the bell. Wato was smart, and even though he took some risks, he did his best to eliminate some of BUSHI's common tricks (like the shirt he wear just to choke people with). It took a while for BUSHI to really start fighting back, but once he did there was a really nice back-and-forth between the two of them. The final few minutes were filled with some nice, impactful moves, and I really enjoyed the finish.
Match 3
El Phantasmo (IWGP Jr. Tag Champ) & Taiji Ishimori (IWGP Jr. Tag Champ) & Yujiro Takahashi & EVIL w/ Dick Togo & Jay White w/ Gedo vs YOSHI-HASHI (NEVER 6-Man Champ) & Tomohiro Ishii (NEVER 6-Man Champ) & Hirooki Goto (NEVER 6-Man Champ) & Toru Yano (KOPW 2021 Provisional Champ) & Kazuchika Okada
(referee: Kenta Sato)
Show/Hide Results
Result: Toru Yano pins Yujiro Takahashi with a schoolboy (after a low blow)
Time: 12:08
Match Thoughts
This was a fun, chaotic battle. As soon as Chaos hit the ring, everybody went to work beating someone up. The match did settle down to some one-on-ones after a while, but for the most part this was a huge melee. The big pairings included Okada versus EVIL, White versus Ishii, and Yano versus Takahashi. It was all fun, though this match was definitely more about previews than about having a great match tonight.
Intermission
The ring is cleaned and disinfected during a brief intermission.
Match 4
Tetsuya Naito & SANADA vs Tomoaki Honma & Kota Ibushi (IWGP IC & Heavyweight Champ)
(referee: Marty Asami)
Show/Hide Results
Result: Tetsuya Naito pins Tomoaki Honma after Destino
Time: 11:02
Match Thoughts
Very good match. This was a preview for Ibushi versus SANADA tomorrow night, and for that it was very good. Ibushi and SANADA started the match against each other, and they stayed focused on each other pretty much the entire time. Naito had some fun with Honma as well, but this was all about tomorrow's double-title match. There's a lot of respect between SANADA and Ibushi heading into their match, and I expect their match to be great.
Match 5
IWGP Tag Team Title Match
Dangerous Tekkers w/ Douki vs Guerrillas of Destiny (IWGP Tag Champs) w/ Jado
(referee: Marty Asami)
Show/Hide Results
Result: Guerrillas of Destiny win via DQ (after Taichi hits Tama Tonga with the iron fingers) and retain the IWGP Tag Team Titles in the first defense of their seventh reign
Time: 29:08
Match Thoughts
Great match. It started with Tama Tonga taunting Taichi again after stealing the iron fingers from him. Tama brought a bunch of paper bags to the ring, and Taichi went through them hoping to find the fingers. Of course he didn't, and of course the bags were just distractions that worked in the champs' favor every single time. So the start of the match was kind of goofy, but it got a lot more serious as it went on. Everyone looked great, and the final third of the match was especially entertaining. The iron fingers did make an appearance towards the end of the match, and that really became the focus of the drama and tension. Would Taichi regain his iron fingers? Would Tama use them first? Are the fingers cursed and driving both Tama and Taichi insane? Two of those questions are answered by the end of the match.
Match 6
IWGP Jr. Heavyweight Title Match
SHO vs Hiromu Takahashi (IWGP Jr. Heavyweight Champ)
(referee: Red Shoes Unno)
Show/Hide Results
Result: Hiromu Takahashi wins via pinfall after Time Bomb II and retains the title in the first defense of his fourth reign
Time: 35:38
Match Thoughts
Great match! There were some high-risk movies here and there in the earlier stages of the match, but most of this match was fought head to head in the center of the ring. Hiromu and SHO both displayed great strength and resilience, and a lot of the fight came down to striking to wear the other man down enough to hit a finisher. There were bursts of high-energy offense, big slams, and submission attempts, but again, both men would always to back to strong-style tactics. SHO had the strength advantage, but Hiromu's uncanny stamina kept him fighting like the champion he is. The battle of wills was as great as the jr. heavyweight action in this title match.
Ring Area
After the match, El Phantasmo gets up from the English announce table and sets up to kick Hiromu in the face. BUSHI runs to the ring and tries to stop ELP, but Taiji Ishimori runs out to keep BUSHI occupied. ELP goes for a superkick, but Hiromu avoids the strike and begins to beat up ELP. ELP rolls out of the ring and is joined by Ishimori at ringside. ELP says he is sick and tired of Hiromu carrying the Jr. Heavyweight Title, and he's not leaving Japan until he takes that title from Hiromu.
In the ring, Hiromu says he'll give El Phantasmo a title shot on one condition: ELP and Ishimori have to put the Jr. Tag Titles on the line first. With that, ELP and Ishimori leave. Hiromu then talks about how the world is losing energy. Since the fans can't yell out, Hiromu will yell for then until the world is finally back to where it once was.
Show Impressions
This was a fun show. A few nice preview matches and two very entertaining title matches. I'm not surprised neither titles changed hands tonight, but I do hope SHO gets another title shot somewhere down the road. I expect he will.
Match of the Night
SHO vs Hiromu Takahashi
A great main event on any night.
Official Results (Japanese): https://www.njpw.co.jp/tornament/271720?showResult=1