NJPW Strong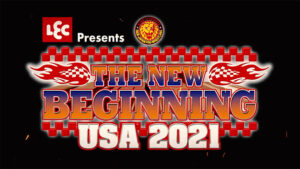 Episode 27
Road to The New Beginning USA (Night 2)
#njpwstrong
Original Air Date: February 12, 2021
Event Date: ?
(uploaded to NJPW World)
City: Port Hueneme, CA (unconfirmed)
Venue: Oceanview Pavilion (empty arena) (unconfirmed)
Series: The New Beginning USA
Commentary (English): Kevin Kelly, Alex Koslov
Ring Announcer: Adnan Kureishy (ringside)
Intro Video
Ring Area
Kevin Kelly and Alex Koslov welcome us to the second night of The Road to New Beginning USA.
Video
The hype video for The New Beginning USA tour.
Match 1
JR Kratos vs Jordan Clearwater
(referee: Nick Bonanno)
Show/Hide Results
Result: JR Kratos wins via pinfall after a fisherman buster
Time: 6:20
Match Thoughts
Good match, though it was kind of a squash. Clearwater is good, but he couldn't figure out how to attack Kratos. Therefore, Kratos dominated.
Ring Area
Joining Kevin Kelly via a video call is KENTA. KENTA says he's been waiting for his match with Jon Moxley for a long time, but Moxley's attack recently on Strong was cheap. Calmly, KENTA says he's just going to beat Moxley up and take his title. KENTA also says he is the best person to represent NJPW as the first-ever Japanese United States Heavyweight Champion.
Match 2
Clark Connors vs Bateman
(referee: Justin Borden)
Show/Hide Results
Result: Bateman wins via pinfall after This Is A Kill (tombstone piledriver)
Time: 8:41
Match Thoughts
Good match. Connors fought well, but Bateman was in control of most of this match. Bateman had a few good counters to some of Connors' aggressive attacks, and that proved to be enough tonight.
Backstage
After the match, Bateman says Connors is tough, but Bateman is the captain now.
Intermission
The ring is cleaned and sanitized during a brief intermission.
Match 3
Danny Limelight & Chris Dickinson vs Ren Narita & TJP
(referee: Jeremy Marcus)
Show/Hide Results
Result: Chris Dickinson submits TJP with an STF
Time: 15:04
Match Thoughts
Very good match. Dickinson was the major force in this match, and everyone just kind of moved around him. Limelight didn't spend a lot of time legal in the match, and his role in the later stages was mainly in support of what Dickinson was doing. Narita and TJP took turns battling Dickinson with some success, but it wasn't enough for them in the end.
Ring Area
After the match, Ren Narita approaches Chris Dickinson. A brawl breaks out between the two teams, but Dickinson and Limelight clear Narita and TJP out to the floor.
Show Impressions
This was a fine show. No surprises, but I enjoyed the main event very well.
Match of the Night
Danny Limelight & Chris Dickinson vs Ren Narita & TJP
A solid match that continued to build up Chris Dickinson.
Official Results: https://www.njpw1972.com/tornament/90651?showResult=1