NJPW Strong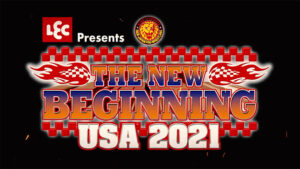 Episode 28
The New Beginning USA (Night 1)
#njpwstrong
Original Air Date: February 19, 2021
Event Date: ?
(uploaded to NJPW World)
City: Port Hueneme, CA
Venue: Oceanview Pavilion (empty arena)
Series: The New Beginning USA
Commentary (English): Kevin Kelly, Alex Koslov
Ring Announcer: Adnan Kureishy (ringside)
Intro Video
Ring Area
Kevin Kelly and Alex Koslov welcome us to the first night of The New Beginning USA!
Video
The hype video for The New Beginning USA tour.
Match 1
The DKC & Barrett Brown & Rey Horus vs Adrian Quest & Misterioso & Rocky Romero
(referee: Nick Bonanno)
Show/Hide Results
Result: Rocky Romero submits Barrett Brown with the Diablo Armbar
Time: 10:13
Match Thoughts
This was a fast and fun opening match. As is often the case on Strong, both teams were a mix of strong individual personalities, so there there were a lot of good individual efforts. I think Rey Horus's team worked a little better as a three-man unit, and they were able to pull off a few tandem moves throughout the match. Mostly though, this was an even fight that came down to the final two men in the ring. There was a little intrigue added to the match by the commentators. They mentioned that Barrett Brown need to start finding a way to win, otherwise he might not be a part of the Strong roster for much longer. Brown did look aggressive tonight, but whether he'll be around after this match isn't guaranteed.
Backstage
Barrett Brown is upset. Rey Horus and The DKC try to calm him down, but Brown is inconsolable and worried about his job after tonight's opening match.
Match 2
Hikuleo vs Fred Rosser
(referee: Justin Borden)
Show/Hide Results
Result: Fred Rosser wins via pinfall with a backslide (while pulling Hikuleo's hair)
Time: 10:40
Match Thoughts
Very good match. Rosser wasn't intimidated by Hikuleo, and the two men fought a fairly even match for the first few minutes. A boot from Hikuleo while Rosser was on the ropes abruptly changed the tone of the match though. Rosser was sent to the floor, and after a big powerslam from Hikuleo, Rosser had trouble regaining any sort of advantage in the match. Rosser kept fighting, but Hikuleo dominated most of the rest of the match. Rosser had to find ways to try to get in attacks and holds any way he could, and that led to a fun finish.
Backstage
Hikuleo is pissed because Fred Rosser cheated more effectively than he did. Hikuleo wants a rematch with a new referee.
Match 3
Lio Rush vs El Phantasmo
(referee: Jeremy Marcus)
Show/Hide Results
Result: El Phantasmo wins via pinfall after Sudden Death (superkick)
Time: 14:05
Match Thoughts
Very good match. The action in this rematch from the first round of last year's Super J-Cup was was as fast as you might expect. There was some good tension in this grudge match. Rush wanted revenge for ELP cheating to win in their previous fight, and ELP kept doing what he always does: aggravate and annoy. ELP also made sure to adjust his maybe/maybe-not loaded boot as a bit of foreshadowing as the bell rang to begin the match. The finish was frustrating as many of ELP's matches tend to be, but hopefully this is building up to a nice payoff at some point.
Backstage
After the match, El Phantasmo gloats and claims to be the ace of the NJPW Jr. Division. If Lio Rush wants to make a name for himself in the division, he has to get through ELP.
Show Impressions
I enjoyed this show. The main event really captured my attention, and the two undercard matches were really good. KENTA versus Moxley next week is definitely the highlight of The New Beginning USA, but tonight's show felt like more than jut a warmup to that. It stands alone as a very good show.
Match of the Night
Lio Rush vs El Phantasmo
Yes, the finish was frustrating, but it was also well done. ELP did his job, and he continues to make me want to see people beat him. Plus, Lio Rush was great as always.
Official Results: https://www.njpw1972.com/tornament/91273?showResult=1