AEW Dark: Elevation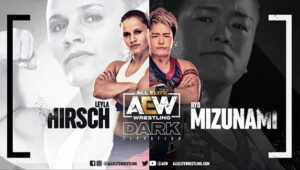 Episode 2
#AEWElevation
Original Air Date: March 22, 2021
Event Date: March 11, 2021
(streamed and archived on YouTube)
City: Jacksonville, FL
Venue: Daily's Place
Commentary: Tony Schiavone, Paul Wight
Ring Announcer: Justin Roberts
Match 1
Tay Conti w/ -1 vs Ray Lyn
(referee: Aubrey Edwards)
Show/Hide Results
Result: Tay Conti wins via pinfall after a hammerlock DDT
Time: 4:11
Match Thoughts
Good match. Ray Lyn tried to get some offense, but Tay Conti had control of most of this match. Conti looked best when she was throwing Lyn around and hitting strikes. This was another solid match for Conti.
Match 2
"Big Shotty" Lee Johnson w/ Dustin Rhodes vs Adam Priest
(referee: Rick Knox)
Show/Hide Results
Result: Lee Johnson wins via pinfall after the Brain Dog (arm trap fisherman neckbreaker on his knee)
Time: 5:42
Match Thoughts
Good match. Adam Priest put up more of a fight than I expected, and he probably pinned Johnson at one point even though the ref stopped counting. Johnson looked good though, and he attacked with a mixture of high-risk and high-impact moves.
Backstage
Dasha Gonzalez welcomes "The Hollywood Hunk" Ryan Nemeth. As a trained professional wrestler, Nemeth is disgusted and offended by Orange Cassidy.
Match 3
The Varsity Blonds vs Fuego Del Sol & Jake St. Patrick
(referee: Frank Gastineau)
Show/Hide Results
Result: Griff Garrison pins Fuego Del Sol after a discus punch
Time: 5:48
Match Thoughts
Good match. The Varsity Blonds had some good chemistry, but their opponents didn't do themselves any favors. Fuego Del Sol ended the match for his team, and he repeatedly gave Pillman chances to tag out before Garrison finally tagged himself in and finished the match.
Video
A commercial for AEW's Casino mobile games.
Match 4
"Platinum" Max Caster vs Ryzin
(referee: Paul Turner)
Show/Hide Results
Result: Max Caster wins via pinfall after a diving elbow drop
Time: 6:36
Match Thoughts
Good match. Ryzin got in some good offense after a strong start from Caster, but Caster took over as the match went on. Caster looked like he hurt his leg at one point late in the match, but it didn't play a huge factor since Ryzin wasn't able to capitalize because of how quickly the match ended after that. It makes me wonder if Caster really did hurt himself in the match.
Video
A look at Red Velvet and her rise within AEW.
Match 5
Madi Wrenkowski & "The Librarian" Leva Bates vs Red Velvet & Big Swole
(referee: Frank Gastineau)
Show/Hide Results
Result: Red Velvet pins Madi Wrenkowski after a shotgun dropkick to the side of the head
Time: 4:54
Match Thoughts
Good match. Big Swole and Red Velvet had some nice chemistry as a team, but Madi Wrenkowski and Lev Bates had the exact opposite of chemistry. Wrenkowsky hit Bates with her own book at one point during the match, and that prompted Bates to leave the ring and leave Wrenkowski to get destroyed by Swole and Velvet.
Ring Area
After the match, Vickie Guerrero comes out with Nyla Rose and Jade Cargill. Red Velvet and Big Swole invite the trio into the ring, but Guerrero, Rose, and Cargill just smirk as they walk away.
Backstage
Dasha Gonzalez asks Ethan Page about his match tonight. Page is facing #5 of the Dark Order, but the only number that matters to Page is his number of wins. Tonight that number will go up.
Match 6
"Absolute" Ricky Starks & Powerhouse Hobbs w/ Hook vs Jorel Nelson & Royce Isaacs
(referee: Aubrey Edwards)
Show/Hide Results
Result: Ricky Starks pins Jorel Nelson after Roshambeaux
Time: 3:39
Match Thoughts
Good match. Even though Starks took some offense from Nelson and Isaacs late in the match, I would still consider this a squash thanks to Powerhouse Hobbs and his utter dominance. Hook also made his presence felt with a trip from ringside.
Video
Coming in April: Outside the Ring hosted by Lexy Nair.
Match 7
Danny Limelight vs Baron Black
(referee: Mike Posey)
Show/Hide Results
Result: Danny Limelight wins via submission with Morir Soñando (sleeper hold)
Time: 4:49
Match Thoughts
Good match. Limelight started out with some impressive moves using the ropes, but he was a little too proud of himself and got caught with a series of very nice power moves by Baron Black. Limelight would eventually come back with some well-placed dives, and that led to a good finish. I'm happy to see Limelight do well in AEW, and I hope he can continue to climb up in the rankings.
Match 8
"The Hollywood Hunk" Ryan Nemeth vs "Freshly Squeezed" Orange Cassidy w/ Chuck Taylor
(referee: Bryce Remsburg)
Show/Hide Results
Result: Orange Cassidy wins via pinfall with a mouse trap
Time: 7:00
Match Thoughts
Very good match. Cassidy started by frustrating Nemeth with lots of casual dodges of Nemeth's attempted attacks, but partway through the match Nemeth began to mount some good offense. Nemeth went after Cassidy's left arm, and the strategy worked well. Nemeth focused most of the rest of his holds and strikes on Cassidy's arm, and that hampered Cassidy's ability to hit some of his strongest offense (like the Orange Punch) and even his ability to go for solid covers. Cassidy had to look for a different way to win, and that's where his technical prowess came in extremely useful. This was a solid match for both guys.
Ring Area
After the match, Nemeth attacks Orange Cassidy with a neckbreaker. Chuck Taylor runs out and attacks Nemeth, and that brings out JD Drake to attack Chuck Taylor. Drake and Nemeth leave the ring together as Taylor and Cassidy get to their feet in the ring.
Match 9
"All Ego" Ethan Page vs Alan "5" Angels w/ -1, Evil Uno, Stu Grayson, Alex Reynolds, John Silver, Preston Vance, Colt Cabana
(referee: Mike Posey)
Show/Hide Results
Result: Ethan Page wins via pinfall after Ego's Edge
Time: 7:09
Match Thoughts
Very good match. Ethan Page didn't think much of Alan Angels as the match started, and that allowed Angels to surprise Page with multiple sequences of quick and agile attacks. Angels was doing great and consistently wearing Page down, but a few big misses by Angels opened the door for Page to mount a comeback. Page capitalized on the opportunity and made fairly short work of Angels once Page had momentum on his side. This match was a great example of how fun and exciting Alan Angels can be, and it was a nice step forward for Ethan Page in AEW.
Ring Area
After the match, Ethan Page ends a message to his future competition in AEW. They all just got a free lesson on how to be the best professional wrestler. For all of us at home, we need to get used to Ethan Page's face.
Match 10
Ryo Mizunami vs Leyla Hirsch
(referee: Paul Turner)
Show/Hide Results
Result: Ryo Mizunami wins via submission with a head and arm triangle
Time: 7:58
Match Thoughts
Very good match. This had a lot of strong-style sequences with the trading of strikes and back-and-forth action, and I enjoyed it quite a lot. Leyla Hirsch seemed more aggressive than usual tonight, and I really like that side of her. Her personality seems like it's really starting to show through more in the ring. Hopefully this is the start of great things for Hirsch. Mizunami looked great as well. One of the fun things about this match is that since both women were more or less evenly matched in term of toughness and striking, they each had to bring something else into the match to make a difference. Hirsch showed some of her high-flying kills, and Mizunami showed some of her submission skills. Hirsch attempted some submissions of her own, but Mizunami's was able to block and counter Hirsch's attempts with great effectiveness. That proved to be the biggest difference in the match, and it led to a very nice finish. I'd like to see these two women fight again.
Show Impressions
I enjoyed this episode. The triple main event was fun and made the whole show worth watching.
Match of the Night
Ethan Page vs Alan Angels / Ryo Mizunami vs Leyla Hirsch
It's a tie for me tonight. I enjoy both of these matches for different reasons, and I can't really decide which I like better.