NJPW New Japan Cup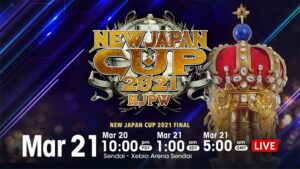 Final
Event Date: March 21, 2021 (14:00 JST)
aired live on NJPW World
#njcupfinal
City: Sendai, Miyagi, Japan
Venue: Xebio Arena Sendai
Attendance: 2,299
Tour: New Japan Cup 2021
Commentary (English): Kevin Kelly, Gino Gambino, Chris Charlton
Commentary (Japanese): Milano Collection AT, Yusuke Okamoto, Koki Yamazaki (1, 4), Yohei Onishi (2, 6), Shinji Yoshino (3, 5), Kota Ibushi (6)
Ring Announcer: Kimihiko Ozaki (1 – 3), Makoto Abe (4 – 6)
Video
The opening video looks at Will Ospreay and Shingo Takagi as they head into tonight's New Japan Cup final match.
Ring Area
As the match begin, YOH comes out and heads to the ring. YOH says he's been away for a while, but he's ready to get back in the ring. He will be at Sakura Genesis on April 4, and he wants to challenge for the IWGP Jr. Heavyweight Tag Titles. On behalf of his Roppongi 3K partner SHO, YOH issues a challenge to the current champs, El Desperado and Yoshinobu Kanemaru.
Match 1
Yuya Uemura & Gabriel Kidd & Yota Tsuji vs Douki & Zack Sabre Jr. & Taichi
(referee: Kenta Sato)
Show/Hide Results
Result: Taichi pins Yota Tsuji after a backdrop suplex (Dangerous Backdrop)
Time: 10:39
Match Thoughts
Very good match. The young lions were ready for this fight, and they looked great tonight. Kidd versus ZSJ was super fun, and so was Tsuji versus Taichi. Tsuji definitely showed a lot tonight, and despite a small misstep trying to hit a springboard move, he really took the fight to Taichi. This was an energetic and fun way to start the show. I think it once again showed that all three of these young lions are ready for excursion whenever the worldwide situation will allow for it.
Match 2
Great-O-Khan & Jeff Cobb vs Tomoaki Honma & Satoshi Kojima
(referee: Kenta Sato)
Show/Hide Results
Result: Jeff Cobb pins Tomoaki Honma after Tour of the Islands
Time: 8:58
Match Thoughts
Very good match. Honma and Kojima put up a good fight, but Cobb and Great-O-Khan set a good tone for The United Empire tonight. After a bit of a slow stars, Cobb and Khan worked very well together as a team, and they were able to overcome everything their opponents threw at them. Honma ended up taking most of the damage for his team, and Kojima wasn't able to support his partner in the end.
Match 3
Yujiro Takahashi & KENTA & EVIL w/ Dick Togo vs SHO & YOSHI-HASHI (NEVER 6-Man Tag Champ) & Toru Yano (KOPW 2021 Provisional Champ)
(referee: Marty Asami)
Show/Hide Results
Result: Yujiro Takahashi pins YOSHI-HASHI after Pimp Juice (and a shot from his pimp cane)
Time: 9:24
Match Thoughts
Good match. Bullet Club dominated most of this match, and it started with a pre-match attack. Chaos tried to fight back, but Bullet Club seemed to be a few steps ahead of them at almost every turn. This was a fine performance for Bullet Club. More than anything though, with the way the match ended, it felt like this match was little more than a setup for new challengers for the NEVER 6-Mn Tag Champs.
Ring Area
After the match, Bullet Club continues to beat up the members of Chaos. During the assault, KENTA chokes YOSHI-HASHI with his own bo staff. KENTA then leaves the ring area with YOSHI-HASHI's bo.
Intermission
The ring is cleaned and sanitized during a brief intermission.
Match 4
BUSHI & SANADA & Tetsuya Naito vs Toa Henare & David Finlay (Impact Tag Champ) & Juice Robinson (Impact Tag Champ)
(referee: Marty Asami)
Show/Hide Results
Result: SANADA pins Toa Henare with a bridging O'Connor Roll
Time: 10:10
Match Thoughts
Very good match. LIJ, especially Naito, were having a lot of fun in this match. Really, everyone was having fun except for Henare. Henare was frustrated heading into the match, and the results didn't help his frame of mind at all. The new Impact Tag Champs, FinJuice, did well though. They had some good back and forth action with LIJ, and Juice in particular had a very dominating sequence on the middle of the match. The best part of the match, however, was watching Naito mock FinJuice constantly. I could watch that all night.
Match 5
Kazuchika Okada & Hiroshi Tanahashi (NEVER Openweight Champ) & Kota Ibushi (IWGP IC & Heavyweight Champ) vs Chase Owens (NWA Texas Heavyweight Champ) & Bad Luck Fale & Jay White w/ Gedo
(referee: Red Shoes Unno)
Show/Hide Results
Result: Kota Ibushi pins Chase Owens after Kamigoye
Time: 11:31
Match Thoughts
Very good match. The super team of Ibushi, Tanahashi, and Okada is fun to watch, but they don't necessarily work super well together as the three-person unit. Bullet Club, of course, worked very well together. Despite their superior teamwork though, the individual efforts of the super team were difficult to overcome for Bullet Club. The final result of the match was no surprise, but there was some fun action to be seen here.
Match 6
New Japan Cup 2021 Final Match
Will Ospreay (RPW British Heavyweight Champ) w/ Bea Priestley, Jeff Cobb, Great-O-Khan vs Shingo Takagi
(referee: Red Shoes Unno)
Show/Hide Results
Result: Will Ospreay wins via pinfall after Stormbreaker
Time: 30:06
Match Thoughts
Great match. Ospreay came into the match with a broken nose, and Shingo came in with a hurting back. Both men took full advantage of their opponent's injuries, focusing their attacks on those body parts for most of the match. As with Ospreay and Shingo's previous matches against each other, the action was fast and very hard-hitting. Ospreay seemed to focus a bit more on speed while Shingo focused on power, but both guys were easily able to adapt and the the other's style. There were plenty of great sequences with fun counters and quick action, and overall this was another great match in the long-running rivalry between Ospreay and Shingo.
Ring Area
After the match, The United Empire joins Will Ospreay in the ring as he talks about dominating the New Japan Cup and the heavyweight division. Ospreay calls out Kota Ibushi who has been doing commentary at ringside, and Ibushi heads to the ring. Ospreay tells Ibushi that he agrees with him about unifying the IC and Heavyweight Championships. Ospreay says he doesn't care about history, he just cares about being number one. Right now, Ibushi is number one, so Ospreay will do anything he has to in order to take Ibushi's number one spot away from him.
Ospreay says he love the IWGP World Heavyweight Title more than anything… and more than anyone. With that, Ospreay hits Bea Priestley with the OsCutter. Shocked, Ibushi steps forwards towards Priestley, but his way is blocked by Cobb and Great-O-Khan. Everyone stands in stunned silence for a few moments until The United Empire (minus Bea Priestley) walks away with the Ospreay holding the New Japan Cup trophy in his arms.
Show Impressions
This was a very good show. It was really a one-show match, but the undercard tag matches were fun.
Match of the Night
Will Ospreay vs Shingo Takagi
I imagine this won't be the last time we see these two face each other, and that's perfectly fine with me.
Official Results (Japanese): https://www.njpw.co.jp/tornament/278336?showResult=1