NJPW Strong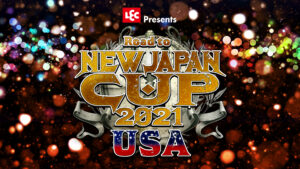 Episode 34
Road to New Japan Cup USA 2021
#njpwstrong
Original Air Date: April 2, 2021
Event Date: ?
(uploaded to NJPW World)
City: Port Hueneme, CA
Venue: Oceanview Pavilion (empty arena)
Series: The New Japan Cup USA 2021
Commentary (English): Kevin Kelly, Alex Koslov
Ring Announcer: Adnan Kureishy (ringside)
Ring Area
Kevin Kelly and Alex Koslov welcome us to The Road to New Japan Cup USA 2021 and tell us about tonight's matches.
After going over tonight's show, referees bring the New Japan Cup USA trophy to the ring. Kevin Kelly explains that the winner of the tournament will gain possession of the cup, but they won't be a contender for the IWGP United States Heavyweight Title like last year's winner was. Instead, the winner of this year's tournament will be the first NJPW Strong Openweight Champion. The Strong Openweight Title is displayed in the ring.
Match 1
Kevin Knight vs Rocky Romero
(referee: Chad Rico)
Show/Hide Results
Result: Rocky Romero wins via submission with the Diablo Armbar
Time: 8:39
Match Thoughts
Good match. Kevin Knight was very aggressive (as most young lions tend to be), and he managed to get quite a lot of offense on Romero. Romero didn't seem to have too much trouble absorbing the punishment and waiting for his moments to strike back, but Knight's offense looked very strong regardless. The finish was well done and not unexpected, and both men came away from this match looking good.
Match 2
Misterioso & "The Golden Boy" Jordan Clearwater vs Alex Coughlin & TJP
(referee: Justin Borden)
Show/Hide Results
Result: TJP pins Jordan Clearwater after the Mamba Splash
Time: 13:56
Match Thoughts
Very good match. TJP and Alex Coughlin make a great team. Coughlin was aggressive and used his strength to dominate his opponents, and TJP used his speed and technique to keep his opponents off-balance. It was a great combination that Clearwater and Misterioso could never really handle. The match wasn't completely one-sided, but Coughlin and TJP did seem to come out on top of most of the exchanges. This was fun.
Backstage
Via video chat, Kevin Kelly speaks with Tom Lawlor, JR Kratos, and Chris Dickinson. Team Filthy doesn't really seem to want to talk though…
Intermission
The ring is cleaned and disinfected during a brief intermission.
Match 3
"Dirty Daddy" Chris Dickinson & "Filthy" Tom Lawlor & "The Most Feared" JR Kratos vs The Riegel Twins & Brody King
(referee: Jeremy Marcus)
Show/Hide Results
Result: Chris Dickson wins via KO on Sterling Riegel with a forearm to the chin
Time: 10:43
Match Thoughts
Very good match. The action went back and forth somewhat throughout the match, but Team Filthy was definitely more dominant. Sterling Riegel got isolated early in the match, but he and his brother Logan did manage to use some double teams to keep themselves in the fight. The action picked when Brody King got tagged in, but Team Filthy did a good job of keeping Brody from getting on too much of a roll. Late in the match, JR Kratos turned into a monster and attacked all three of his opponents, and that began the end of Brody King's team. Team Filthy had a strong performance tonight (and the Riegel Twins had a brutally tough night, especially with some of the shots thrown by Kratos and Dickinson).
Ring Area
After the match, Tom Lawlor tells Chris Dickinson to break Sterling Riegel's arm. Dickinson is reluctant to attack Riegel whom he just knocked out. After thinking about it, Dickinson refuses to attack Sterling. JR Kratos apparently doesn't have any problem attacking someone who can't defend himself, and he stomps on Sterling's outstretched arm. Team Filthy leaves as Logan Riegel Brody King, and staff members check on Sterling. Kevin Kelly and Alex Kozlov wonder if Sterling's arm is broken as the show ends.
Show Impressions
This was a fun show. I think it did a pretty nice job of setting up the New Japan Cup 2021 USA, mostly with the announcement of the new NJPW Strong Openweight Championship. The stkes have been raised, and I'm looking forward to the tournament.
Match of the Night
Misterioso & Jordan Clearwater vs Alex Coughlin & TJP
All of tonight's matches were enjoyable, but I had the most fun with this one. I'd like to see TJP and Coughlin team up more.
Official Results: https://www.njpw1972.com/tornament/94360?showResult=1