NJPW Strong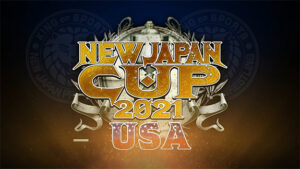 Episode 36
New Japan Cup 2021 USA
#njpwstrong
Original Air Date: April 16, 2021
Event Date: ?
(uploaded to NJPW World)
City: Port Hueneme, CA
Venue: Oceanview Pavilion (empty arena)
Series: New Japan Cup USA 2021
Commentary (English): Kevin Kelly, Alex Koslov
Ring Announcer: Adnan Kureishy (ringside)
Video
The show begins with a short video showcasing the eight men entered into the New Japan Cup 2021 USA tournament.
Ring Area
Kevin Kelly and Alex Koslov welcome us to the semi-finals of the New Japan Cup USA 2021 and tell us about tonight's matches.
Match 1
"Golden Boy" Jordan Clearwater & "Young Fuego" Adrian Quest & "50 Caliber" Barrett Brown & Misterioso vs The DKC & Kevin Knight & Alex Coughlin & "Alpha Wolf" Karl Fredericks
(referee: Chad Rico)
Show/Hide Results
Result: Misterioso pins Kevin Knight after a back cracker
Time: 10:37
Match Thoughts
This was a fun opener. The main story the commentators talked about throughout the match is that Barrett Brown still needs to find a way to win, otherwise he might not be on Strong for very much longer. With that idea in mind, it added some interesting tension in a match that could have just been a fun showcase for the LA Dojo young lions. Brown wasn't communicating well with his teammates, and that helped Fredericks and his young lion team to dominate parts of the match (their ever-present aggression also helped with that). In the end Brown wanted not just a victory, but to be the man who got the victory for his team. That led to some arguments with his team that spilled over into the aftermath of the match. As for the action, is was about what you'd expect from a big tag match like this, which is to say it was a fun back-and-forth battle.
Match 2
New Japan Cup USA 2021 Semi-Final Match
"Filthy" Tom Lawlor vs "Young Gun" Hikuleo
(referee: Justin Borden)
Show/Hide Results
Result: Tom Lawlor wins via pinfall with an inside cradle
Time: 8:58
Match Thoughts
Very good match. Hikuleo dominated the first part of the match with his size and strength, but eventually Lawlor was able to get the much bigger man down on the mat. Lawlor focused on Hikuleo's legs, and that forced Hikuleo to try to find different ways to escape. Hikuleo made his way to ringside, but Lawlor was tenacious and kept himself right on top of Hikuleo. There was a lot of tension surrounding the ring-out count and whether either man would be able to make it back inside, and the result of that was Hikuleo taking even more damage and being disoriented by the mad scramble to get back in the ring. Lawlor kept calm and used Hikuleo's confusion to his advantage in a pretty fun finish. I might have liked to have seen something of a more definitive finish, but I still enjoyed it.
Intermission
The ring is cleaned and sanitized during a brief intermission.
Match 3
New Japan Cup USA 2021 Semi-Final Match
"The Man of the Hour" Lio Rush vs Brody King
(referee: Jeremy Marcus)
Show/Hide Results
Result: Brody King wins via pinfall after the Gonzo Bomb
Time: 7:38
Match Thoughts
Very good match. Lio Rush needed to keep moving if he wanted to stand a chance against Brody King, and that's just what Rush did to start the match. Rush ran around King and peppered him with strikes, but at first King seemed more annoyed than physically affected. Eventually Rush's attacks started to add up to do some real damage, and King's injured knee (hurt last week in his match against Chris Dickinson) was a repeated target for Rush. King was able to slow Rush down from time to time though, and every time Rush got caught, he took a ton of damage. As the match went on, it became more and more important for Rush to stay away from King's grip, because it began to feel like the next move from King might end Rush's tournament. That led to a very good finish. I really like both guys and wasn't disappointed with who will be moving on, but I can't help but be a little disappointed with who lost. Regardless, it was a very good match.
Backstage
Brody King respects the fight Lio Rush gave him. Also, King is going to give Tom Lawlor a level of violence that not even MMA has prepared him for.
Show Impressions
I enjoyed the semi-final matches. Both matches has some nice psychology and good stories within the action. As for next week, I'm going to be pulling for Brody King, but a large part of me thinks Tom Lawlor is going to be the actual winner. Either way, it's sure to be a very fun match.
Match of the Night
Lio Rush vs Brody King
If King becomes the Strong Openweight Champ, I'd love to see Rush be one of the first challengers for the title.
Official Results: https://www.njpw1972.com/tornament/94373?showResult=1