NJPW Strong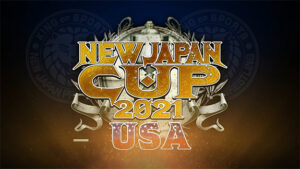 Episode 37
New Japan Cup USA 2021 Final
#njpwstrong
Original Air Date: April 23, 2021
Event Date: ?
(uploaded to NJPW World)
City: Port Hueneme, CA
Venue: Oceanview Pavilion (empty arena)
Series: New Japan Cup USA 2021
Commentary (English): Kevin Kelly, Alex Koslov
Ring Announcer: Adnan Kureishy (ringside)
Video
The show begins with a short video showcasing the eight men entered into the New Japan Cup USA 2021 tournament.
Ring Area
Kevin Kelly and Alex Koslov welcome us to the the finals of the New Japan Cup USA 2021.
Match 1
"Dirty Daddy" Chris Dickinson & "The Most Feared" JR Kratos vs Clark Connors & "The FilAm Flash" TJP
(referee: Chad Rico)
Show/Hide Results
Result: JR Kratos pins Clark Connors after the Game Changer
Time: 11:06
Match Thoughts
Very good match. TJP and Connors had a tough time tonight. Not only are Dickinson and Kratos much bigger and more powerful than them, but TJP and Connors had repeated moments of miscommunication throughout the match. Both TJP and Connors had some good offense on their own, but when it came to teamwork, they couldn't seem to get it together. It looked like Kratos and Dickinson were going to be able to capitalize on their opponents' lack of communication, but Kratos and Dickinson had their own problems communicating late in the match. Regardless of all of the problems though, the action was quite entertaining.
Match 2
"The Decoder" Wheeler Yuta vs Rocky Romero
(referee: Justin Borden)
Show/Hide Results
Result: Rocky Romero wins via submission with the Diablo Armbar
Time: 12:41
Match Thoughts
Very good match. Wheeler Yuta has a fun, technical style, and he meshed well with Rocky Romero's combination of speed and technique. There was a lot of grappling on the mat throughout this match, and both men were constantly looking for openings in each other's defense. The momentum in the match swung back and forth a few times, but Rocky was able to focus on Yuta's arm enough that it became the biggest factor in the bout. That led to a satisfying finish for Rocky and a great showing for Yuta.
Intermission
The ring is cleaned and sanitized during a brief intermission.
Video
A look at the final match of the New Japan Cup USA 2021.
Match 3
New Japan Cup USA 2021 Final & NJPW Strong Title Match
"Filthy" Tom Lawlor vs Brody King
(referee: Jeremy Marcus)
Show/Hide Results
Result: Tom Lawlor wins via Referee Stoppage with a rear naked choke and becomes the inaugural NJPW Strong Champion
Time: 20:05
Match Thoughts
Great match! Brody King came into the match with a taped up knee, but Lawlor didn't initially go after King's legs. In fact, King got the better of Lawlor in the early parts of the match with his strong striking abilities. King's size and power would be his biggest assets throughout this fight, and he punished Lawlor over and over again with hard strikes and slams. Lawlor's first big advantage came when King left himself vulnerable in the corner of the ring, and Lawlor used the ring post to attack King's knees. Lawlor's second big advantage came when King missed a chop at ringside and slammed his own hand into the ring post. Lawlor capitalized very well on both of those injuries, changing the entire tone of the match. King was still able to hit many strikes and slams, but there was much more time between his attacks than before. Lawlor had to endure and build up the damage he was doing to King. The final few minutes of the match were very tense with both men finding great opportunities, and the finish itself was extremely well done.
Ring Area
After the match, Tom Lawlor is presented with the tournament trophy and the NJPW Strong Title belt. The new champ calls for someone to come challenge him, but no one comes out from backstage. Instead, from inside the ring, Chris Dickinson challenges Lawlor. Dickinson walks away by himself, leaving Lawlor and Kratos in the ring.
Show Impressions
This was a very good show. The undercard matches were fun, and main event was even more entertaining than I thought it might be. The first NJPW Strong champ might not be the person I wanted to win, but the match was still great.
Match of the Night
Tom Lawlor vs Brody King
A great title match, and great way to the this year's New Japan Cup USA. I'm looking forward to what's next for the NJPW Strong Champion.
Official Results: https://www.njpw1972.com/tornament/94376?showResult=1