NJPW Strong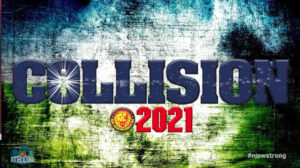 Episode 39
Collision 2021
#njpwstrong
Original Air Date: May 7, 2021
Event Date: ?
(uploaded to NJPW World)
City: Port Hueneme, CA
Venue: Oceanview Pavilion (empty arena)
Commentary (English): Kevin Kelly, Alex Koslov
Ring Announcer (Japanese): Takuro (ringside)
Ring Announcer (English): Adnan Kureishy (ringside)
Intro Video
Video
Kevin Kelly and Alex Koslov welcome us to Collision 2021, the longest tour New Japan Strong has done.
Video
A package video gives us a brief look at some of the wrestlers featuring in Collision 2021 including Jon Moxley, Yuji Nagata, Chris Dickinson, and the Strong Openweight Champion, Tom Lawlor.
Match 1
The DKC & Kevin Knight vs Adrian Quest & Barrett Brown
(referee: Nick Bonanno)
Show/Hide Results
Result: Adrian Quest wins via pinfall after a running shooting star press
Time: 8:32
Match Thoughts
Good match. The DKC and Kevin Knight are solid and aggressive as usual, but Quest and Brown weren't getting along terribly well on the other side of the ring. Barrett Brown is still worried about his spot on New Japan Strong, and he wanted to be the guy to get the victory pretty much all by himself. That led to a fair amount of bickering between Brown and Quest, and the young lions were able to take advantage of that at times. Of course, being young lions, it never really felt like Knight and The DKC would win, so the big story was all about Brown being frustrated when Quest was too successful in the ring.
Ring Area
After the match, Barrett Brown is mad at Adrian Quest for doing well. Quest tries to calm Brown down, and the two man shake hands. However, as both men leave the ring area together, Brown attacks Quest from behind. Brown rolls Quest back into the ring where the attack continues. Brown knocks Quest down with a spinning backfist before leaving the ring.
Match 2
Royce Isaacs & Jorel Nelson vs Jordan Clearwater & Misterioso
(referee: Justin Borden)
Show/Hide Results
Result: Royce Isaacs pins Jordan Clearwater after a fireman's carry (Isaacs) dropped into a double-knee backbreaker (Nelson)
Time: 10:21
Match Thoughts
Very good match. I, of course, enjoy the tag matches with mostly makeshift teams on New Japan Strong, but it nice seeing an established team like Isaacs and Nelson (known at the West Coast Wrecking Crew). Misterioso and Clearwater did pretty well, but the teamwork of Isaacs and Nelson was superior tonight. The biggest single threat in the match was Misterioso, but Isaacs and Nelson were able to double-team when they needed to, and they managed to get Clearwater to work against Misterioso during a pivotal point in the match. I hope to see a lot more of Isaacs and Nelson on Strong.
Backstage
Royce Isaacs and Jorel Nelson, the West Coast Wrecking Crew, care about beating people up, winning matches, and winning championships.
Intermission
We are treated to a few commercials during a brief intermission.
Match 3
Ren Narita & Yuji Nagata vs Chris Dickinson & Jon Moxley (IWGP US Champ)
(referee: Jeremy Marcus)
Show/Hide Results
Result: Jon Moxley pins Ren Narita after the Death Rider
Time: 9:19
Match Thoughts
Very good match. Moxley will be defending the IWGP US Title against Nagata next week on AEW Dynamite, so this was a preview match or that. As such, Moxley and Nagata were the focus of the match, but Narita and Dickinson still had good showings as well. Narita beat Dickinson on a previous episode of Strong, so there is a bit of a rivalry there as well. All of that came together to create a fun tag team match here tonight. Moxley and Nagata were very aggressive towards each other with some hard striking sequences, but they were kept apart before either man could really gain a sustained advantage. I was already excited for Nagata versus Moxley, and this match helped build that excitement a bit. Plus, seeing Nagata and Moxley on Strong made this feel like a special episode.
Ring Area
After the match, Moxley and Nagata slap each other. Nagata takes Moxley down and puts him in the Nagata Lock. The ring crew manages to get Nagata to release the hold, and Nagata leaves the ring as Moxley slowly begins to get back to his feet.
Show Impressions
I enjoyed this show. I'm not entirely sure what the Collision 2021 tour will entail or what it's building to, but if tonight's matches are any indication, the action will be quite good.
Match of the Night
Ren Narita & Yuji Nagata vs Chris Dickinson & Jon Moxley
The matches got progressively better tonight, with this match easily being the most fun overall.