Goddess of Stardom Tag League 10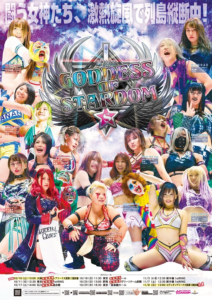 Day 4
Event Date: October 18, 2020 (11:30 JST)
matches published on Stardom World
City: Bunkyo, Tokyo, Japan
Venue: Korakuen Hall
Attendance: 586
Series: Goddess of Stardom Tag League 10
Commentary: none (on Stardom World)
Ring Announcer: Yoritaka Ando
Match 1
Hina & Rina & Gokigen DEATH vs Hanan & Starlight Kid & Riho
(referee: Barb Sasaki)
Show/Hide Results
Result: Gokigen DEATH pins Hanan with an O'Connor roll
Time: 6:31
Match Thoughts
This was a fun opener. It was interesting seeing Riho and Gokigen DEATH on opposite teams since they're teaming in the Goddess tournament. The action was light and kind of silly, and it was a nice way to start the show.
Match 2
Saya Iida vs Tam Nakano
(referee: Daichi Murayama)
Show/Hide Results
Result: Tam Nakano wins via pinfall with a bridging German suplex
Time: 10:21
Match Thoughts
Good match. It started out feeling a lot like Tam Nakano was fighting in something of a mentor capacity, encouraging Saya Iida and not taking the fight too hard to the younger wrester. That feeling never completely went away, but Nakano started stringing together more and more of her powerful kicks as Iida displayed her strength and tenacity. Iida had sections of the match where she was in control and got a few near falls, but Nakano was in control of the majority of the match. The action was good, and even though they both whiffed on a few strikes, they kept going and ended up having a very entertaining match.
Match 3
Mina Shirakawa vs Himeka
(referee: Barb Sasaki)
Show/Hide Results
Result: Himeka wins via pinfall after the JP Coaster (Argentine backbreaker rack into a sit-out facebuster)
Time: 7:58
Match Thoughts
Good match. Mina Shirakawa went right after Himeka with a running dropkick at the opening bell, but Himeka just kind of absorbed the attack. Himeka quickly began to dominate Shirakawa with her size and strength, and it took a while before Shirakawa had any kind of answer. Shirakawa did her best when she was creating separation from Himeka and using her speed advantage, but Shirakawa seemed determined to try to prove her strength tonight. Though Shirakawa got in a few good shots, battling Himeka face to face is a bad idea for most of her opponents. Himeka dominated with strikes, explosive burst of speed, and a few slams. This was a strong performance from Himeka, and a valiant effort that showed Shirakawa's spirit.
Match 4
Konami & Bea Priestley (SWA Champ) & Saki Kashima & Natsuko Tora vs Natsupoi & Maika (Artist & Future Champ) & Syuri (Artist Champ) & Giulia (Artist & Wonder Champ)
(referee: Barb Sasaki)
Show/Hide Results
Result: Time Limit Draw
Time: 20:00
Match Thoughts
Very good match. As with most of these big multi-person matches, there was a lot of back-and-forth and a lot of chaos as everyone was either trying to interfere or stop the other team from interfering (often doing both at the same time). When the action in the ring was one on one, there were a few fun pairings. My favorite pairing was Konami versus Syuri. They kicked each other a lot and tried a bunch of submission holds. For a long while it felt like Konami and Syuri just wanted to fight each other rather than anyone else in the match, and everyone left them alone for the most part. Towards the end of the match, Konami tagged out to Bea Priestley, and that began the final segment of the match. Priestley and Syuri fought a good match for a long time while everyone around them periodically ran in to break up cover or get a few shots in. After a while it became clear that the match was probably going to go the full 20-minute time limit, but even expecting that, the match was still a lot of fun.
Ring Area
After the match, Natsuko Tora suggest that DOnna del Mondo should put the Artist of Stardom titles on the line considering the outcome of tonight's match. Bea Priestley says every member of Donna del Mondo sucks, and that prompts Syuri to chase Priestley to the backstage area (with all of Oedo Tai following them).
In the ring, Giulia says Donna del Mondo won't back down from Oedo Tai no matter what tactics they use. She doesn't know when or where, but she accepts the challenge for the Artist titles. Moving on, Giulia says she is looking forward to facing Himeka for the Wonder of Stardom Title.
Match 5
Goddess of Stardom Tag League 10 Block Match
MOMOAZ (AZM & Momo Watanabe) (4 pts) vs AphroditE (Saya Kamitani & Utami Hayashishita) (1 pt) (Goddess Champs)
(referee: Barb Sasaki)
Show/Hide Results
Result: Momo Watanabe pins Saya Kamitani with Peach Sunrise (bridging half-and-half suplex)
Time: 15:02
Match Thoughts
Very good match. For the most part, MOMOAZ seemed to work better as a team than AphroditE. Kamitani and Hayashishita had a few moments when they were working well in unison, including a rather scary moment when Kamitani attacked AZM while Hayashishita dropped Watanabe to the floor with an air raid crash. Most of the time though, AZM and Watanabe were stringing together some nice tandem combinations and powerful double-team moves. Kamitani and Hayashishita also got in each other's way in a pivotal part of the match, and they weren't always there for each other with help breaking up covers. MOMOAZ was just the better team tonight, and that puts AphroditE in an unwinnable scenario in the tournament.
Match 6
World of Stardom Title Match
Takumi Iroha vs Mayu Iwatani (World Champ)
(referee: Daichi Murayama; Title Match Official: Rossy Ogawa)
Show/Hide Results
Result: Mayu Iwatani wins via pinfall with a hurricanrana and retains the title in her fifth defense
Time: 22:22
Match Thoughts
Great match. After her non-title loss to Iroha earlier in the year, Iwatani clearly came into this match fully prepared. That was evident right from the start where, after a few moments of Iwatani and Iroha circling each other, Mayu faked out Iroha by pretending to go for a lock-up but hitting a spinning kick to Iroha instead. That got things off to a quick start for Iwatani, and she didn't back off her attack for a long time. Iroha is bigger than Iwatani, and she was able to withstand a lot of Iwatani's attacks, so Iwatani had to keep dishing out more and more.
Iwatani still remained in control of the match for the most part, but Iroha managed to bait Iwatani into a striking exchange a bit later in the fight. Iroha had a distinct advantage when they were going blow for blow, and that changed the complexion of the match somewhat. The later portions of the match had Iroha going for some heavy strikes and big power moves (including lots of powerbombs). Iwatani managed to reverse a fair number of Iroha's attempts, but the champ also absorbed a lot of damage. Even so, the damage Iwatani caused earlier in the match was still affecting Iroha, so every reversal Iwatani achieved in the late stages of the match felt like it could end in a three count. The same could be said for a lot of Iroha's powerbombs though, so the tension was very high as the match neared its end. This was a great and very satisfying title match.
Ring Area
After the match, a very tired and beaten up Mayu Iwatani mentions that she and Iroha are now 1-1-1 in three matches. Next time they meet, Iwatani would rather tag than fight. Takumi Iroha tells Iwatani that she is Iroha's favorite senpai, but she really wanted to win the World of Stardom Title tonight. Iroha says she will train more, and she'd like to challenge for the title again someday. She also like the idea of tagging with Iwatani if someone will face them.
Utami Hayashishita, who had been watching the match from the stands, enters the ring as Iroha leaves. Hayashishita appreciates that the status of the World Title has been raised again. As Iwatani's next challenger, Hayashishita will be taking the World Title on November 15th. Iwatani has few words for Hayashishita other than she'll see Hayashishita in Sendai. Utami leaves, and Iwatani closes the show with the rest of Stars.
Show Impressions
This was a good show with great main event. The matches tended to get better as the night went on culminating in a very fun title match with a fair amount of history attached to it.
Match of the Night
Takumi Iroha va Mayu Iwatani
I didn't expect Iwatani to lose the title tonight, but regardless, this was a tough defense for the Stardom Icon. Much like Utami Hayashishita said after the match, tonight's main event definitely raised the value of the title even more.
League Standings After Day 4
Red Block

Show/Hide Results
| Team Name | Members | Points | Wins | Losses | Draws |
| --- | --- | --- | --- | --- | --- |
| Crazy Bloom | Giulia & Maika | 2 | 1 | 1 | 0 |
| AphroditE | Utami Hayashishita & Saya Kamitani | 1 | 0 | 2 | 1 |
| wing★gori | Saya Iida & Hanan | 0 | 0 | 1 | 0 |
| Devil Duo | Natsuko Tora & Saki Kashima | 0 | 0 | 2 | 0 |
| MK☆Sister's | Mayu Iwatani & Starlight Kid | 0 | 0 | 2 | 0 |
Blue Block

Show/Hide Results
| Team Name | Members | Points | Wins | Losses | Draws |
| --- | --- | --- | --- | --- | --- |
| MOMOAZ | Momo Watanabe & AZM | 6 | 3 | 1 | 0 |
| Color Me Pop | Gokigen DEATH & Riho | 4 | 2 | 0 | 0 |
| Black Widows | Bea Priestley & Konami | 3 | 1 | 0 | 1 |
| DREAM☆H | Tam Nakano & Mina Shirakawa | 2 | 1 | 0 | 0 |
| Grab the Top | Syuri & Himeka | 2 | 1 | 0 | 0 |
Official Results (Japanese): https://wwr-stardom.com/news/20201018korakuen/