Goddess of Stardom Tag League 10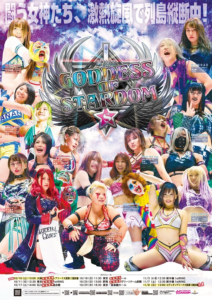 Day 6
Event Date: October 29, 2020 (18:30 JST)
matches published on Stardom World
City: Bunkyo, Tokyo, Japan
Venue: Korakuen Hall
Attendance: 472
Series: Goddess of Stardom Tag League 10
Commentary: none (on Stardom World)
Ring Announcer: Yoritaka Ando
Match 1
Hina vs Ruaka vs Rina vs Gokigen DEATH vs Saki Kashima
(referee: Barb Sasaki)
Show/Hide Results
Result: Rina pins Hina with a schoolboy
Time: 5:19
Match Thoughts
Pretty good match. The action was fun, but the most interesting part was probably the alliances that formed and broke during the course of the match. Saki Kashima (of Oedo Tai) rolled out of the ring right after the opening bell, so Rina, Ruaka, and Gokigen DEATH (all members of Stars) teamed up to beat down Hina (of Queen's Quest). That lasted for a while, then, once Kashima decided to rejoin the match, Rina joined Kashima to continue beating up Hina. Kashima seemed a bit surprised, but she was fine with the help. The match went on normally after that with everyone looking out for themselves, but at the end of the match Kashima helped set up Hina for Rina to get the pin. Kashima didn't even attempt to knock Rina off to try to get the win for herself. So overall, this was a fun opener with an interesting development.
Ring Area
After the match, Saki Kashima raises Rina's hand in the ring. Kashima and Rina then leave hand in hand, and they head backstage together as Gokigen DEATH and Ruaka look on in surprise.
Match 2
Goddess of Stardom Tag League 10 Block Match
wing★gori (Hanan & Saya Iida) (0 pts) vs DREAM☆H (Mina Shirakawa & Tam Nakano) (2 pts)
(referee: Barb Sasaki)
Show/Hide Results
Result: Tam Nakano pins Hanan after Violet Shooting (running knee strike)
Time: 11:48
Match Thoughts
Very good match. Both teams started this match at the bottom of their respective blocks in the tournament, so they both needed this win badly. As the underdogs, Saya Iida and Hanan took the initiative and attacked Shirakawa and Nakano from behind before the opening bell. Rather surprisingly, Iida and Hanan were able to maintain their advantage throughout most of the match. Hanan used a lot of submissions to wear down their opponents, and Iida stepped to to provide some strength and strikes whenever Hanan started to fall behind. Nakano struggled to regain her faculties after taking a lot of damage early on. Nakano spent a lot of time legal in the ring for her team, and she relied on help from Shirakawa often. Nakano and Shirakawa started to work well together as the match went on, and their teamwork proved to be extremely effective once they were able to use it. This was a really good showing for Iida and Hanan, and it was a fun match overall.
Ring Area
After the match, Tam Nakano announces that DREAM☆H has something (or someone) planned as a surprise for their next visit to Korakuen Hall.
Match 3
Konami & Bea Priestley (SWA Champ) & Natsuko Tora w/ Saki Kashima, Rina vs Riho & Utami Hayashishita (Goddess Champ) & Momo Watanabe
(referee: Barb Sasaki)
Show/Hide Results
Result: Momo Watanabe wins via DQ when the referee discovers the chain Natsuko Tora wrapped around her neck
Time: 10:44
Match Thoughts
Good match. I really enjoyed the action throughout the fight. Queen's Quest (plus Riho), tired of Oedo Tai's shenanigans, jumped Konami, Priestley, and Tora before the bell. That led to a period where Wueen's Quest held a decent advantage, but after the while the match evened out. Everyone got involved, and the momentum swung back and forth without too much in the way of cheating from either team. That is, until the final few minutes. Kashima and Rina pulled the referee out of the ring when it looked like Watanabe was about to pin Priestley, and Tora proceeded to use her chain on Watanabe much like she did at the previous show. The finish to the match wasn't great, mostly because Tora just left the chain around Watanabe's neck while Priestley was going for a pin, all but assuring that that Oedo Tai would get disqualified. Prior to that though, the match was a lot of fun. Queen's Quest looked quite good tonight as a team, and I think Hayashishita was trying to impress Riho so Riho will officially join the faction.
Ring Area
After the match, Natsuko Tora introduces Rino as the newest member of Oedo Tai. Tora also calls Watanabe stupid and says Oedo Tai is sick of fighting Queen's Quest. Bea Priestley says everyone in Queen's Quest sucks, then Oedo Tai leaves.
Match 4
Future of Stardom Title Match
Saya Kamitani (Goddess Champ) vs Maika (Artist & Future Champ)
(referee: Daichi Murayama; title match official: Rossy Ogawa)
Show/Hide Results
Result: Maika wins via pinfall after Enka Otoshi and retains the title in her first defense
Time: 11:18
Match Thoughts
Very good match. This more more of a hard-hitting fight than I expected it to be. Saya Kamitani seemed to want to face Maika head to head and strength to strength. Whether that was a good idea or not is debatable, but it made for a fun match. Maika and Kamitani exchanged forearm strikes to start the match, and they would revisit striking exchanges at different points throughout the match. Kamitani definitely had an advantage when it came to speed and agile moves, but Makia's grounded attacks and slams were more effective pretty much right from the start. If Kamitani had kept to her own strengths early on, then she might not have gotten in to as much trouble as she did. As it was, Maika dominated sections of the match while Kamitani rarely did. This was a strong title defense for Maika. As I've noted before, Maika already has the poise and aura of a wrestler who has been doing this for a long time, but she's still early in her career. Kamitani is also early in her career and is getting better and better, but I think she still has a way to go before she settles into a style that is distinctly hers.
Ring Area
After the match, Saya Iida gets into the ring and pushes Maika. Iida says she's not waiting anymore. She wants a title match. Maika offers Iida a fist bump in apparent acceptance of Iida's challenge.
Match 5
Natsupoi & Syuri (Artist Champ) vs Starlight Kid & Mayu Iwatani (World Champ)
(referee: Barb Sasaki)
Show/Hide Results
Result: Syuri submits Starlight Kid with Blue Dragon (modified dragon sleeper)
Time: 13:20
Match Thoughts
Great match. I loved the combination of styles in both of these teams. Starlight Kid and Natsupoi both brought great high-speed action to the match, Syuri brought submissions and fierce kicks, and Mayu Iwatani brought all around strikes, slams, and flying. Everyone was in and out of the ring for about the first half of the match, and the pace was kept quite high. Syuri was becoming dominant with her vicious kicks, so Iwatani and Starlight Kid worked together to slow Syuri down. Iwatani fought Syuri to almost a stalemate, then Starlight Kid came in and used her speed to overtake Syuri. I loved how Iwatani and Kif changed styles on Syuri and threw her off. Syuri wasmn't beaten though, and Natsupoi did a good job of occupying Iwatani from that point on. That left Syuri and Starlight Kid in the ring for a long time, and Syuri began to dominate the match again. Kid fought valiantly, but Syuri, with help from Natsupoi here and there, was able to beat Kid down very convincingly. This match was a lot of fun, and I'd love to see these two teams go at it again.
Ring Area
After the match, Syuri announces that, as of November 1, she will be an official member of the Stardom roster. She goes on to challenge Bea Priestley to a match to commemorate her joining the roster.
Match 6
Wonder of Stardom Title Match
Himeka vs Giulia (Artist & Wonder Champ)
(referee: Daichi Murayama; title match official: Rossy Ogawa)
Show/Hide Results
Result: Giulia wins via pinfall after the Glorious Driver II and retains the title in her second defense
Time: 19:47
Match Thoughts
Great match. Himeka started the fight by attacking Giulia just prior to the bell, and Himeka tried to end the match quickly. Himeka beat down Giulia and went for her running powerbomb (which was devastating for Giulia back in the 5 Star GP), but Giulia managed to stop the move. Giulia used her speed advantage to create some distance, and she was able to start picking away at Himeka with a series of strikes and holds. Throughout the match, Giulia often felt like she was in control and planning her next move, while Himeka often seemed to be reacting in the moment and looking for big power moves whenever she could get them. The longer the match went like this, the more it felt like Giulia was going to win barring big mistake that would lead to something like Himeka's running powerbomb.
As Himeka was beginning to wear down, Giulia started going for more and more strikes. There was a striking exchange towards the middle of the match that really felt like it changed the tone of the fight. From their knees, Giulia and Himeka exchanged a series of open-hand strike combinations, and despite both wrestlers taking a lot of damage, Giulia seemed to come away from that section of the match in slightly better shape. Himeka still hit some very big slams after that, but Giulia was smarter and worked her way steadily towards he goal. The finish was quite good, and overall this was a great match for both women.
Ring Area
After the match, Giulia celebrates and tells Himeka to come back and try again later. She also says that she gets to choose her next opponent. With that, Giulia calls out Konami. Konami comes out and accepts the offer by telling Giulia to say goodbye to her belt. The rest of Donna del Mondo enters the ring. Giulia says that she's been in in Stardom for a year now, and she thanks the people who supported her when no one liked her. She then closes the show. After Donna del Mondo poses for photos, Giulia and Himeka shake hands and embrace.
Show Impressions
This was a very good show. The final three matches of the night were highly entertaining, and the first three matches were a lot of fun.
Match of the Night
Himeka vs Giulia
The tag match right before the main event is probably tied for this was far as action goes, but the added intrigue of being a title match and Himeka having beaten Giulia one on one during the 5 Star GP added a lot to the Wonder of Stardom title match.
League Standings After Day 6
Red Block

Show/Hide Results
| Team Name | Members | Points | Wins | Losses | Draws |
| --- | --- | --- | --- | --- | --- |
| Crazy Bloom | Giulia & Maika | 2 | 1 | 1 | 0 |
| MK☆Sister's | Mayu Iwatani & Starlight Kid | 2 | 1 | 2 | 0 |
| AphroditE | Utami Hayashishita & Saya Kamitani | 1 | 0 | 2 | 1 |
| Devil Duo | Natsuko Tora & Saki Kashima | 0 | 0 | 2 | 0 |
| wing★gori | Saya Iida & Hanan | 0 | 0 | 3 | 0 |
Blue Block

Show/Hide Results
| Team Name | Members | Points | Wins | Losses | Draws |
| --- | --- | --- | --- | --- | --- |
| MOMOAZ | Momo Watanabe & AZM | 6 | 3 | 1 | 0 |
| Color Me Pop | Gokigen DEATH & Riho | 4 | 2 | 0 | 0 |
| Grab the Top | Syuri & Himeka | 4 | 2 | 0 | 0 |
| DREAM☆H | Tam Nakano & Mina Shirakawa | 4 | 2 | 1 | 0 |
| Black Widows | Bea Priestley & Konami | 3 | 1 | 0 | 1 |
Official Results (Japanese): https://wwr-stardom.com/news/20201029korakuen/