NJPW G1 Climax 32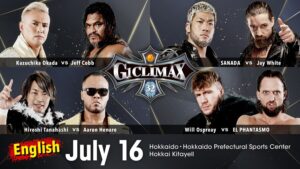 Night 1
Round 1
Event Date: July 16, 2022 (17:00 JST)
aired live on NJPW World
City: Toyohira, Sapporo, Hokkaido, Japan
Venue: Hokkaido Prefectural Sports Center (Hokkai Kitayell)
Attendance: 2,891
Series: G1 Climax 32
Theme Song: "Over the Max ~Tamashi no Keisho~" by JAM Project
Commentary (English): Kevin Kelly, Chris Charlton
Commentary (Japanese): Milano Collection AT, Hiroyoshi Tenzan, Hiroki Mikami (1, 5, 8), Yuichi Tabata (2, 4, 7), Shinji Yoshino (3, 6, 9)
Ring Announcer: Makoto Abe
Video
Everyone in this year's giant four-block tournament is shown.
Match 1
Kosei Fujita vs Tom Lawlor w/ Royce Isaacs
(referee: Yuya Sakamoto)
Show/Hide Results
Result: Tom Lawlor wins via pinfall after the NKotB (Nasty Knee on the Brain)
Time: 3:48
Match Thoughts
This was a nice opener. Fujita had a good showing with a few small bursts of offense. Ultimately though, this was just a warm-up for Lawlor. It was a way to get Lawlor in front of the crowd before his G1 Climax tournament debut.
Match 2
Bad Dude Tito & JONAH vs Ryohei Oiwa & Toru Yano
(referee: Yuya Sakamoto)
Show/Hide Results
Result: JONAH pins Ryohei Oiwa after a powerbomb
Time: 6:16
Match Thoughts
Good match. Yano has a match coming up with JONAH, and Yano, being scared of what's to come, did everything he could to stay away from the big man. That left Oiwa taking the brunt of the punishment throughout the match.
Match 3
SHO & Yujiro Takahashi & EVIL w/ Dick Togo vs Jado & David Finlay & Tama Tonga
(referee: Yuya Sakamoto)
Show/Hide Results
Result: Yujiro Takahashi pins Jado after Pimp Juice (and a wrench to Jado's head from Sho)
Time: 6:02
Match Thoughts
This was pretty fun. The House of Torture brawled and cheated like you'd expect, but the big deal in this match seemed to be the tension between David Finlay and Tama Tonga. Finlay and Tonga have had many heated battles over the years, but they were able to coexist well tonight. Jado derailed the good teamwork by wanting in the match when Finlay had it under control, but that allowed Takahashi to steal a win (and stealing wins will probably be his role in the G1 tournament again).
Match 4
Chase Owens & Bad Luck Fale & KENTA & Juice Robinson vs TAKA Michinoku & Taichi & Zack Sabre Jr. & Lance Archer
(referee: Kenta Sato)
Show/Hide Results
Result: Juice Robinson pins TAKA Michinoku after the Left Hand of God
Time: 5:55
Match Thoughts
I love seeing Lance Archer in NJPW, and I especially love seeing him backed up by Suzuki Gun. Archer led the charge and initiated chaos in this match. Eventually Archer and Bad Luck Fale fought to the backstage are and disappeared form the match. ZSJ and KENTA had a brief but great sequence as well. The match ended with Juice Robinson (who was carrying the US Title belt even through Will Ospreay is the champ) against TAKA, and the suddenness of the finish made it look like Juice really knocked TAKA out with his Left Hand of God punch.
Match 5
BUSHI & Shingo Takagi (KOPW 2022) & Tetsuya Naito vs Tomohiro Ishii & YOSHI-HASHI (NEVER 6-Man Champ) & Hirooki Goto (NEVER 6-Man Champ)
(referee: Kenta Sato)
Show/Hide Results
Result: Tomohiro Ishii pins BUSHI after a vertical drop brainbuster
Time: 9:53
Match Thoughts
Good match. There was nothing specific to call out about this match. It was just a fun, energetic bout between two teams with solid teamwork.
Match 6
G1 Climax 32 C Block Match
Aaron Henare (0 pts) vs Hiroshi Tanahashi (0 pts)
(referee: Marty Asami)
Show/Hide Results
Result: Aaron Henare wins via pinfall after Streets of Rage
Time: 11:11
Match Thoughts
Good match. After years of watching G1 Climax tournaments, I've come to expect certain upsets on night one of the tournament. This was certainly an upset. Henare dominated large portions of the match, and Tanahashi had a very difficult time sustaining any offense when he did get an advantage. Henare looked pretty good, but it also felt like a case of Tanahashi not fighting his best. Regardless, it was a good scenario for Henare. Even if Henare doesn't win the block (which he probably won't), he can always point to this match as being a big deal for his career.
Match 7
G1 Climax 32 D Block Match
El Phantasmo (0 pts) vs Will Ospreay (IWGP US Champ, RevPro Undisputed British Heavyweight Champ) (0 pts)
(referee: Marty Asami)
Show/Hide Results
Result: Will Ospreay wins via pinfall after the Hidden Blade (to the face)
Time: 15:06
Match Thoughts
Great match. These guys have quite a history in NJPW (Ospreay brought El Phantasmo in only to have ELP betray Ospreay and join Bullet Club), and this felt like a good grudge match. ELP took this match almost 100% seriously (he did one back rake early in the match), and that was really great to see. The fight started quickly with Ospreay attacking ELP right at the opening bell. Ospreay and ELP would trade off advantages throughout the match, though Ospreay's size and his experience at this level help keep seemingly in the lead most of the time. There were some very fun sequences both on the mat and on the ropes. The finish was especially well done, with a few mistakes from ELP leading directly to a rather brutal finish. It was very smartly done. This was super fun, and I've love to see them fight again outside of the G1 tournament.
Match 8
G1 Climax 32 B Block Match
SANADA (0 pts) vs Jay White w/ Gedo (IWGP World Champ) (0 pts)
(referee: Red Shoes Unno)
Show/Hide Results
Result: Jay White wins via pinfall after Bladerunner (and an eye gouge)
Time: 18:07
Match Thoughts
Great match. Jay White started by being his usual aggravating self. White started a mocking chant for SANADA, then he left the ring and refused to get back in until SANADA held the ropes open for him. Once in the ring, White dominated the early part of the match. SANADA eventually hit a nice counter on White and evened things out a bit, but SANADA was on the defensive through much of this match. There were some sneaky shenanigans going on late in the bout, and SANADA go away with a low blow that the commentators assured us was accidental, but really just seemed like SANADA was taking advantage of the situation (SANADA's leg kicked up has he was falling, nailing White in the crotch). SANADA had trouble taking advantage of his lucky break, but he was getting closer and closer to Skull End as the match went on. Jay White did some cheating of his own though, and White is much better and much sneakier at cheating than SANADA is.
Match 9
G1 Climax 32 A Block Match
Jeff Cobb (0 pts) vs Kazuchika Okada (0 pts)
(referee: Red Shoes Unno)
Show/Hide Results
Result: Kazuchika Okada wins vis pinfall after the Rainmaker
Time: 21:30
Match Thoughts
Great match. This was a rematch of last year's final B Block match that clinched the victory for Okada. Jeff CObb came out strong in this fight, and Okada was already looking beat-up early in the match. Cobb employed a fantastic mix of extreme power and great agility, and he was able to keep Okada on the defensive a lot of the time. Okada was able to get in some heavy shots from time time to time though, and that kept him solidly in the fight. By the end of the match both men were looking for that one huge shot that would finally keep the other guy down. The was a great way to end night one.
Show Impressions
This was a fun show. I didn't expect there to be as many matches as there were. I could've done with one or two fewer tag matches, but I was still entertained the whole time. Three out of the four tournament matches were great, so that made this a very good show overall.
Match of the Night
Jeff Cobb vs Kazuchika Okada
For each of tonight's final three matches, I was sure that the match I was watching at the time would be the match of the night. All three were great, but they kept getting slightly better as the night went on.
Standings After Night 1
A Block

Show/Hide Results
| Wrestler | Points | Wins | Losses | Draws |
| --- | --- | --- | --- | --- |
| Kazuchika Okada | 2 | 1 | 0 | 0 |
| Jeff Cobb | 0 | 0 | 1 | 0 |
| Bad Luck Fale | 0 | 0 | 0 | 0 |
| JONAH | 0 | 0 | 0 | 0 |
| Lance Archer | 0 | 0 | 0 | 0 |
| Tom Lawlor | 0 | 0 | 0 | 0 |
| Toru Yano | 0 | 0 | 0 | 0 |
B Block

Show/Hide Results
| Wrestler | Points | Wins | Losses | Draws |
| --- | --- | --- | --- | --- |
| Jay White (IWGP World Champ) | 2 | 1 | 0 | 0 |
| SANADA | 0 | 0 | 1 | 0 |
| Chase Owens | 0 | 0 | 0 | 0 |
| Great-O-Khan | 0 | 0 | 0 | 0 |
| Taichi | 0 | 0 | 0 | 0 |
| Tama Tonga | 0 | 0 | 0 | 0 |
| Tomohiro Ishii | 0 | 0 | 0 | 0 |
C Block

Show/Hide Results
| Wrestler | Points | Wins | Losses | Draws |
| --- | --- | --- | --- | --- |
| Aaron Henare | 2 | 1 | 0 | 0 |
| Hiroshi Tanahashi | 0 | 0 | 1 | 0 |
| EVIL | 0 | 0 | 0 | 0 |
| Hirooki Goto (NEVER 6-Man Champ) | 0 | 0 | 0 | 0 |
| KENTA | 0 | 0 | 0 | 0 |
| Tetsuya Naito | 0 | 0 | 0 | 0 |
| Zack Sabre Jr. | 0 | 0 | 0 | 0 |
D Block

Show/Hide Results
| Wrestler | Points | Wins | Losses | Draws |
| --- | --- | --- | --- | --- |
| Will Ospreay (IWGP US Champ) | 2 | 1 | 0 | 0 |
| El Phantasmo | 0 | 0 | 1 | 0 |
| David Finaly | 0 | 0 | 0 | 0 |
| Juice Robinson | 0 | 0 | 0 | 0 |
| Shingo Takagi (KOPW 22 Provisional) | 0 | 0 | 0 | 0 |
| YOSHI-HASHI (NEVER 6-Man Champ) | 0 | 0 | 0 | 0 |
| Yujiro Takahashi | 0 | 0 | 0 | 0 |
Official Results (Japanese): https://www.njpw.co.jp/tornament/354181?showResult=1
Official Results (English): https://www.njpw1972.com/tornament/121340?showResult=1